17 Most Embarrassing On Stage Moments In Music History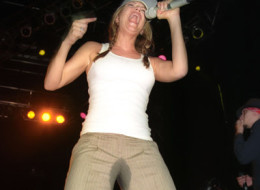 As music fans, we seem to think of our favourite bands and artists on a different level. When we watch them perform on stage, we forget that they're human beings just like us. But every once in a while, a brutally embarrassing moment happens that reminds us that rock stars, rappers and pop stars are really just like us.
From falling and vomiting to wardrobe malfunctions and accidental urination, here are the 17 most embarrassing musician stage moments of all time.
Get ready to cringe.
17 Most Embarrassing Musician Stage Moments
Over the years, the Super Bowl Halftime Show seems to have been a notorious setting for some of music's most embarrassing stage moments. One of those moments happened back in 2012 when Madonna was the featured artist. During her performance, the pop icon was the victim of a choreography misstep and took a tumble backwards down some stairs. It could have been much worse, but at the most-watched televised event of the year, it was still pretty damn embarrassing.

A good lesson to be learned here is that not all audiences want to be part of a stage dive. Years ago at a Wu Tang Clan show in the UK, Method Man tried to jump off a speaker into the crowd to surf on the hands of his fans. Unfortunately for the rapper, after he took the big jump, everyone in the crowd moved out of the way and he had a close encounter with the concrete.

2007 wasn't a great year for Britney Spears. Following her well-publicized head-shaving meltdown, Spears tried to mount a comeback for her music career at the MTV VMAs. With a heck of a lot of people watching live in the audience and at home, Spears took to the stage looking confused, unrehearsed, and disheveled. Everything from the choreography to the lip-syncing to the fashion was completely off, and it will go down as one of the most embarrassing moments of Britney's career.

A few years back at a show in New Jersey, Drake was performing on stage with his label boss Lil Wayne. Drizzy got a little too into the music by jumping around wildly, and his previously torn ACL came back to haunt him. After reinjuring his leg through said aggressive jumping, the rapper immediately hit the ground and needed to be carried off stage. Talk about an embarrassing night for the Degrassi star formerly known as Wheelchair Jimmy.

Remember that moment back in 2009 when Jay Z and Alicia Keys were performing their massive hit "Empire State of Mind" at the MTV VMAs? At the end of the performance when Jay and Alicia were winding down the song, rapper Lil Mama jumped up on stage to crash the moment. Neither Jay nor Alicia acknowledged Mama and her cheap attempt at some publicity resulted in embarrassment at best.

Many people have dubbed Janet Jackson's embarrassing 2004 Super Bowl Halftime Show performance as "Nipplegate." Over a decade has passed since Jackson performed at the show with Justin Timberlake and while we still use the term "wardrobe malfunction" we don't even remember who was playing, much less who won.

Remember that time Celine Dion dressed up like Michael Jackson to perform "Bad?" We wish we didn't either. The footage from the tribute performance is pretty strange and shocking. This has to be a leading candidate for Dion's most embarrassing career moment.

During a Lady Gaga concert in Barcelona a couple years back, Mother Monster was performing her song "Edge of Glory" when her dinner decided to return for an encore…a triple encore to be exact. Gaga threw up three times in the middle of her performance, but somehow kept the groove going. It was embarrassing, but also impressive.

While touring behind their last album Come Around Sundown, Kings of Leon were performing an outdoor show in St. Louis when a flock of pigeons got the better of them. The Nashville rockers had to cancel the show mid-set after a slew of pigeons kept crapping on them on stage. The most embarrassing moment came when bass player Jared Followill got pigeon crap in his mouth!

Yes, another embarrassing tale of a musician throwing up on stage in front of their fans. Last year on the Arizona stop of his Believe Tour, some quick moving choreography and dinner got the better of Justin Bieber during his performance of "Out of Town Girl." During the song, the Biebs turned around and yacked twice on stage in front of the audience. Gross. He later apologized to all of the little kids in attendance.

Back in 2008 when Katy Perry was singing about kissing girls and liking it, she performed at the MTV Latin America Awards. At the end of her performance she jumped on a giant birthday cake, and when she got up, she slipped and fell on her face due to the slickness of the icing on the stage. After the embarrassing slip, Perry couldn't stand up after multiple attempts and had to be carried off. She was still a good sport about it.

We all remember Ashlee Simpson's painfully embarrassing SNL lip-sync debacle, but sadly that wasn't where her career embarrassment ended. Simpson was given the opportunity to perform at the Orange Bowl Halftime Show back in 2005 and the good news was that she actually sang. The bad news is that her vocals were so embarrassingly terrible that a stadium full of football fans booed her off stage.

When Etta James passed away, Christina Aguilera performed at her funeral. She sounded incredible, but the performance was embarrassing nonetheless. Mid-song, an unknown reddish liquid began dripping down Aguilera's leg from her skirt. You can even see Xtina try to rub it off with her other leg at the 3:50 mark of the video. Her people later said that it was an excess of her spray tan liquid, but no one knows for sure. It qualifies as both gross and embarrassing.

When Nirvana was playing at the 1992 MTV VMAs, bassist Krist Novoselic was having amp problems. Instead of just standing around like a useless bum not playing, he decided to attempt one of his tried and true stage gimmicks, which was throwing his bass high into the air and catching it. On this particular embarrassing occasion (thanks to beer and bad luck) the bass came crashing down and hit Novoselic on the head, knocking him down and leaving a massive gash on his face.

Back in 2007 at one of her shows in Orlando, Beyonce got caught up in some heavy choreography. As she attempted to run down the stairs of her stage set-up, Bey took a spill down the steps and did a major face-plant. Being the pro she is, Beyonce immediately got back up and started performing as if nothing happened.

Pink has become known for her impressive acrobatics and Cirque de Soleil type acts at her live shows. She's usually an incredible performer, but on one embarrassing night a few years back in Germany, Pink attempted to fly into the crowd on her wire contraption, but it didn't work and she was dropped like a sack of potatoes in front of the stage. Of course it was captured on a fan's iPhone who was sitting front row.

Of course the most embarrassing stage moment of all time for any musician was when Fergie accidentally peed herself in front of a live crowd at a Black Eyed Peas concert in 2005. She was apparently running late for the show and didn't have time to use the bathroom. The end result was her peeing her pants on stage for the crowd to see and snap photos of.