New Museum Of Sex Exhibit Features Boobie Bouncy House And More (VIDEO)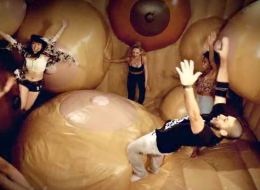 Whatever is happening in this video, we want to take part.
In an upcoming exhibit at New York City's Museum of Sex opening June 26, the museum is introducing an erotic fair called Funland: Pleasures & Perils of the Erotic Fairground. The installation includes five attractions to stimulate all five of our senses.
But what's a fair without a bouncy castle?
The exhibit features this moonbounce boob house, featuring over-sized breasts of all shapes and colours (love it!), where visitors are welcomed to "jump for joy." Other attractions include a labyrinth to find the G-spot, a climbing wall made out of genitals and edible treats by U.K. jelly house Bompas & Parr, who also just happen to be the visionaries behind Funland itself.
But one question lingers, can we rent this boob house for parties?