Robin Thicke's #AskThicke Twitter Q&A Goes Amazingly Awry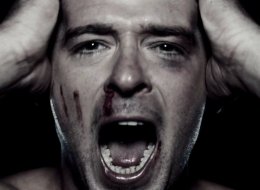 Just as Robin Thicke apparently underestimated the patience of his estranged wife Paula Patton, so did the Canadian singer underestimate the general public's patience with him when he agreed to a Twitter Q&A with the hashtag #AskThicke to promote his just-released, not-so-subtly named album "Paula."
On the heels of publicly weeping during his BET Awards performance -- "Good evening, my name is Robin Thicke, I'd like to dedicate this song to my wife, and say, 'I miss you, and I'm sorry.' This is called 'Forever Love.'" -- the 37-year-old singer agreed to a VH1-sponsored Twitter Q&A which quickly turned into a chance for the Internet to get its revenge for his controversial "rapey" song "Blurred Lines."
Fans of @robinthicke are upset that #AskThicke is getting trolled.

Don't worry guys. It's okay.

We know he wants it.

— Sarah M (@sazza_jay) July 1, 2014
Robin Thicke is getting terrible abuse on the #AskThicke hashtag.
Maybe If he'd dressed less provocative & stayed sober it wouldn't happen?

— Jim Sheridan (@Jim_Sheridan) July 1, 2014
#AskThicke I asked my wife if she wants your album. She said no. Does that mean yes?

— James Alderson (@comedyjames) July 1, 2014
His rape anthem: 99p.
His ex-wife stalking album: £8.99.
The #AskThicke hashtag tearing his ego in two: PRICELESS.

— Sarah Myles (@sjmyles) July 1, 2014
#askThicke If one of your songs played in a forest and no one was around to hear it would it still be sexist and gross?

— Harsh Lauren (@LaurenHarsh1) July 1, 2014
#AskThicke Did you really write a rape anthem as a love song for your wife and are you still wondering why she left you?

— Maria (@MariaJPrice) July 1, 2014
#AskThicke When you're not busy objectifying women, making light of rape and justifying sexual violence, how do you like to relax?

— Josephine Liptrott (@JoLiptrott) July 1, 2014
#AskThicke is the reason u can't get her back because she wised up and read between the #BlurredLines ?

— DeannaBiggz (@DeannaBiggz) July 2, 2014
#AskThicke I asked my wife if she wants your album. She said no. Does that mean yes?

— James Alderson (@comedyjames) July 1, 2014
#AskThicke don't you think this is an ironic hashtag considering you're not one for asking?

— Thomas Simpson (@Simmy41) July 1, 2014
Is the creepy stalking thing a sick publicity stunt at your ex's expense, or just a thoughtless grab for attention and relevance? #AskThicke

— Ashly (@newageamazon) June 30, 2014
#AskThicke Once you've cracked 'hug me', any thoughts on what rhymes with 'misogynistic douchebag'?

— James Martin (@Pundamentalism) July 1, 2014