Tim Hortons Museum-Like Facility To Open At Chain's First Restaurant (PHOTOS)
The Canadian Museum of History may soon find itself competing for visitors with Tim Hortons as the chain readies to open an homage to its past.
An upcoming redevelopment of the coffee and doughnut giant's first restaurant in Hamilton, Ont. will see it turned into a two-storey building with a museum-like portion that will show items from the 50 years it has spent in business, The Toronto Sun reported.
"It will pay homage to our history while embracing some of the new designs," Tim Hortons chief operating officer David Clanachan told a crowd of employees and Hamilton residents at the Thursday announcement.
Here are some renderings of the redeveloped Tim Hortons location in Hamilton: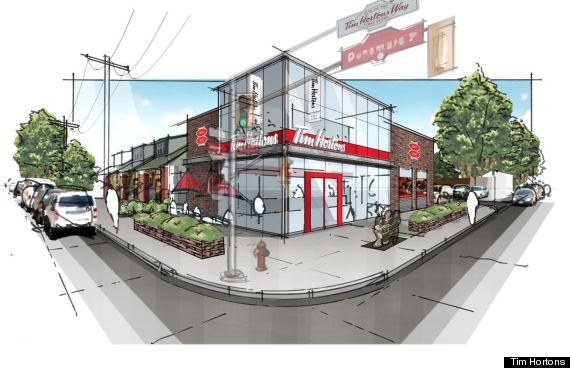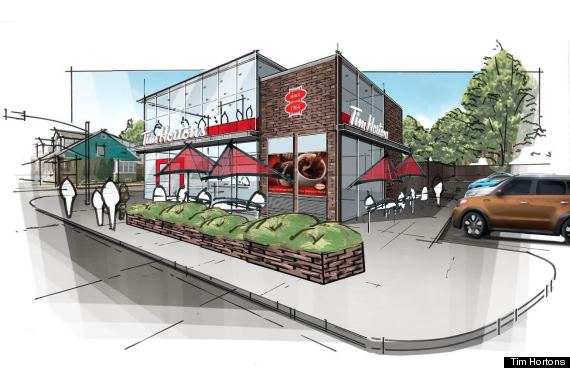 The new restaurant will be designed with a glass cube, but it will also have more conventional traits like its original brick colour, steel railings and "retro" red seats, CBC News reported.
Patrons won't be walking into a replica of its first coffee shop, but the museum will nevertheless give them a chance to travel through time, as its collection of memorabilia is being relocated from the company's head office in Oakville, Ont.
"We think [the memorabilia] belongs here," Clanachan said.
News of the redevelopment comes after Tim Hortons revealed a concept store in the Metro Toronto Convention Centre earlier this month.
That location will give people an idea of what its stores might look like in the future. Offerings include beer inspired by Tim Hortons coffee, touch screen menus and a grab-and-go area for sandwiches and other items.
Check out some photos of Tim Hortons over the years:
50 Years Of Tim Hortons (2014)
The first Tim Hortons location opened in Hamilton, Ont. in 1964.

The company's first logo.

Tim Horton himself, right, with billionaire businessman Ron Joyce, who co-founded the chain.

Horton with a box of donuts.

Horton in a Timmies warehouse.

Tim Hortons uniforms in the 1960s.

The Tim Hortons Children's Foundation was formed in 1974.

A Tim Hortons uniform from the 1970s.

A Tim Hortons location from the 1970s.

Tim Hortons debuted the Timbit in 1976.

Tim Hortons products from the 1980s.

A Tim Hortons uniform from the 1980s.

Timmies' first Roll Up The Rim To Win contest launched in 1986.

$1.50 for a large. Sorry, no iced cappuccino on this menu.

18 TIM HORTONS PROBLEMS WE LOVE TO COMPLAIN ABOUT

Chocolate with toasted coconut? Strawberry-filled with white frosting? Good luck with that.

Tim Hortons CEO Marc Caira admits Timmie Hos lineups are too long. Coooooome on vending machines!

Arg!!!

Try folding the flap down. Timmies also suggests asking for one of the specialty drink lids.

You basically need a spoon to eat it.

Even then, sometimes it's still not toasted… or it's burnt around the edges.

The proceeds go to local charities, hospitals and community programs across Canada.

Or WAY too much.

WHY?!?!?!

Although not everyone agrees.
Like this article? Follow our Facebook pageOr follow us on TwitterFollow @HuffPostCanada