A baby doll with a penis is freaking out some shoppers and online readers.
The toy, which is made by the You & Me Mommy Change My Diaper Doll collection at Toys "R" Us, also cries when its underpants are wet — talk about the real thing.
It is not specified on the company's site or the toy's box, but the doll is anatomically correct for a male baby (most dolls are made without genitals, as we all know), and this has caused some shoppers and rattled citizens to post concerns on a Facebook photo that has recently been taken down.
Some parents called the doll inappropriate and unnecessary for kids, while others joked it could be a unique way to conclude a "gender reveal" party. Some users on Facebook just wished the doll's box came with a warning label.
Writer Monica Beyer of SheKnows.com, however, doesn't see a problem. "How on earth is it inappropriate for a child to see a naked baby? What about a baby makes a penis or a vulva dirty or sexual?" Beyer writes. "Because that's what it sounds like when people say that it's wrong for little girls to see it. The truth is, when a child points out the body part that she doesn't have, all a parent is required to do is call it by its name."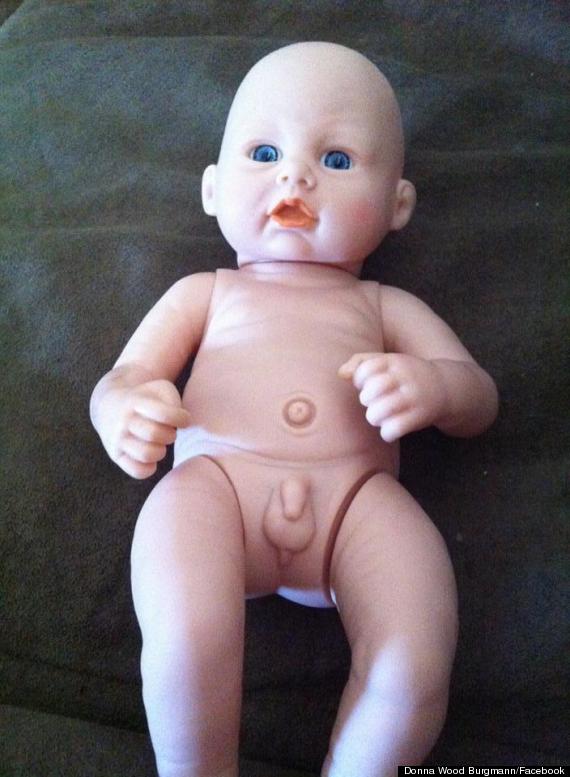 Sexologist Dr. Logan Levkoff says banning the word penis is a parenting fail and if we don't have universal names for body parts, it may be hard for for children to tell their parents when these body parts hurt.
This isn't the first anatomically correct doll, either. Sites like Momlogic date the first anatomically correct doll back to 1976, with Archie's Bunker's Grandson Joey Stivic doll — which is still available on eBay today.
Do you think there's anything wrong with a doll like this? Let us know in the comments below:
11 Super Bizarre '90s Toy Fads
Remember when you were told that these little things would be worth ridiculous amounts of money? How's that working out for you?

The popularity of the toy led to a human stampede at a Walmart in Canada back in 1996. Pretty sure no amount of cute is worth that much.

Gak is gross. It's basically a ploy to get kids to stop playing with their boogers.

Did anyone not lock their Furby in a closet after it wouldn't shut up for over a week?

Bop It was made for kids who wished they had an older brother. It's loud, obnoxious and orders you around.

People collected hundreds of these cardboard circles, allegedly to play some kind of game. Never has anyone in the history of the world played that game.

Parents who refused to get their kids a puppy said Tamagotchis were JUST like pets. Turns out they're more like boring pieces of plastic. Live and learn.

If your dad wasn't stepping on enough Legos with his bare feet, you could plant some of these babies in the living room carpet.

The only thing crazy about Crazy Bones is that people paid money for them!

Basically just a synthetic hair ball.

Pokemon taught children to walk around the forrest and capture wild animals. Not a great hobby for a second grader.