Ristigouche Launches Crowdfunding Campaign To Defend Against Gas Company Lawsuit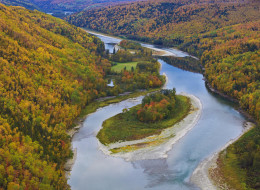 A small town in Quebec's Gaspe region has launched a crowdsourcing campaign to raise money to defend itself against a lawsuit from a gas exploration company.
The town of Ristigouche-Sud-Est, population 168, is facing a lawsuit from Gastem. It's seeking $1.5 million in damages over a town bylaw, passed last year, that prohibits drilling near the town's water sources.
The damages sought amount to five-and-a-half times the town's $275,000 annual budget, reports Le Soleil.
According to le Journal de Quebec, the town's bylaw prohibits the introduction of any substance into the ground that could harm the quality of drinking water within two kilometres of any drinking water sources used by 20 or more people.
Gastem says it has provincial permits for its exploration in the area. The company's president says the town's bylaw was passed without consulting the company.
Ristigouche Mayor Francois Boulay says the province has essentially abandoned the town in its fight with the Montreal-based gas exploration company.
He told Le Soleil he appealed to the province's municipal affairs ministry, but was told the province couldn't interfere in a case before the courts.
"You can't be intimidated by companies who want to put their interests above the duty of elected officials and the citizens' right to protect their drinking water," Boulay said, as quoted at Le Soleil.
Municipal Affairs Minister Pierre Moreau said in a statement this week it would not be "appropriate" for the province to intervene.
The province itself adopted new regulations earlier this month that prohibit drilling within 500 metres of drinking water sources.
"If 'the environment ministry's] rule from last week was in place at the time the gas company arrived [in Ristigouche], we would not be in the situation we are in today," Boulay said, as quoted at CBC.
Gastem said Quebec's new rules have no impact on its lawsuit against Ristigouche.
Though the company no longer plans to drill in the area and even sold its drilling rights to another company, Petrolia, it's pursuing the lawsuit because it spent money "in good faith" on the belief it could drill in the area, Le Soleil reports.
15 Ways To Save Energy In Your Home
This type of thermostat, also called a "learning" thermostat, can be programmed to raise and lower the temperature your home automatically. This way, you're not heating or cooling the home when you don't need to. Dave Walton, director of home ideas at Direct Energy says you can save up to four per cent on your heating bill by programming your thermostat to a lower temperature at night, and after you leave for work.

Air leaks are often caused by old and cracked caulking around windows and doors in your home. Caulking around existing openings can help save you money on your next energy bill.

Here's a bright idea: change up your light bulbs. Energy-saving light bulbs (LED or fluorescent, for example), can last up to 10 times longer than an incandescent bulb, and use up to 75 cent less energy. "A single 20 to 25 watt energy-saving bulb provides as much light as a 100-watt incandescent bulb while also emitting less heat," Walton says.

If you have lights in your backyard patio space or in front of your house, check your settings and timers. With longer (and brighter) days ahead, adjusting your timers will help you save energy.

In the summer, the blades of the ceiling fan should operate in a counter-clockwise direction to move the air downwards and maximize air circulation. In turn, the air conditioner cooling your home doesn't have to work as hard. During winter, the blades should operate in a clockwise direction, helping to push the warm air from the ceiling down into the room.

During hot summer months, the air conditioner gets a lot of use. Make sure you have a qualified professional perform an annual maintenance check on your system before it starts to get hot. As part of the inspection (and on top of making sure the system is operating to manufacturer specifications), the inspector would be able to check for leaks, and that the right amount of refrigerant is in the system.

Take a look around your house: how many outlets are you using? Things like phone chargers, toasters, hair dryers and other "zombie" electronics do not need to be plugged in if they are not in use.

As soon as the weather gets warmer, take advantage of cooking outside. Barbecuing outdoors in the summer is much more efficient than using a conventional stove — which often warms the house and causes us to crank up the air conditioner.

Don't lose money cooling rooms that are not in use. Close the vents and shut the doors.

If you're in dire need of new windows, consider choosing something with low-e coatings, argon gas filled and insulated spacers to avoid air leaks.

Your central air conditioner relies on your furnace to push cold air throughout your home, Walton says. "A clean filter means dust and allergens are less likely to be distributed throughout your home and, the furnace motor will operate more efficiently with a clean filter."

If you're shopping for new appliances, look for the Energy Star sticker. These products approved by the government of Canada to be more energy efficient and help reduce your energy costs.

Defrost your freezer regularly. When ice builds up, your freezer uses more electricity. Walton says you should also keep your freezer at least three-quarters full for maximum efficiency. To clean things up around the house, consider getting rid of that old fridge in your garage or basement if it's only keeping a few beverages cold.

Consider upgrading your old furnace to a new energy-efficient unit. "An older conventional burning furnace operates at 60 per cent efficiency meaning 40 cents of every dollar you spend on heating your home is going right up the chimney," Walton says. On the flip side, a new high-efficiency furnace operates at over 90 per cent; wasting less than 10 cents on every dollar you spend heating your home.

Energy audits will help you conserve more energy in and around your home. This can include identifying where energy and money is lost through leaks, and also a pulse check to see if your appliances need replacing.