Robin Walsh Upset Walmart Withheld 'Inappropriate' Baby Photos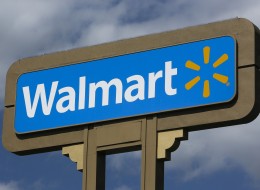 A mother in central Newfoundland says she was surprised and upset when a Wal-Mart employee said she couldn't pick up her photos because they were flagged as "inappropriate" by a processing technician.
Robin Walsh, a mother of two and a teacher in Gander, said she dropped off a batch of roughly 100 photos to be processed at the local Wal-Mart, but an employee refused to return three of them.
"Initially I laughed, especially when I saw what photos they were referring to, 'cause I kind of thought that it was a joke, but I was surprised," said Walsh.
Two of the photos were of Walsh's infant daughter holding an empty beer bottle. Another picture showed her daughter and five-year-old son lying partially naked on their stomachs before a bath.
"Then I became angry and embarrassed because a manager had to be brought in to explain to me why I couldn't have the photos, in a store full of people, and it sort of felt like I was being accused of some sort of child exploitation."
Walsh said she didn't understand why, out of all the photos, those three were flagged.
"There were photos of my children in the bathtub, in very sort of similar situations, and they passed those [back]. You can talk with a lot of moms here in town and you'd be hard-pressed to find someone who doesn't have a naked photo of their baby or small child," she said.
Blanket judgment
Walsh said Wal-Mart management told her one employee deemed the photos inappropriate.
She said no one could tell her what policy the photos violated.
"I asked if I could see the policy as it was written down, and I was told that they didn't have it on hand and that it would take time for them to get it, so then I kind of questioned how they could make a judgment based on a policy that they weren't even clear what the policy was," said Walsh.
"The photo technician had apparently flagged the photos and when the manager came down and told me I couldn't have the photos, and I asked him what about the photos was inappropriate, he admitted that he hadn't actually seen them yet."
The local Wal-Mart manager said he wasn't able to answer media questions, but passed CBC News on to the corporate office in Mississauga, Ont.
In an email response, Wal-Mart said the company "deeply regrets" any inconvenience for Walsh.
"It is the general policy of the Walmart Photo Centre to not print pictures that contain nudity. Exceptions, of course, are made with every-day situations such as child-birth or babies," said the statement.
"Within these guidelines there will occasionally be grey areas where photos may be innocent to the parent but may look somewhat questionable to the average eye. It seems this may have been the case in this particular situation, and the store decided to err on the side of caution. The store did not process the photos and provided the customer with a full refund."
9 Things Walmart Would Like You To Forget
CEO Mike Duke has said that Walmart pays "competitive wages," and the company's website says the average full-time associate makes $12.67 an hour. However, a widely cited 2011 study that looked at data from Glassdoor.com and job listings put that number at about $8.81 an hour. The federal minimum wage is $7.25.

Walmart outsources warehouse work to subcontractor temp companies that pay very low-wages, according to a 2012 report from the National Employment Law Project. In a press release at the time, Walmart called the report misleading and said these jobs are "some of the best, most sought after jobs in the communities it serves."

By increasing the availability of cheap food, every additional Walmart Supercenter per 100,000 residents increases the average obesity rate of residents by 2.3 percentage points , according to an analysis of obesity rates from the 1980s to present day by an economist from the University of North Carolina at Greensboro. Walmart says it is actively trying to combat obesity by offering more fresh foods. Since 2011, the retailer says it has saved customers $2.3 billion on fresh fruits and vegetables.

In 2000, 54-year-old Betty Dukes filed suit against Walmart for sex discrimination. The case turned into a massive class-action suit and landed at the Supreme Court. The court dismissed the case in 2011, ruling that 1.5 million female Walmart workers is a group too varied to be considered a class. Still, the women of Walmart are not giving up. In 2012, close to 2,000 women in 48 states filed individual lawsuits claiming that they were all discriminated against for pay and promotions. The suits are ongoing.

As of 2010, the Walton family gave away just 2 percent of its net worth to charity. Warren Buffet, by comparison, has given away 78 percent of his net worth and Bill Gates has given away 48 percent, according to Business Pundit.

Walmart does not officially have union-represented workers in its U.S. stores, but the retailer still has been heavily protested against by labor groups like the United Food and Commercial Workers International Union and Our Walmart, a small group of current and former employees. In December, the company even went as far as to sue a grocery workers union for protests at its stores in Florida.

In 2012, disability rights advocates filed a federal lawsuit claiming that Walmart would not make payment machines accessible to customers who use wheelchairs and scooters. "Walmart should be an industry leader, not a defender of discrimination," said plaintiff's attorney Bill Lann Lee.

In 2010, Walmart CEO Michael Duke's $35 million salary translated to $16,826.92 and hour. By contrast, new employees in a store opening in Chicago were reported to be paid $8.75 an hour which would translate to a $13,650 annual salary, according to ABC News.

Walmart sells guns and ammunition in its stores, and yet it has a history of banning controversial products, including this pregnant Barbie, which was pulled from Walmart shelves after customers complained and is still banned from Walmart stores.