Canadian Couple Photograph The Greatest Anti-Rock Stars In History
Over the course of the past three decades, Canadian husband and wife photographers Viliam Hrubovcak and Jolie Fejer have become widely known for their highly evocative portraits of some of music, art, film and literature's greatest cultural renegades.
Driven by a curious attraction toward those who are able to move the cultural needle with force, the couple has spent their life together –– which began back in 1988 after being introduced by David Johansson of The New York Dolls at what is now Toronto's Phoenix Concert Theatre –– in the trenches documenting a colourful array of freethinkers through an ongoing photographic series they've come to call, "Anti-Stars."
Shot exclusively here in Toronto, "Anti-Stars" is now being transformed into a high-gloss coffee table book which will feature the likes of: Ari-UP, Lee Perry, Bjork, John "Rotten" Lydon, Debbie Harry and Buster Poindexter to Nick Cave, P J Harvey, Billy Idol, Dennis Hopper, Timothy Leary, Allen Ginsberg, Lou Reed and more.
"The individuals featured in this book all possess a certain credo or philosophy," explains Viliam. "These are truly authentic, no bullshit people, who have affected real change on a grand scale and set artistic standards by daring to work outside the box. These are people who dared to go their way or no way," he says.
Interview continues after slideshow
"Anti-Stars" Music Photo Book
The first time Viliam met Billy Idol was in the back alley of "Sam The Record Man," at Yonge and Dundas in, Toronto. The meeting happened just before Billy's popularity skyrocketed; he was surprised to even be recognized by Viliam. After that initial meeting in 1982, Viliam and Jolie went on to develop an enduring friendship with Billy. 

"A moment that sticks out vividly in our minds is this instance in which a reporter asked Billy if he preferred sex or music? He replied, "sexy music" –– a response that exemplifies both his charm and charisma." – Jolie 

This image of Billy has been selected as the official portrait that will accompany his autobiography "Dancing With Myself", which will be made available via Simon and Schuster.

"There's a great story behind this one," says Jolie. "Cohen was sitting having a tea and all of a sudden a bunch of photographers came from one side of his table and started to ask for a quick shoot. Viliam went opposite of them and tried to figure out how to catch his attention. While everyone else was calling his name, hoping for a direct look, Viliam quickly grabbed a Perrier, drank it down, and let out a massive burp.   All of sudden that noise stood out from everyone else's, and he took this shot. By the end of it Leonard ended up giving him more poses just for having the balls to do what it takes to get the job done."



"We tried to shoot Bo's portrait for years," says Viliam. "After the 3rd time, he finally allowed us to snap this photo."



"Right from the get go Siouxie always had the best style in both music and fashion," says Jolie. "She was a true classic. Every time we crossed paths she always looked different and managed to look better than the time before."

"He always loved his cigarettes!" – Viliam

"Always gives the photographer everything.  What a joy to work with." – Viliam

"The first concert I ever photographed was back in 1980, and it was the infamous Police Picnic put on by the legendary promoters, The Garys.  The very first photo I shot that day was of Viva, a stunning 14-year-old girl with the most captivating and mind-blowing hair." – Viliam Hrubovcak



After reconnecting with Viva 30 years after shooting that original photograph, Viliam and Jolie asked her to pose with Steve Leckie, the lead singer of the Toronto Punk band, The Viletones.  



"Viliam asked Iggy to show him is heart. To his surprise, Iggy made one with his tongue. He's always been a true Anti-Star icon." –Jolie

"Jerry Lee was the first to bring the punk attitude to both the stage and his private life," says Viliam, who asked him to look EPIC when struck this pose.

"Ali was a busy man. If someone approached him to ask for an autograph and he wasn't able to sign on the spot, he'd give them a fake $1,000,000 bill with his image and signature on it. For that reason, I always loved this picture of him doing a gang sign and pretending to hide a stack of $1,000,000 bills. What made Ali an 'Anti-Star' was the fact that he always put his beliefs ahead of his career. Very few in life have achieved the level of respect this man commands." – Viliam

"Killing Joke was the very first band I ever photographed. They also played at the Police Picnic in 1980, and I didn't know anything about the group at all. But, when they took to the stage and Geordie hit his first note, I just couldn't believe what I was hearing. Over the years, Killing Joke has remained fiercely private, rarely granting photographers permission to shoot. More than 30 years after that day, I emailed the band's management to request a photoshoot with the group and to my absolute amazement they finally said yes. Talk about full-circle. We also recently found out that members of Killing Joke are supporters of our daughter and son in law's band, You The Living, which is based in London, England." – Viliam

"Both Viliam and I are massive fans of the original Jamaican Ska scene, and Buster is really the man who made so many things happen for young followers such as Bob Marley.  Viliam was so excited about meeting him that he put on his best "Rude Boy" suite for the shoot.  When asked by Buster, why he was dressed so well? Viliam said "Out of respect"." – Jolie

After a brief stint advising The New York Dolls in the U.S., McLaren returned to London in 1974 where he recruited the nihilistic Johnny Rotten as the frontman for a new band he was putting together called The Sex Pistols. The rest is really history. 

 "Meeting and photographing McLaren was like being picked up by a tornado," says Jolie. "His candor, talkativeness and energy just poured out of him throughout the entire shoot." 

 "McLaren could spend an infinite amount of time answering questions," adds Viliam. "In fact, he was so chatty that we often had to ask him to stop speaking for a few seconds in order to get a shot." Never the less, the outcome of this shoot was an understated, elegant, and very English portrait, quite unlike the scene that actually took place!"

"Costello was so easy to shoot and he really made a photoshoot so much fun. This image was taken in 1989 while promoting his album Veronica." – Jolie

"When we met with Timothy Leary he kept eyeballing Viliam's leather jacket so Viliam put it on him for this photo.  After the shoot Leary told us not to do acid because we were too old to make anything good out of it." – Jolie

Portrait taken on the set of Larry Weinstein's "Stormy Weather".

Viliam had the opportunity to work with Guy for 3 days on a movie shoot.  

 "Guy was an eye opener for us," says Viliam. "Every second that you watch him work, he teaches you something new."

This photo was taken just after Jolie and Viliam got married, and Jolie and Joe were introduced. During the photo session, there was much conversation about what to do after the show, and so the Bovine Sex Club on Queen West was suggested. The group drove to The Bovine, Jolie driving their Hyundai Pony with Joe Strummer in the front seat and a bottle of Champagne between his legs. Viliam sat in the back of the tiny car with a member of The Pogues and drunken French acrobat from the Archaos Circus. Polishing off the champagne, they all talked about design, discussing their favourite fonts learned in art school.

 Once at the club, the real party started; Joe and The Pogues were the perfect storm: "I've never seen that kind of drinking––it was monumental! It was done with a lot of experience!" said Villiam who along with Jolie, bowed out at 4:30 am, while the rest of the group was still going strong.

 When all three met again, Joe was so thrilled that he jumped up when he saw them backstage and shouted out loud, "This is Jolie and Viliam. They are the best photographers ever to come out of Canada, and I am proud to call them friends." After that meeting, the three worked together on and off until Joe's passing. "Joe was a true friend," says Villiam. "He is always missed."



Viliam has lost count of exactly how many classes at OCAD he skipped to both see and photograph the Ramones.

"Waters was impeccable from start to finish," says Jolie. "And, we always made it work, even when we couldn't get a baby sitter! Luckily John went with the flow on this one and we made our son Max a mini me version of him with a little bit of my eyeliner!"

"Dennis was one of Viliam's favourite photographers, artists and actors," says Jolie. "He was a punk who paid the price for thinking outside the box.  You really had to work at talking to Hopper but just before this photo was taken Viliam started to teach him how to speak ebonics.  He laughed so hard by the time we were ready to shoot he seemed to have dropped his guard and just allowed the photo to happen."



From DJing at Max's Kansas City in New York to working as an Andy Warhol actress at The Factory, Jayne County, born Wayne Rogers, is truly a larger than life personality who has seen and done it all. 
After meeting for the first time at the Silver Dollar in Toronto back in 1987, Viliam and Jayne hopped into a grubby public shower at the Waverly Hotel and decided to show off Jayne's new breasts in a photograph. "Jayne's easy-going personality always made her a delight to shoot," says Villiam.

"I always loved Kim Gordon's growl," says Viliam.

"It's always unexpected and mercurial with him," says Jolie. "But extremely professional! One of our favourite memories is capturing John and Viliam doing the Tango......priceless! 

"Even though we photographed John countless times we always held him in such high respect," says Viliam. "The last time we met with him something special happened, he turned to talk to us and all of a sudden for the first time in 35 years Jolie and I could not answer him back––we just froze and looked at each other. We realized the Anti-Star book had to come to a finish some how, and how can you top Johnny?"

"Johnny was immediately flustered by our behavior and walked away," says Jolie. "But, a few minutes later he came back, grabbed Viliam and began to dance with him. He sensed something was off and like a true gentleman made the evening a memorable one. His post Pistols band Public Image Limited was so far ahead of its time. Anytime."

"We met Jim in the strangest way," says Viliam. "We were walking down a hall way at a T.V. station and all of a sudden there was a set that looked like a farm. Jim looked at me and smiled and just we started this photoshoot."

Viliam and Jolie were incredibly excited about the prospect of working with Paul, but were warned in advance that he could be difficult to work with at times. Going into the shoot with a "whatever happens, happens" attitude, they were delighted when the session turned out completely unlike what they had expected. "We had an absolute blast," says Jolie. "Weller is truly a Renaissance Man. He's a chameleon who moved seamlessly from Punk to Mod, and even into a fashion icon today. The 'greats' just keep on evolving." 

"One of the most influential music makers of the late 20th century."  – Viliam



"Snow was out there on so many levels it is hard to know where to start; he was simply a true artist and gentleman." – Viliam

This image was taken on the set of Larry Weinstein's "Stormy Weather".



"Mod godfather of cool.  Cain was the real thing." – Viliam

Shot in a cafe in Toronto, Jolie admired Ginsberg's writing while Viliam wanted to shoot his portrait on account of the fact that he sang on a Clash album. This sitting became one of his very last ones.

Not featured in the book, shot in the photographers' current studio "Photosynthesis."

Not featured in the book, shot in the photographers' current studio "Photosynthesis."

Not featured in the book, shot in the photographers' current studio "Photosynthesis."
For Viliam and Jolie, their work as portrait artists has always centered upon a desire to capture the essence of those who truly live, work and create within that particular fringe state of mind­­. But what began with an interest in documenting the faces of the punk rock movement eventually grew to encompass "punk" as an ideology rather than just a genre of music.
"Punk was about change and about deconstructing," says Viliam. "It was about destroying what came before you in order to go ahead. The punk rock movement was a youthful, musical reaction to a highly turbulent era. People were really angry, and that anger drove the art and the art drove the movement."
 
"But it didn't end with punk rock," adds Jolie. "We needed to move beyond those boarders and start documenting the individuals that broke ground with their art, whether they were musicians or not."
"These two have this way of capturing people in the raw," says longtime friend and Canadian film producer Larry Weinstein. "I think what they do is create icons in a way. For instance, I've seen a lot of photos of someone like Bjork, but it's their photo of Bjork that burns in my brain. You tend to have an image of a person; the images in my head are always the one's Viliam and Jolie have created."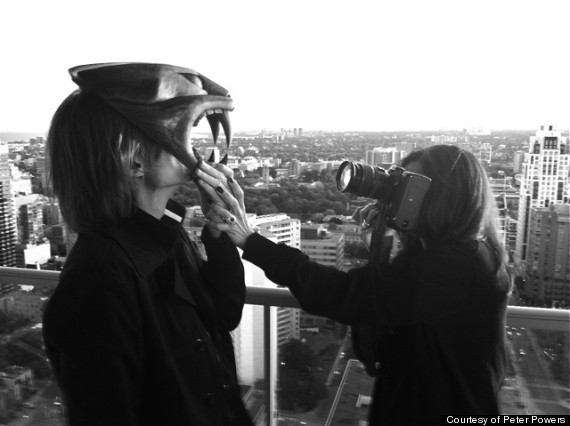 Part of what makes Viliam and Jolie's portraits so captivating is that their process often extends beyond the camera to the genuine, personal relationships they forge with their subjects. Clash frontman Joe Strummer, whom with they enjoyed complete artistic freedom when shooting, was a close personal friend of the couple's right up until his death in 2002. In 2012, Strummerville (Strummer's non-profit foundation) released a calendar, art directed by Damien Hirst and Alex Cox, commemorating his passing. Four of the images featured in the project were taken from the couple's personal collection and shot in Toronto.
"Viliam and Jolie care deeply about their photo subjects," says colleague and famed Canadian filmmaker, Guy Maddin. "The love they radiate shows in the faces in their emulsions and in the way the two curate their work. They ain't just snapping celebs," he notes. "They need to respect, crush on and even adore the work of their sitters, and then impress all that love into the silvers of their own work. I've never encountered people less alienated from their own labours."
After nearly three decades of "shooting in the trenches, at concerts, bars and in hotel rooms around Toronto, inhaling great lungful's of old beer and mustard gas the way kids like to smell carnival cotton candy," as Maddin puts it, things finally came full circle for Viliam and Jolie when, just over a year ago, they reconnected with a woman who goes by the name, Viva Viletone.
Thirty-two years early, Viliam captured a photograph of a young then anonymous Viva, standing in the crowd at Toronto's First Annual Police Picnic. As it turns out, she was the first person Viliam ever photographed at a concert. This reunion with Viva was sufficiently momentous enough to prompt the pair to conduct a review of their lifetime's work. As a result, they made the decision to finally compile the portraits that had for so long existed as their greatest passion, into a book.
"The thing about Viliam and Jolie is that neither one of them is an orthodox photographer," says longtime friend and Canadian music journalist, Larry LeBlanc, who first met Viliam in the mid-nineties. "When he first told me he was a photographer, I thought 'Okay, sure,' but when he showed me his photos I couldn't believe it, I just thought 'holy shit!' I recognized immediately that he was crazy as hell but a total genius."
And the thing about people who posses that stroke of genius is that they often appear to be extreme. The thing about extremism is that it really just depends on which side of line you're standing.
For Viliam Hrubovcak and Jolie Fejer it has long been the literary radicals, musical ruffians and renegades of the silver screen that have captivated their attention, but it is their pure artistic desire to capture the lifeblood that seems to pump feverishly through every single one of the, as Maddin puts it, "wildly spinning subjects of their ardent gaze," that holds a place at the center of their lives, always calling, always there.
"The greatest photographs always have that something that pulls you in," adds LeBlanc. "It may be the angle or the lighting or the way it's framed, it may even be that moment that you connect with the person but whatever it is, these two have got it."
While "Anti-Stars" the book is still seeking a publisher, The Huffington Post was granted exclusive access to a select number of never before seen images from the couple's private collection.
Currently, Viliam and Jolie own and operate Photosynthesis, a studio that houses both their portrait photography and personal art projects, many of which explore other forms of media and cater to a clientele with a taste for the off-beat. The couple is also currently contributing to a number of documentary projects including Killing Joke's "Death and Resurrection Show" and the official documentary on Public Image Limited. This fall, their work will also appear in Billy Idol's autobiography "Dancing With Myself" for Simon and Schuster. 


In the past the couple has contributed images to John "Rotten" Lydon's book "Scrapbook", which won the MOJO Magazine award for book of the year, while last summer, their work received praise from Italian Vogue after it was exhibited at The Ono Arte Contemporanea Gallery in Bolonga, Italy. Most recently twenty-five of their portraits were exhibited at The Peel Art Gallery, Museum and Archives in Brampton.
For more information about Photosynthesis or to view Viliam and Jolie's work visit here.