8 Retailers At Risk Of Disappearing From Canada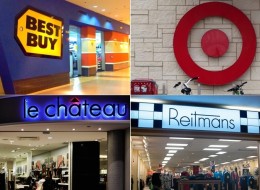 It seems hardly a month goes by these days without announcements of layoffs or dismal earnings at Canadian retailers. Canada's economy is humming along (though job numbers could be better) so why are so many retailers closing stores like it's the middle of a recession?
There's no one simple answer. There are many factors coming together to create a perfect storm for Canada's retail industry. Here are some of the major ones:
— Online retail. Canada lags many other developed countries when it comes to buying and selling online, but online sales are eating into brick-and-mortar stores' sales all the same. Bookstores are particularly vulnerable to the Amazon juggernaut, but electronics retailers are also suffering from "showrooming" — customers coming in to the store to check out a product, then buying it cheaper online.
— The American invasion. Numerous U.S. retailers are pushing into the Canadian market these days, led famously by Target. But others, such as Marshalls, J. Crew and Nordstrom, are either already here or about to arrive. That's putting pressure on the retailers already here. As a recent HuffPost special report showed, native Canadian retailers are fading from the country's malls.
— The wealth gap. A recent CIBC report suggested that low-end retailers like Dollarama and high-end retailers like Saks are going to be the winners in Canadian retail going forward. The report notes that incomes at the high end have been growing twice as fast as incomes at the low end in recent years. That means the rich have more money to shop and the middle class are increasingly searching for bargains. The losers in the equation are those who focus on middle-income earners — stores such as Target and Sears.
Amidst all this, many Canadian retailers have already folded. Tabi, for instance, shut down in 2011, and Zellers largely disappeared in 2012 (though a location actually opened in Ottawa earlier this year).
Others are also at risk. Here are eight chains that could soon disappear from the Canadian retail scene:
Target Canada

Canadian Press

Jacob

Canadian Press

Sears Canada

Canadian Press

Reitmans

Canadian Press

Chapters Indigo

vasta via Flickr

Aeropostale Canada

JeepersMedia via Flickr

Best Buy Canada

JeepersMedia via Flickr

Le Chateau

bargainmoose via Flickr
Canadian Retail Brands We Miss Most
One of Canada's most storied and oldest retailers went bankrupt in 1999. The department stores founded by Timothy Eaton in 1869 became famous for their catalogues, sponsorship of the Toronto Santa Claus parade and the downtown Toronto shopping centre that still bears its name.

This chain of grocery stores was rebranded as A&P before it was bought out by Metro. We miss the chain founded in 1919, party because of those plastic grocery bins you could load onto a conveyor belt to get them outside, but mostly because of their awesome font.

Although Toronto is home to the Bata shoe museum, the chain has shuttered all of its Bata and Athlete's World stores in the country where it was once based. It does, however, continue to sell footwear on almost every other continent. Pictured: Bata founder Tomas Bata.

It was once Canada's largest music retailer boasting "140 locations, coast to coast." The chain was founded by Sam Sniderman in 1937. Along with A&A Records and Canada's last national music store chain, Music World, it fell victim to the Internet age by the end of the 2000s.

A&A had noticeable flagship stores in downtown Toronto and downtown Montreal. It launched in the early 1960s and went bankrupt in 1991.

Even if you weren't a fan of lumber shopping, how could you complain about being dragged through a store whose logo is an overall-clad, skipping beaver? Also, it was owned by Molson — yes, the beer people. What's more Canadian than that?

This was THE convenience store chain -- known for its plastic jugs of milk -- for many small-town Ontarians before being sold to the parent company of rival Mac's Convenience Stores in 1996. It was so Canadian, its chocolate milk got a shout-out in the special thanks section on many Rush albums.

Believe it or not, Ontario once had another pharmacy chain that gave Shoppers Drug Mart a real run for its money.

This novelty-items store was where you could buy any Troll doll or Beanie Baby, or marvel at the dirty gift selections while pretending to shop for a Troll or Beanie Baby.

For all your canvas clothing and accessories needs. The wallets and pencil cases were must-haves for 1980s Southern Ontario kids.

Ever since this retailer of cliched Canadian clothing shuttered, we have no idea where to get puffy paint sweatshirts with pictures of loons on them, or the ugly Christmas sweater for all of those trendy theme parties.

The home to discount menswear and flamed shirts galore was once an institution in malls across the country, but has been reduced to just a handful of shops in small-town malls.

Once a staple in Western Canada and Ontario, it had great, cheap jeans.

The classic Canadian "mom store" closed in 2011, after 30 years in operation.

A Zellers-esque chain perhaps best known to eastern Canadians, who might be familiar with the chain's animated squirrel named Sparky.

The free popcorn made arguing over which VHS movie to rent bearable.

Zeddy! Need we say more?

NEXT: U.S. BRANDS WE WANT TO SEE IN CANADA

A perfect blend of Costco affordability and Whole Foods quality. http://www.traderjoes.com/

Another option for a mid-priced department store with a diversity of offering is always welcome. Plus, the stores are so well decorated at Christmas. And we love the sales! http://www.macys.com/

Because Harold and Kumar aren't the only ones willing to make a road trip for their stoner fare. http://www.whitecastle.com/

Recently named America's favourite hamburger chain based on food quality, value and service. http://www.in-n-out.com/

For your Mexican-inspired salad bar alone, please expand outside of B.C. In fact, we'll take White Spot too. http://www.carlsjr.com/

The U.S. retailer of all things outside is like a Canadian Tire, SportsChek, MEC and Golf World combined. http://www.dsgcamps.com/

This drugstore chain has everything — and cheap. Might we suggest shaking up the Shoppers Drug Mart-dominated space a little? http://www.walgreens.com/

Let's give our full-figured sisters a trendy alternative to Penningtons and Addition-Elle already. http://www.lanebryant.com/

A more casual and (slightly) more affordable J.Crew sister store? Yes please. https://www.madewell.com

We're sick of watching Friends re-runs and not being able to shop where Rachel Green worked. http://www1.bloomingdales.com/

An edgier, smaller-scale department-esque store that sells their in-house brand and others.This powerhouse brand has outposts in LA, New York, London and Tokyo, as well as a magazine and TV channel. http://www.openingceremony.us/

NEXT: U.S. BRANDS THAT ACTUALLY ARE COMING TO CANADA

Nordstrom The luxury department store chain will open in Toronto's Eaton Centre in 2016.

Chico's The figure-flattering women's wear chain will open its first three Canadian locations in the Greater Toronto Area later in 2014.

Designer Shoe Warehouse The U.S. discount shoe chain purchased a 44 per cent in Town Shoes earlier this year and is expected to open some of its big box style retail locations.

Saks Fifth Avenue Hudson Bay Co. has announced two Toronto locations for the high end U.S. retailer, one at the Eaton Centre in 2015 and the other at Sherway Gardens in 2016, but has said it may bring as many as seven to Canada. It will also bring as many as 75 more affordable Saks Fifth Avenue OFF 5th locations.

American Girl The doll store with a cult like following opened its first two Canadian stores inside Chapters/ Indigo stores in Toronto and Vancouver earlier this year and plans to roll out a cross-country expansion.

Dylan's Candy Bar The brightly-coloured candy retailer founded by Ralph Lauren's daughter Dylan is reportedly looking for retail space in Canada.

Jimmy Choo The American women's shoe designer is expected to open its first Canadian standalone store in Toronto's Yorkdale mall later this year.

Bloomingdale's Ok this one is speculation at this point, but several retail sources in Canada since 2012 have reported this could be in the works.

NEXT: 10 Things The Fast Food Industry Doesn't Want You To Know

McDonald's had higher sales growth in 2008 than in 2006 or 2007, opening nearly 600 stores that year, according to Slate. The chain was able to take advantage of Americans' recession tastes: Cheap, convenient food.

One Reddit user claiming to be an ex-McDonald's worker said he once left a bag of chicken nuggets out on the counter for too long and "they melted. Into a pool of liquid." That didn't stop him from loving the nuggets, "still delicious," he wrote.

More than 60 percent of low-wage workers are employed by big corporations, according to a July analysis by the National Employment Law Project. And more than 90 percent of those companies were profitable last year.

Fast food workers in New York City make an average of $9 per hour, according to the Village Voice. That comes to about $18,500 per year for full-time workers.

For 40 percent of private sector workers, taking a sick day and still getting paid isn't an option, according to the Baltimore Sun. Fast food workers are especially likely to be part of that 40 percent.

Many fast food workers saw their health benefits put at risk this year, if they even had them at all. Papa John's CEO John Schnatter said he would likely reduce some of his workers hours so that he wouldn't have to cover them in response to Obamacare. Jimmy John's founder, Jimmy John Liautaud told Fox News in October that he would "have to" cut workers' hours so that he wasn't forced to cover them under Obamacare.

The average hourly pay at McDonald's, Wendy's, Burger King and Taco Bell is less than $8 an hour, according to salary data cited by CNBC.

As more workers fight for limited jobs, many older employees are gravitating towards the fast food industry. The median age of a fast food worker is 28, according to Bureau of Labor Statistics data cited by the Atlantic. For women, who make up two-thirds of the industry's employees, that age is 32.

Fast food worker's went on strike in late November in New York City, showcasing a rare effort to organize the industry's workers. Labor leaders often don't make an effort to organize these workers because the high turnover makes the challenge daunting.

For all their work, fast food workers get very little dough. The lowest paid job category in New York City is "Combined Food Service and Preparation Workers, Including Fast Food," according to Bureau of Labor Department Statistics cited by Salon.