Canada Fall Weather Forecast Sees A Cool Start In Southern Ontario (PHOTOS)
Brace yourselves, Southern Ontario: You're in for a cool start to the fall.
That's according to a new report from Accuweather.com predicting the weather patterns that Canada could see over the coming months.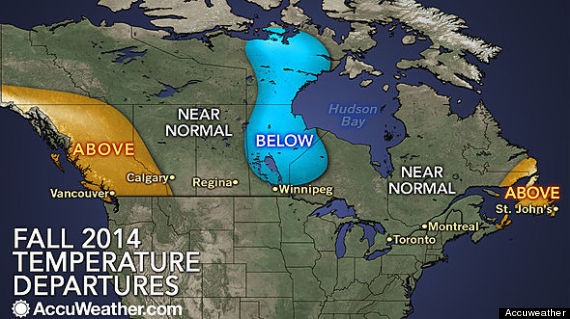 Cooler-than-normal conditions are expected to kick off the fall season in areas from Windsor to Toronto, Ottawa and Montreal. A heat wave is forecast to arrive in early October before temperatures drop the following month.
"It's going to be an up-and-down fall across Southern Ontario," Accuweather senior meteorologist Brett Anderson told The Toronto Star.
Early frost is possible and winter could be cooler than normal due to a possible El Nino system, which would extend Ontarians' pain after a polar vortex swept the province and froze the Great Lakes last year.
The weather forecast service doesn't expect much rain in the first half of fall for eastern Ontario and Quebec but more precipitation and early snow could appear in November.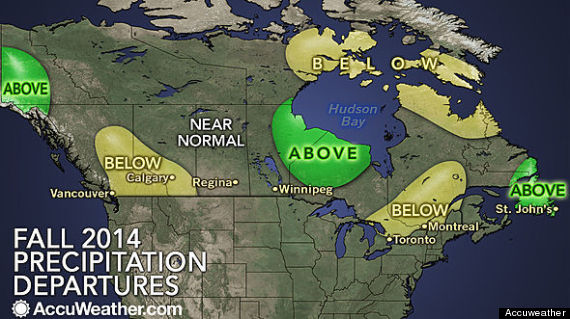 There's good and bad news for people in Western Canada. A warmer fall than normal is projected for Vancouver but drier conditions are expected in its interior (including Calgary), which could make things difficult for crews battling wildfires around B.C.
October, however, could bring wetter weather to the region, while the Prairie provinces can expect normal rain levels.
There may be an early frost or freeze in Manitoba and northern Ontario due to waves of cool air sweeping down through those areas.
Eastern Nova Scotia and Newfoundland, meanwhile, could see heavy rain due to warm and humid conditions.
Temperatures that are about three or four degrees Celsius above normal in the Atlantic Ocean could also have an effect on weather after a hot, dry summer.
Like Us On Facebook

Follow Us On Twitter

ALSO ON HUFFPOST:
Freezing Faces Of The Polar Vortex
Allan Umscheid, owner of Yards By Al in Lawrence, Kan, feels the bitter wind and catches drifting snow on his face as he runs a snow blower.

Greg Rohde has an ice and snow encrusted beard after commuting to work at the University of Minnesota by cross-country skis along West River Parkway in the frigid -20 weather, Monday, Jan. 6, 2013 in Minneapolis.

A man wears a face mask and heavy clothes while walking through downtown Springfield, Ill., in blowing and falling snow as a strong winter storm moves through the Midwest Sunday.

John Brower snow in his eye lashes after running to work in the frigid -20 weather Monday.

Jerome Harris is bundled up against the weather as wind blows up his scarf in St. Louis.

Chris Griesmeyer dons ski goggles and a mask to protect him from the harsh wind chill as he walked in the sub-freezing temperatures in Arlington Heights, Ill.

A pedestrian walks along Woodward Avenue in the cold as the area deals with record breaking freezing weather in Detroit, Michigan.

Commuters make a sub-zero trek to offices in the Loop in Chicago, Illinois.

A commuter makes a sub-zero trek through the Loop in Chicago, Illinois.

Brooke Spencer, 9, makes a face after eating some snow, at her home in Grand Blanc, Michigan

U.S. Postal Service letter carrier Jamie Jasmon struggles through snow and below zero temperatures while delivering the mail in Springfield, Ill.

University of Minnesota graduate student Sascha Lodge commutes on foot from her Falcon Heights, Minn. home to the univerity's St. Paul campus, where she studies natural resources science and management.

Jenny Hackett walks across a street in St. Louis as snow and wind swirls.

Sharon Scott waits for a bus in a bus stop after running erands Monday, Jan. 6, 2014, in Mayfield Heights, Ohio.

Green Bay Packers fans deal with frigid temperatures before an NFL wild-card playoff football game between the Green Bay Packers and the San Francisco 49ers

Freezing commuters make a sub-zero trek to offices in Chicago, Illinois. Temperatures in the city dipped to -16 degree Fahrenheit.

A cyclist peers over his frozen glasses in -4 temperatures in Toronto.