Fraser Institute Blasts Canada's 'Biased' Labour Relations Laws In New Report
Just when it seemed that the debate over right-to-work laws had calmed, Canada's most well-known conservative think-tank has released a report blasting the country's "biased" labour relations laws for stalling jobs and investment.
After assessing various labour relations laws in the private sector for their "flexibility" — defined for the purpose of their index as "less bias towards favouring unions over employers" — the latest report, released Thursday by the Fraser Institute, found that all 10 provinces lagged behind the 50 U.S. states.
The index focused on private sector unions and studied three categories: organizing a union, union security and regulation of unionized firms.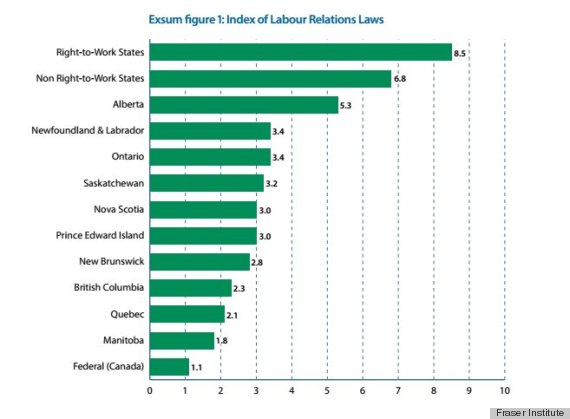 The 24 so-called U.S. right-to-work states were ranked highest. In those states, employees can legally opt out of paying union dues, which has had the effect of eroding the support base for unions. Labour unions argue that it has also had the effect of driving wages and benefits down as well as jeopardizing the quality of jobs for unionized and non-unionized employees alike.
Canada's labour laws are based on a 1946 Supreme Court decision that ruled union payments are mandatory for everyone who works in a unionized work environment because all employees benefit from having organized representation.
"The fact that many Canadians are essentially forced to join unions and pay union dues if they want to work in certain jobs is evidence of Canada's biased labour relations laws," said Charles Lammam, who co-authored the study.
Alberta was rated the least biased Canadian jurisdiction, followed by Ontario and Newfoundland and Labrador. The federal government and Manitoba ranked lowest.

"Jurisdictions with less biased and more flexible labour relations laws enjoy higher job-creation rates, lower unemployment and higher investment," Lammam said.
"Why? In part because flexible labour relations laws allow workers to more easily change jobs in search of higher pay or better working conditions, and allow employers to better respond to market changes."
Although Ontario ranked fairly high on the list, the institute said the province's laws are particularly damaging to its economy, whose biggest sector — manufacturing — has taken a big hit since the recession and which neighbours right-to-work-state Michigan.
Former Progressive Conservative leader Tim Hudak's platform for the recent Ontario election originally included the introduction of U.S.-style anti-union laws, but he backed away from it when it became clear how unpopular the proposals were. His party subsequently lost the provincial election in June.
Hudak contended that General Motors moved its Camaro production to Michigan because of the state's right-to-work laws, and he said Ontario must follow Michigan's example to prevent the loss of more jobs.
Unionization has come under attack in Canada recently, with critics saying the unions force employees to pay for political activities even if the workers do not support them.
Two private members bills have recently been presented to Parliament that would erode union power. Bill C-525 would allow secret ballots in union certification, and Bill C-377 would increase unions' financial reporting.
The report also argues that the requirement in many Canadian provinces that businesses alert the union before undertaking any proposed technological investment can slow advances and, in turn, productivity.
The Fraser Institute has previously argued that right-to-work states have seen more rapid employment growth than those without. Unions' research, however, has found that the jobs produced are both lower paying and lower quality.
ALSO ON HUFFPOST:
10 Best Jobs In The World
If the highlight of your working day is the 4 o'clock chocolate run, perhaps you should take inspiration from Jenny Earle. A self-confessed chocoholic, Earle spends her day immersed in chocolate, so to speak. Like a pretty, modern-day Willy Wonka, the chocolate expert and consultant runs 'chocolate ecstasy tours' and consults for various small and large businesses on cost analysis and strategy, taste analysis and recipe development. Find out if you've got what it takes to be a chocolate consultant with Louise Thomas's insider guide.

Want a life of thrills and spills? In January 2013, Leeds student Sebastian Smith landed a £20,000 a year job as a water slide tester with First Choice travel company. The role involved travelling the globe for six months visiting the world's best water parks in places as far and wide as Faliraki, Turkey and Jamaica, and rating their slides. Fancy making a splash for cash? Check out these tips on how to become a water slide tester.

Think playing video games for a living sounds too good to be true? A quick Google search will show you this dream job really does exist and companies are regular looking for candidates. Read up on a few pointers on how to become a games tester before you make your application, if you want the best chance of beating the competition.

In past centuries ale tasters (or ale coroners as they were known then) were used to check the health and safety of alcohol being sold in the local area. But in 2010 the role was reintroduced by London's trendy Spitalfield's Market. The market's modern day version can be found blogging at The London Ale Taster where he reviews the good, the bad and the ugly of the ales sold in the area.

Find yourself counting down the days to annual leave? Got a picture like this as your work computer screen saver? Perhaps you should keep your eyes peeled for Luxury Travel Intelligence's next vacancy. The members-only resource for wealthy travellers advertised last month (March 2014) for someone to tour the world for a year, reviewing the most exclusive hotels and resorts. The trip, worth £600,000 included a stay on Sir Richard Branson's Necker Island, a visit to David Furnish's new Champagne lounge in Las Vegas, a stay at the Velaa Private Island hotel in the Maldives and a tour of Europe's top ski resorts.

Feel like you just don't get the buzz you need from your current job? You could do worse than take a leaf out of student Amy Kingston's book. The 22-year-old confessed to Reveal magazine she earns around £250 a month, testing sex toys and writing saucy reviews for adult website, lovehoney.co.uk. Fancy giving it a go? The website is recruiting as we speak.

Ever feel like face planting your keyboard and having a little snooze at work. Well, land yourself a role as a bed tester and you could get paid for sleeping on the job. As 'director of bed bouncing' for hotel chain Premier Inn, Natalie Thomas is tasked with testing how comfortable each of the chain's 46,000 beds is, spending about 20 minutes on each - just long enough for a quick power nap!

Check out this genuine job description for a Wildlife Caretaker from Australia Tourism: 'We're searching for a Wildlife Caretaker - someone with a deep kinship for our native wildlife, nurturing the unspoilt landscape and breathtaking ecosystem with your knowledge and passion and sharing our stories with the world. As Wildlife caretaker you'll swim with sea lions, come face to face with great white sharks and assist with conservation projects. Your duties will allow you to explore our amazing environment by foot, kayak, bicycle, and boat, taking only photographs and leaving only footprints. On Kangaroo Island you'll talk to wallabies and cuddle koalas, sun bake with seals on the pristine beach at Seal Bay, feed echidnas in untouched bushland, and play with dolphins in the crystal clear waters.' Sorry, we forgot to say - the job has already gone.

Love clothes? Love shopping? A personal shopper could be your perfect role. Okay, so you're not shopping for yourself but you do get to spend the day choosing clothes and putting outfits together. Most major department stores now have their own personal shoppers - or style consultants - on hand to help those who have the cash to splash but don't have the first clue about styling. For an insider's view, Liberty personal shopper, Karen Proctor spills the beans.

Yes, you read that correctly. This job exists - and once again it's thanks to the Australian tourist board. They certainly know about job satisfaction in Oz. Chief Funster, Andrew Smith, based in Sydney, travels throughout New South Wales as a social media commentator and professional party-goerr, reviewing the coolest gigs, parties and VIP events in Sydney and New South Wales as well as helping to promote food festivals, lifestyle, sports, cultural, entertainment and arts events across the state. Working behind the scenes, Andrew plays an integral role in the Sydney Festival, Mardi Gras and Vivid Festival, all leading up to the spectacular New Year's Eve fireworks on Sydney Harbour.