Ontario's Ring Of Fire Gets A Development Corporation As First Nation Objects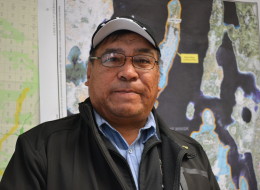 The First Nation band closest to the Ring of Fire says the Ontario government is failing to live up to promises it made to the community and has neglected to include First Nations in initial plans.
Webequie, a tiny isolated community, is taking issue with Ontario's decision to create an economic development corporation and nominate board members -- all four from government-- without consulting other partners.
The Ring of Fire, a giant mineral deposit 540 kilometres north of Thunder Bay, became a hot topic during the Ontario election campaign this spring with opposition parties pointing fingers at the leading Liberal party for dragging its heels. Within weeks of their re-election the Liberals announced they would create an economic development corporation within 60 days.
Scrambling to fulfil that promise, the Grits announced the corporation's creation Aug. 28. They also announced the first four board members would be government-appointed representatives, with those from First Nations and the mining industry to join later.
"The Province's decision to unilaterally move ahead with the economic development corporation for the Ring of Fire is disappointing," Chief Cornelius Wabasse said in a press release.
"We have been clear that we are willing to work with Ontario about Ring of Fire issues, but it has to be in a true spirit of partnership. Decisions of this magnitude cannot be made by Ontario behind closed doors."
Ontario's Mining Minister, Michael Gravelle, was unavailable for comment Friday. But a government spokesperson said Friday that Gravelle met with Chief Wabasse and other Matawa chiefs prior to last week's announcement and listened to their concerns.
"Our government's understanding is that Matawa-member First Nations participation in the corporation would be facilitated through the regional process," Eric Bianchini wrote in an email to Huffington Post Canada.
Check out pictures of Webequie (story continues below):
Webequie's Path To Development
The people of Webequie are caught between two worlds. They want to pass their traditional way of life onto their children, but also want access to the luxuries of modern life, including satellite TV and internet.

This extremely remote reserve some 1,400 kilometres north of Toronto is surrounded by small lakes and uninhabited islands, as well as the Winisk River Provincial Park.

Many Webequie residents keep their boats on homemade launches on the shores of the reserve. They fish frequently in the waters of Winisk Lake and surrounding rivers and lakes.

The community of Webequie First Nations is the only sign of civilization for hundreds of kilometres.

Residents of Webequie are packed into too few houses on the tip of Eastwood Island. Some three-bedroom homes are shared by two or three families.

Smoke houses sit outside many homes in Webequie. Here, residents can preserve fish to eat during the long, harsh winters, though some committed people also enjoy ice fishing.

A fish fry during Webequie's summer festival is a community affair. Fishermen take to their boats for a fresh catch that they bring back for others to fry up and dole out.

Small household budgets are stretched thin at the community's only store, where prices are three times as high as they are in Toronto or Thunder Bay. The Northern Store sells everything from bacon to toys to washing machines.

This gravel road is the starting point for a winter road to the Ring of Fire development, some 90 kilometres east of Webequie.

Dogs roam throughout the open spaces between Webequie's homes. Firewood is stacked neatly outside for use in the woodstoves used for heating and cooking.

This path is the beginning of an ice road that connects Webequie to the mainland during the winter months. Development plans could potentially include making this a permanent road.

A permanent road to the mainland would increase access of supplies to and from Webequie. It would allow the people to properly dispose of old vehicles currently piled near the dump.

Elsie Macdonald is one of the band councillors tasked with striking deals with resource companies that will benefit her community.

A map of Webequie shows potential plans for business development, including expansion into other parts of the island.

A group of bears lives in the area's makeshift garbage dump and feeds off the scraps.

The bears, who came to the island on one of the winter roads, are used to seeing people and don't bother those who come to drop off their trash.
The economic development corporation was intended to bring different stakeholders together to make decisions related to infrastructure, such as how to ship the cargo out of the remote swampy lowlands of the Ring of Fire. Rail, road and even hovercraft have been proposed.
Transportation is a key sticking point that needs to be solved in order to spark interest from the mining industry, along with the investment and jobs it could bring.
Alternative routes have been suggested for a potential highway out of the Ring of Fire, some of which could link remote First Nations reserves like Webequie to the rest of the country.
Many of the bands are ambivalent about the development and skeptical that government and industry are genuine in their promises to involve local communities in the process, partially over a historical negligence to do so.
In addition to sitting as one of nine First Nations on the Matawa Tribal Council, which struck an agreement with the government to begin development earlier this year, Webequie is also involved in one-on-one negotiations with the government.
Development will change the way of life for First Nations communities in a way they have never seen, they worry about the impact of mining on the animals and land but also welcome the jobs and economic improvements it could bring.
Chief Wabasse said that Ontario's failure to alert the communities prior to the formation of the economic development corporation has upset community members and has shaken the confidence of Webequie chief and council.