Atikamekw First Nation Declares Sovereignty Over Its Territory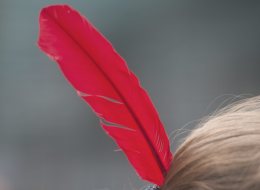 QUEBEC - The Atikamekw First Nation has declared its sovereignty over 80,000 square kilometres of territory and says any development in that area must get its approval.
Armed with a Supreme Court of Canada judgment recognizing ancestral rights for First Nations in British Columbia, the Atikamekw want to have their say on projects located in the Nitaskinan region.
Constant Awashish, grand chief of the Atikamekw First Nation, says 35 years of territorial negotiations with governments have provided nothing.
Awashish said Monday that elected members of the aboriginal First Nation adopted the unilateral declaration of sovereignty to assert their right to self-government on the Nitaskinan region.
The grand chief says any companies thinking of pursuing projects in the area will have to do it in co-operation with the Atikamekw.
Three communities in particular lie in the affected zone — Manawan in the Laurentians; Opitciwan, which is 300 kilometres west of Roberval; and Wemotaci, which is on the shores of the St-Maurice River.
In June, Canada's highest court granted declaration of aboriginal title to more than 1,700 square kilometres of land in British Columbia to the Tsilhqot'in First Nation.
It was the first time the court has made such a ruling concerning aboriginal land.
The ruling adressed how aboriginal title is determined and whether provincial laws apply to those lands.
It will apply in the case of outstanding land claims.
Awashish says that applies to the Atikamekw.
"Gone are the days of negotiating the rights of the Atikametw, which have not been surrendered, for the benefit of a state that imposes its rules as if such rights do not exist," Awashish said at a news conference Monday.
"Our jurisdiction, our rules and our conditions must be respected."
He said decades of indifference from the federal and Quebec government have blocked Atikamekw development.
Jean-Roch Ottawa, the Manawan chief, said his community is not opposed to development per se.
"We only oppose development that threatens our culture and way of life," he said. "We must act."
The elected Atikamekw officials said they will use all means at their disposal to defend their interests.
ALSO ON HUFFPOST:
Residential Schools: A Photo History
Inuit children who lived too far away and had to stay at school during the summer at the Anglican Mission School in Aklavik, N.W.T. in 1941.

The blackboard on the left reads: "Thou Shalt Not Tell Lies." Cree students at the Anglican-run Lac la Ronge Mission School in Saskatchewan in 1945.

Sisters of the Soeurs du Sacré-Coeur d'Ottawa and students on the steps of the school on the Pukatawagan Reserve in Manitoba in 1960.

La Tuque Residential School's hockey team at a tournament held during the Quebec Winter Carnival in 1967.

Canada's first and only Indian Air Cadet Unit, "No. 610" in 1956. The boys are from the Roman Catholic-run Williams Lake, B.C., Residential School.

Chemistry class at Kamloop's Residential School in 1959

Students play pool at the Norway House Residential School in Manitoba in 1960.

Students at a dormitory of the Shingwauk Residential School in Ontario in 1960

The carpentry shop at a Kamloops, B.C., residential school in the late 1950s.

Children hold letters that spell "Goodbye" at the Fort Simpson, N.W.T, Residential School in 1922.

Undated photo of a group of students and parents from the Saddle Lake Reserve in Alberta en route to the Methodist-operated Red Deer Industrial School.

St-Michael's Residential School in 1959

Shingle Point Residential School & Home For Boys, Mackenzie District, N.W.T. in 1930.

Students from the residential school in Moose Factory Island in Ontario attend a service at St. Thomas Anglican Church in 1946.

Aboriginal children at the Roman Catholic-run Fort Providence Residential Mission School in the Northwest Territories in 1929.

An undated photo of a dog team carrying a hay load near the residential school at Fort Resolution, N.W.T.

Undated photo of children cutting logs at the residential school in Fort Resolution, N.W.T.

Undated photo of boys cutting hay at the residential school in Duck Lake, Sask.

An undated photos of aboriginal students attending the Metlakatla, B.C., Residential School.

Two Métis children with an Inuit child at the All Saints Residential School, in Shingle Point, Yukon, in 1930.

Students at the Onion Lake Catholic Residential School in 1950.

Adeline Raciette amd Emily Bone study on the lawn of the Assiniboia Residential School in Manitoba in 1958.

Students share dish-washing chores at Portage La Prairie Residential School in Manitoba in 1950.

Fort Qu'Appelle Industrial School in Saskatchewan in 1884.

Children at the Fort Resolution, N.W.T., residential school in 1928.

The Alert Bay Mission School in British Columbia in 1885.