Growing Number Of Canadians Unprepared For Financial Emergency: BMO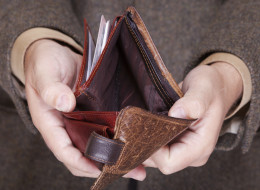 Three out of 10 Canadians "are living paycheque to paycheque or spending more than they earn," according to a survey from BMO.
The survey found a growing number of Canadians would be unprepared in a financial emergency. More than a quarter (27 per cent) of respondents had one month or less in savings, up from 19 per cent in a 2012 survey.
Those with one month in savings had, on average, $2,051 to get them through an emergency.
This comes at a time when Canada's support structures for the unemployed are growing thinner. Recent estimates show that little more than a third of Canadians who lose their jobs now qualify for Employment Insurance. In Toronto, where the unemployment rate is above the national average at 8.9 per cent, only 17 per cent of those who lose their jobs qualify for EI.
On average, Canadians had $35,237 in rainy day savings, BMO said, up $1,080 from a year earlier. But those savings are very unevenly distributed. More than four in 10 Canadians (41 per cent) had less than $5,000 in emergency savings.
Those with lower incomes were the least likely to have a financial cushion of security. But that doesn't mean all high earners are covered; one-quarter of those earning more than $100,000 had under $5,000 in emergency savings.
"In order to avoid taking on an unmanageable amount of debt, the ideal emergency savings fund should be equal to three to six months of your income," BMO's Christine Canning said in a statement.
Ontarians had the largest emergency savings, averaging more than $47,000, with Quebecers averaging the lowest, at around $18,500.
Manitoba and Saskatchewan had the highest proportion of people with less than $1,000 in savings; fully 24 per cent of the population. The lowest proportion was in Quebec, with 13 per cent.
The BMO survey, carried out by Pollara, sampled 1,001 Canadian adults between Aug. 5 and Aug. 7 of this year.
Also on HuffPost:
Consumer Debt Per Person (2014)
Source: Equifax

Source: Equifax

Source: Equifax

Source: Equifax

Source: Equifax

Source: Equifax

Source: Equifax

Source: Equifax

Source: Equifax

Source: Equifax

Source: Equifax

How Canada's Debt Burden Compares

Canada hit a record high in the first quarter of 2011, reaching $1.5 trillion in household debt. If spread evenly across Canada, that means every family with two children has $176,461 in debt. In the U.S., household debt hit $11.5 trillion by the end of March this year. The average household debt in the U.S. for a family of four is $148,000.

Loans owed to Canada Student Loans amount to nearly $14 billion and rising. In the U.S., where tuitions are considerable higher, loans owed exceed $932 billion, including federal and private loans.

With their debt ceiling raised again, the U.S. has more than $14 trillion in government debt in the first quarter of 2011. Canada has more than $563 billion. That figure works out to 84 per cent of Canada's GDP, compared to 58.9 per cent for the U.S.

In the first quarter of 2011, the average Canadian had more than $3,500 in credit card debt, according to TransUnion Canada. In the U.S., the average American consumer owes more than $4,200 in credit card debt.

As of June 2011, the median cost of a home in Canada was $372,000. Vancouver, Victoria and Toronto are some of the most expensive places in the country to buy a house. Prices in the U.S. vary more than they do in Canada. As of June, the median price of a home in the Northeast was $261,000, while the median price in the Midwest was $147,000. The median in the South was $159,100 and in the West, it was $240,400. The average price of a home in the UK is £232,628 as reported by their first quarter in 2011, which converts to around CAD $371,000.

In 2010, there were more than 1.5 million non-business bankruptcy filings in the U.S. In the same year, there were only 92,694 personal bankruptcies in Canada. That means there were 48 bankruptcies per 10,000 people in the U.S., and 28 bankruptcies per 10,000 in Canada.