Dutch Woman's Fake Southeast Asia Trip Is Amazing
Zilla van den Born packed her bags for Southeast Asia, said goodbye to her family and friends and spent the next five weeks posting pictures of herself in going to temples, snorkeling and eating fantastic food. What she didn't do, however, was leave home.
The Amsterdam-based student, 25, told everyone she knew (except her boyfriend) that she'd be travelling for 42 days, but instead of getting on a plane, she turned her life into an experiment of how easy it is to fool others with our Facebook appearances.
Zilla, who is a graphic designer and video artist, detailed the experiment on her site. The explanation for it (translated from Dutch) reads:
"We live in a visual culture in which media and reality are intertwined, and it is difficult to distinguish between reality and representation. Everyday we see a stream of images, which makes it possible to see the rest of the world from our living rooms.

As part of my graduation I went to Southeast Asia. At least, that 's what my classmates, friends, family and even my parents believed. In reality, I stayed home and I discovered Thailand, Cambodia and Laos from my desk."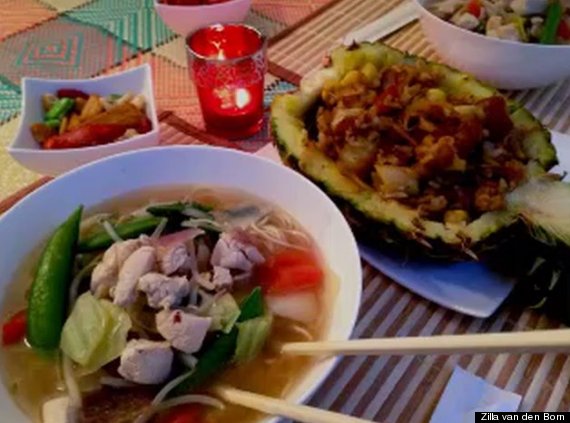 Zilla's delicious Thai restaurant meal, prepared in her apartment with food she bought at an Amsterdam grocery store.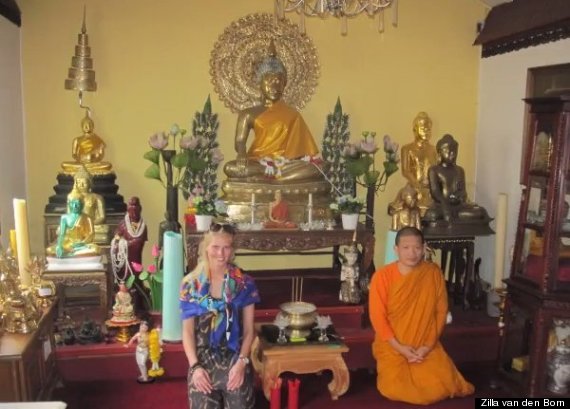 Zilla's visit to a Buddhist temple ... in Amsterdam.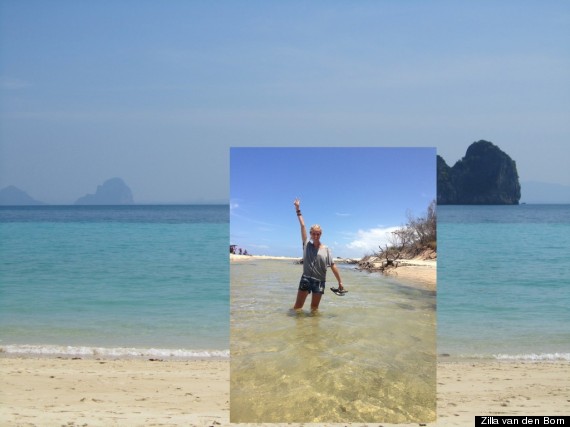 A look at how Zilla Photoshopped herself into the waters of Thailand.
Zilla even faked Skype conversations with people "back home," setting up a portion of her apartment with a Southeast Asian-style backdrop.
As reported by GapYear.com, Zilla told media in the Netherlands, "My goal was to prove how common and easy it is to distort reality. Everybody knows that pictures of models are manipulated. But we often overlook the fact that we manipulate reality also in our own lives."
Not a bad lesson to take home, really.
ALSO ON HUFFPOST:
8 Ways To Avoid Social Media Stress
A recent survey of Facebook users found that the most common source of frustration on the social media site was envy caused by browsing others' profiles. To turn down the social media stress in your life, avoid turning Facebook into a game of keeping up with the Joneses. Instead of browsing through classmates' photos to see who had the best summer ever with their siggo while you were at home working (and single), use the network exclusively to talk to friends and share fun updates on your life.

Facebook, Twitter, Instagram, Tumblr, and other social media sites are a wonderful way to share photos, observations and life updates with your friends and followers. But be selective about what you post for the world to see -- does everyone need to know the details or your recent break-up, or cryptic song lyrics that describe your ander and confusion over it? Probably not.

According to the i-SAFE foundation, more than half of teenagers have been bullied online. The only appropriate response to cyberbullying is a zero-tolerance policy. If someone is sending hurtful messages, sharing inappropriate or unflattering photos, or spreading rumors about you or a friend online, tell a teacher or parent. Online bullying can have serious and long-term consequences. On the flip side, more than half of teens have engaged in cyberbullying themselves.

The golden rule is as important on social media as it is in every other part of life: Treat others the way you'd like to be treated. Negative or sarcastic comments are best kept to yourself. Also, when posting your own statuses, try not to vent your feelings too much. Studies have shown that bad moods are "contagious" via social media -- Facebook users can directly impact the emotions of their friends for up to three days.

Whether you're single, happily coupled, or breaking up, keep your love life off Facebook. It might be fun for a while to post lovey-dovey photos and "Love my boyf!!" statuses, but they'll likely annoy your friends and make your relationship a whole lot more complicated. According to Mashable, 25 percent of people had found out their relationship was over because their siggo changed their relationship status to "single." You don't want that to be you.

If you wouldn't want a college admissions officer or a teacher to see it, keep it offline. No exceptions. Risque or incriminating photos are best kept to yourself (or not taken at all) -- you don't want to leave a digital paper trails of all the mistakes you made in high school.

Studies have shown that having more Facebook friends leads to increased stress levels, finding a link between larger online networks and social anxiety. Don't worry about getting everyone at your school to follow you on Twitter and friend you on Facebook. To minimize social media anxiety, periodically go through and delete friends and followers you may not know very well or no longer want to share updates with.

When social media is stressing you out, sometimes the best thing to do is walk away from your phone, laptop and iPad and just unplug for a few hours or a couple days. If you're having trouble staying off Facebook, try a Chrome plugin or app that, for a selected amount of time, blocks you from logging on to social media sites.