Canadians Would Pay For CBC, CBC Execs Tell CRTC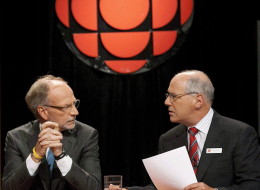 GATINEAU, Que. - The heads of CBC/Radio-Canada have told the country's broadcast regulator that Canadians are ready to pay to get the broadcaster's content even if many consider it an acquired right.
They told hearings of the Canadian Radio-television and Telecommunications Commission today they are in favour of revamping the business model of traditional television.
They say the current system has become less profitable because of the multiplication of platforms and new players in the market.
However, the CBC/Radio-Canada executives would not say how much consumers would have to pay for the service despite questions from journalists and CRTC commissioners.
Hubert Lacroix, president of the Crown-owned broadcaster, says new sources of funding are vital for it to ensure its survival or else the quality of its programming will decline.
Jean-Pierre Blais, chairman of the CRTC, suggested that the broadcaster's funding is possibly a greater challenge than any regulations it may face.
CBC/Radio-Canada has already undertaken deep cuts to its workforce to balance its books.
The CRTC hearings will continue until Sept. 19.
Also on HuffPost:
CBC TV Fall/Winter 2014-15
Based on author Lawrence Hill's award-winning novel of the same name, "The Book Of Negroes" is a six-part miniseries that follows the harrowing journey of Aminata Diallo, played by Aunjanue Ellis, and her return home after being forced into slavery as a child.

When filthy-rich video store magnate Johnny Rose (Eugene Levy), his soap-star wife Moira (Catherine O'Hara), and their two kids – über-hipster son David (Dan Levy) and socialite daughter Alexis (Annie Murphy) – suddenly find themselves broke, they are forced to live in Schitt's Creek, a small, depressing town they once bought as a joke.

A taut psychological thriller, "Secrets And Lies" is a nerve-wracking view behind the curtains of suburbia. In the six-part mini-series, everyday family man Ben tries to prove his innocence after being identified as the prime suspect in the murder of a four-year-old boy.

"Canada's Smartest Person" is a one-hour unscripted television series that takes audiences on an inspiring journey to uncover a new definition of smart. Canadians from all walks of life compete in revealing intelligence challenges to earn the title.

Comedian Jonny Harris is on a mission to find humour in the funniest places. "Of All Places" is a quirky, irreverent and affectionate adventure into small-town Canada, and a celebration of the people who proudly choose to call those towns home.

Set in 1869 Alberta-Montana border country, "Strange Empire" is a Western whose heroes are women. With most of the men gone, and those who remain battling for control, the women struggle to survive, to find their independence, and to build a life and raise their families.

"The Honourable Woman" tells the story of one woman's personal quest to right the wrongs conducted in a past life, in the midst of government paranoia and espionage. As a young girl, Nessa Stein (Maggie Gyllenhaal) witnessed the assassination of her father by the armed wing of the Palestinian Liberation Organization. Now in her late 30s, Nessa is at the forefront of the Middle East peace process.

"Camp X" is an emotionally driven character drama set in the thrilling and dangerous world of WWII espionage and covert operations. It follows the stories of five highly skilled young recruits – Canadian, American and British – torn from their ordinary lives to train as agents in an ultra-secret training facility on the shores of Lake Ontario.

"Pirate's Passage" is an animated, made-for-television film based on William Gilkerson's critically acclaimed novel of the same name. Set in 1952 Grey Rocks, Nova Scotia — a centuries-old town that was famous 250 years ago as a favoured port of pirates — the cartoon follows the friendship of 12-year-old Jim and Captain Johnson.

Of course Canada's top-rated entertainment show "Dragons' Den" will be returning. This season, the show welcomes two new Dragons to its panel of multi-millionaire investors: restaurant magnate Vikram Vij, and reigning rock star of Canadian finance Michael Wekerle.

Western family drama "Heartland" enters its eighth season and marks its 125th episode, making it the longest-running Canadian one-hour dramatic series in history.

Canada's pre-eminent political satirist Rick Mercer returns for a 12th season of "The Rick Mercer Report," delivering a weekly dose of ranting and funny takes on the week's top stories.

Season four of "Mr. D" finds comedian Gerry Dee back at Xavier Academy as he continues to plot and scheme his way into his dream job of PE teacher.

"Republic Of Doyle" marks their final season, filled with explosive drama as Jake prepares for his upcoming murder trial.

The long-running British soap opera continues its dramatic storylines centred on the lives of a working-class British community set in the fictional town of Weatherfield.

Hit period crime drama "Murdoch Mysteries" returns for its eighth season and celebrates its milestone 100th episode, while continuing to bring audiences compelling mysteries, unique slices of turn-of-the-century history, ingenious inventions and personal moments for each character.

The award-winning Canadian comedic institution celebrates its landmark 22nd season, savagely satirizing Canadian politics and daily events in every episode.