Infamously Ignored Violinist Joshua Bell Returns To Ovation In Washington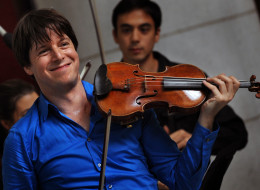 More than seven years ago on a cold January morning, virtuoso violinist Joshua Bell stood in an entrance to a Washington metro station disguised as a street performer and played his heart out.
No one noticed.
Since then, the story of Bell's social experiment -- which saw more than 1,000 people pass him by and only 27 stop to listen -- has become nearly as famous as the Grammy award-winning musician himself.
But on Tuesday, Bell was back in Washington, wanting to prove that, if given a proper chance, the city's people would listen -- in neck-craning hordes.
Once again staking out ground in the public transportation system -- this time at midday at the city's Union Station train hub -- Bell, accompanied by nine young string players, played with his trademark passion.
And this time, amid the station's whirr and hum, people listened.
More than 1,000 fans and curious onlookers packed half of the station's cavernous main hall for the free 30-minute concert, which included selections by Bach and Mendelssohn.
"The whole idea of the original stunt, I think, for me, was to show that you need active listeners. There's two parts to the equation of making music," the 46-year-old Bell told AFP.
"I wanted to show that even though the surroundings are similar, if you have active people who are really there to listen you have a wonderful experience, and it turned out much better than I could have imagined."
The 2007 stunt, which was chronicled in The Washington Post and earned its author Gene Weingarten a Pulitzer Prize, raised questions about beauty and society's perception of it.
Bell, whose concert hall performances are regularly sold out and who plays on a Stradivarius violin that reportedly cost him around $3.5 million, earned just over $32 when he set out his case at the L'Enfant Plaza metro stop in 2007.
Disguised in a black baseball cap, his efforts went nearly unrecognized in the station at the heart of federal Washington.
"If a great musician plays great music but no one hears... was he really any good?" wrote Weingarten.
Seven years later, Bell said the concert has become a sort of defining moment, with the article repeatedly making the rounds on social media websites.
"There still isn't a week that goes by without someone remarking that if they had been there, they would have stopped and listened," he said.
But the Indiana native claims he was not really surprised by how the experiment unfolded.
"Music needs that attention -- you can't throw it to people while they're rushing to work," Bell said.
But members of Tuesday's audience felt sure they could never have ignored him.
Ginger Reich, 62, a retired World Bank employee, said that the commuters at the L'Enfant Plaza Metro stop had engaged in stereotyping.
"They think, 'He's at a Metro stop so not really a real musician'," Reich said.
Meaghan Kilner, a 13-year-old violin student, said she might not have recognized Bell, "but I would have known it was better quality."
Children, Weingarten reported in 2007, were the only demographic that repeatedly tried to stop and watch Bell.
Tuesday's concert coincided with the release of Bell's new album "Bach" and comes ahead of HBO's "Joshua Bell: A YoungArts MasterClass" documentary that airs on October 14.
Following the performance, Bell said, he would hop on a train.
Most Expensive Music Auction Items
Though technically not sold yet, sealed bids are expected to be in by June 25 and the starting price is $45 million!

Sold: $15,875,800 , 2011

Sold: $5.6 million, 2001.

Sold: $3,544,000 , 2006

Sold: $2,230,000, 1985.

Sold: $2.1 million, 2003

Sold: $2 million, 2014

Sold: $1,450,000, 2000. Purchased by George Michael, who donated it to a Liverpool Beatles museum.

Sold: $1,202,500, 2010.

Sold:$959,500, 2004

Sold: $957,500, 2002

Sold: $554,500, 2009

Sold: $400,000, 1998

Sold: $400,000, 2012

Sold: $251,000, 1995.

Sold: $115,000, 2002

Britney Spears' ABC gum goes for $14,000 in 2004.

A jar of Brad Pitt and Angelina Jolie's breath (eww!) sold for $530 on eBay in 2010.

A handful of Elvis' hair sold for $115,000 in 2002.

A signed pair of Gary Coleman's sweatpants closed in auction at $400,000. But after the winning bid was deemed fraudulent, Jimmy Kimmel (of all people) bought the pants for $500.

Who doesn't want a lock of Justin Bieber's hair?* The pop star's hair sold on eBay for $40,668 in 2011. *Sarcasm

If we all could only be so lucky. Scarlett Johansson's used tissue sold for $5,300 in 2008. That's nothing to sneeze at!

We can only think of one direction in which the proud owner of Niall Horan's half-eaten Vegemite toast can go -- due South to the looney bin! The One Direction member's breakfast sold for more than $100,000.

If there ever were a plate of French toast that could bring sexy back, this would be it. Justin Timberlake's partially eaten sugary breakfast sold for $3,154 on eBay.

An undated image released by Julien's Auctions, shows a wood board fitted with large silver bolts which slide into the custom cut heels of a pair of customized black leather loafers. This item is part of Julien's Auctions worldwide tour of

An undated image released by Julien's Auctions, shows a Michael Jackson right handed glove covered in crystals, designed by Tompkins & Bush. This item is part of Julien's Auctions worldwide tour of

An undated image released by Julien's Auctions, shows a a Michael Jackson "Beat It" style jacket used on stage during the 1992-1993 Dangerous Tour. This item is part of Julien's Auctions worldwide tour of

An undated image released by Julien's Auctions, shows a Michael Jackson jacket worn on stage for the opening of the BAD concert tour designed by Tompkins and Bush. This item is part of Julien's Auctions worldwide tour of

The famous flying car driven by Caractacus Potts (Dick Van Dyke) was sold at auction last year for $805,000, far less than the $1-2 million it was expected to go for.

James Bond's favorite mode of transportation sold for an astounding $4.1 million back in 2010. However, this was no ordinary car: As the AP points out, the DB5 came equipped with an ejector seat, machine guns, rotating license plates and other spy gear.

Obviously, this isn't the first "Star Wars" prop to be auctioned off. However, it is one of the priciest. This Jedi weapon of choice -- used by Mark Hamill himself -- sold for $212,141 in 2008.

Audrey Hepburn's famous sleeveless gown sold for an astonishing $923,187 during a Christie's 2006 auction. The dress was one of three made for the actress.

This would make Doc Brown proud. One of the cars used in the third "Back to the Future" sold for $541,000 in December 2011. (Hoverboard not included.)

This 1971 action film scored not one but two major sales in 2011. First up was the Porsche 911 Steve McQueen drove in the opening scene of the movie, which went for $1.25 million. Three months later, McQueen's racing suit snagged $984,000 -- way more than its $200,000-$300,000 estimate.

The "jewel-encrusted statuette" from the classic 1941 Humphrey Bogart movie was sold in 1994 for $398,500 to Ronald Winston, president of the New York-based Harry Winston jewelry chain.

The futuristic gun used by Deckard (Harrison Ford) in Ridley Scott's sci-fi masterpiece sold for $270,000 in 2009. (Considering it's not a real gun, it likely won't do much to keep the replicants at bay.)

Who would want to own a soiled pair of the King's underpants? Apparently no one. The unique auction offering went up for sale at Omega Auction House in September 2012, but alas, it found not an interested buyer in sight. The reserve price was a generous $11,000 but the bidding only reached a measly $8K. Presley's old Bible, however, fetched a whopping $94,600.

This December, Sotheby's auctioned off the extramarital love letters of 'Peanuts' creator, Charles Schulz. Sent to a young lady 23 years his junior, the lovesick missives failed to attract a buyer, yet remain one of the weirder items we saw on the bidding block this year. IMAGE: AP Photo/Sotheby's

For just shy of $2,000, an antiques dealer bought two skeletons -- one male set of bones in a tuxedo and one Bible-carrying female counterpart -- at Tom Hall Auctions in Pennsylvania. The lucky auction winner, who scored the unusual lot in September, plans to resell the skeletons along with another set he already owns.

Two rare menus from the doomed vessel were sold at auction in November for an astounding $160,450. The menus weren't actually aboard the Titanic though; instead, the meal listings were used at a dinner at the Grand Central Hotel in Belfast prior to ship's departure. Maybe the bidder was up for a really dark historical reenactment?

It might seem like a typical Leica, but this particular M3D camera allegedly snapped the photograph of cubist master, Pablo Picasso. Owned by Picasso's pal and former LIFE magazine photographer David Douglas Duncan, the famous camera sold at the Westlicht photo-gallery in Vienna for a world record price of €1.68 million ($2.19 million) in November. IMAGE: DIETER NAGL/AFP/Getty Images

The piano used for the song "As Times Goes By" in the classic 1942 film "Casablanca" fetched more than $600,000 at auction this December. Offered up by a Japanese collector on the film's 70th anniversary, the iconic instrument undersold its $1.2 million estimate at Sotheby's. (We imagine the lucky new pianist saying, "Here's looking at you" to the antique set piece.) IMAGE: AP Photo/Sotheby's

In December, Tunisian authorities put property confiscated from ousted dictator Zine El Abidine Ben Ali up for auction. The unusual lot included a pair of miniature gold sphinxes, a diamond-encrusted pen and a staggering 39 luxury cars. One of the rarities up for grabs was a super-pricy Mercedes that belonged to Ben Ali's nephew. Mohammed Lassaad Hamayed of Tunisia's confiscation committee called the car "a handmade gem made of carbon fibers that costs more than $2.6 million." IMAGE: FETHI BELAID/AFP/Getty Images

In April, a racy photograph of the performer taken in 1990 and printed in 1991 hit the Bonham's auction block. Snapped by photographer Steven Meisel, the black-and-white photograph simply titled "Madonna" features the pop icon lying supine, naked on a bed with a sheet loosely covering her nether regions. Madonna's Sensual Naked Photo Goes Under The Hammer Home » Culture » Art » Madonna's Sensual Naked Photo Goes Under The Hammer A saucy photo of pop singer Madonna from 1990's in beach blond hair and dark eye-make up went on sale at Bonhams at a price three times the estimate. The sultry photo in grey and silvery tone was taken by fashion photographer Steven Meisel, when Madonna was about 31 during her Blond Ambition tour. The provocative image was one among many photographs for which Madonna had posed at the time. The picture fetched £14,761 ($23,750). IMAGE: Steven Meisel, 'Madonna' (American, born 1954) 1990. Gelatin silver print, printed 1991, signed and annotated 'ed no. 1' in pencil on verso. 21 1/2 x 19in Estimated $5,000-7,000.

In October, a handwritten letter in which Albert Einstein challenges the idea of God and the notion of being "chosen"went for sale on eBay, receiving an opening bid of $3 million. The note, dubbed the "God letter" and penned a year before Einstein's death, expressed the famed physicist's views on religion, the Bible and the concept of a creator.

And the final slide of this year's "Weird at Auction" list is reserved for the woman who sold off her own virginity. Catarina Migliorini, a 20-year-old Brazilian woman, put her virginity on the bidding block for more than three-quarters of a million dollars. A man named "Natsu" won the online auction -- which was sponsored by an Australia-based website -- and now has exclusive rights to deflower the self-proclaimed virgin. (Feel free to commence collective "ewwws" now.)

Catarina Migliorini, a 20-year-old Brazilian student, auctioned off her virginity to provide housing for poor families.

Turns out a tissue becomes a lot more valuable once Johansson's nose takes a giant whiff. The actress's used issue sold for $5,300 and the proceeds went to hunger charity USA Harvest.

In 2005, a woman from Connecticut put the rights of naming her child up for auction and received bids for over $15,000!

A pair of soiled underwear worn by Elvis Presley found no takers at an auction, though originally they were expected to fetch as much as $16,000.

According to BBC News, a cheese sandwich claiming to have the image of the Virgin Mary was sold on eBaby for $28,000.