Cord-Cutting, Netflix Take Their Toll As Hundreds Of Thousands Of Canadians Ditch Cable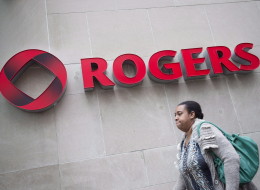 No wonder Shaw and Rogers, the two largest cable TV providers in Canada, recently joined forces to create a Netflix competitor. Between them, they've lost nearly 200,000 cable subscribers in the past year.
Rogers' latest quarterly report, released this week, showed the company lost 111,000 TV subscriptions over the past year, or about 5 per cent of their TV customers.
Shaw lost 82,000 over nearly the same period, or 4 per cent of their total. Its satellite TV service, Shaw Direct, lost 6,600 customers. If Rogers' and Shaw's experience is typical, this would suggest nearly one in 20 Canadian households ditched cable TV over the past year.
Both companies managed to offset some of the loss with gains in internet subscribers. Rogers gained 51,000 new internet subscribers, while Shaw saw 71,000 more "standalone" internet customers, meaning internet but no cable.
Rogers' earnings came in below expectations, with profit sliding 28 per cent compared to the same quarter a year earlier. Cable revenue fell one per cent. Shaw, on the other hand, saw a 64-per-cent jump in profits, thanks in part to lower expenses. Cable revenue was up 2.3 per cent on the quarter, thanks to pricing changes.
The new earnings reports illustrate the impact of the cord-cutting phenomenon. The CRTC, Canada's telecom watchdog, said earlier this year that 2013 marked the first time total cable subscriptions in Canada declined.
The telcos have noticed. Rogers and Shaw recently announced they're teaming up to create Shomi, a video streaming service meant to grab some of the audience now shifting to Netflix and other streaming services.
Though they will be competitors, Netflix and Shomi are also already content partners: Rogers-owned CityTV announced a deal last week with Netflix to carry the Canadian sci-fi thriller Between on both streaming services, as well as on traditional broadcast TV.
It's not just the telecoms getting into the game; broadcasters themselves have signalled they're interested in getting in the streaming business as well. Both HBO and CBS announced recently they are planning to offer their content through a streaming service, essentially bypassing cable TV companies.
Also on HuffPost:
Netflix Canada Halloween Horror
One of the best Stephen King adaptations, "Pet Sematary" is as creepy as it is tragic. When a young couple loses their four-year-old son after he runs onto the highway, the distraught father buries him in a cursed Micmac cemetery despite being warned of the consequences by an elderly friend. Sure enough, the boy returns and the killing begins. Director Mary Lambert keeps things mournful and tense in this variation on "The Monkey's Paw."

Forgive the feathered hair and polyester prom suits, and this Brian DePalma adaptation of Stephen King's coming-of-rage classic still holds up as an agonizing metaphor for adolescence. Sissy Spacek as cloistered, bullied, telekinetic high school girl Carrie is still astounding, as is Piper Laurie as her religious fanatic of a mother. The locker room shower scene, the flying cutlery and, of course, the pig's blood at the prom are still shocking. And as a meditation of bullying, "Carrie" may be more relevant than ever.

Elijah Wood has come a long way from the Shire. "The Lord Of The Rings" actor stars in this exceptionally nasty and effective remake of the sleazy 1980 film "Maniac," which puts him in the role of a modern-day Norman Bates type who slashes up women and puts their scalps on mannequins in order to appease the nagging voice of Mother in his head. The kills will shock, but the really interesting thing about "Maniac" is that it's shot almost entirely from the killer's POV, forcibly implicating the viewer in his horrible crimes and questioning our own lust for violence.

Boasting plenty of interview material with the godfather of the modern zombie movie, George A. Romero, this documentary explores the social and political roots of his groundbreaking 1968 film "Night Of The Living Dead." Featuring interviews with the movie's cast and crew, filmmakers influenced by it, as well as some great animated sequences illustrated by famed horror artist (and Rue Morgue columnist) Ghoulish Gary Pullin, "Birth Of The Living Dead" is a hearty meal for any zombie enthusiast.

Who knew the guy behind "Clerks," "Chasing Amy" and "Jersey Girl" had a horror movie in him? He surprised genre fans with "Red State," his most ambitious and best-directed work. With a solid cast, including Michael Parks and John Goodman, Smith mixes action, dark comedy, family drama and horror in his condemnation of cult mentality. When an extreme right-wing religious sect, which likes to murder sinners/outsiders, kidnaps some local teens, kills a cop and goes on lockdown, the authorities rush in, only to find themselves in the middle of a bloodbath.

Anything featuring Vincent Price is worth watching, and here he co-stars in this tale of mad science gone insectoid. David Hedison stars as Andre Delambre, a brilliant Montreal inventor working on a teleporter. When he decides to test it on himself, it works; too bad a fly gets in there with him, causing them to swap heads and other body parts. Much less goopy and only a fraction as disturbing as David Cronenberg's 1986 remake, the original is still movie-monster fun. Price only ups the camp factor as Andre's distraught brother.

Produced and co-written by "Buffy The Vampire Slayer" creator Joss Whedon, "Cabin In The Woods" perfectly exemplifies his trademark mix of compelling characters, original monsters, unexpected laughs, and wild plot twists. Both celebrating and deconstructing the tropes of the American slasher/survival horror film, it follows a group of college kids who go off to the titular cabin to get high, drunk and laid, but also find themselves in the middle of a creature-filled conspiracy with apocalyptic consequences.

Daniel Radcliffe is steering his post-"Harry Potter" career in the right direction. Aside from the upcoming "Horns," he stars in this 2012 remake of a 1989 TV movie, based on the chilling ghost story by Susan Hill. Radcliffe stars as a struggling lawyer sent to the isolated Eel Marsh House to arrange its sale. Once there, he encounters the curse of the Woman in Black, a tragic spectre whose appearance prefigures the horrible death of a child. Thick with foggy atmosphere and spiked with unexpected scares, "The Woman In Black" is perfect for watching in the dark.

Warning: this one will test both your gag reflex and tolerance for violence. Takashi Miike is a true maverick and "Ichi The Killer" is his more notorious work; based on a manga series, it delves into the world of warring yakuza factions and a hyper-violent-yet-childlike assassin -- Ichi -- who's manipulated by them to rack up the body count. Sexual assault, extreme cruelty and over-the-top bloodshed got this one banned in several countries, though it's also been praised as a clever look at spectatorship and violence. Regardless, it blows minds and turns stomachs.

"Nightmares or dreams? Madness or sanity? I don't know which is which," proclaims the title character of "Let's Scare Jessica To Death" -- which also describes the experience of seeing this 1971 head trip. When Jessica is released from a mental institution, she moves with her husband and their friend to a farmhouse with a mysterious past. Upon arrival, they meet a beautiful squatter and invite her to stay; but is she really a killer, ghost, vampire or something else? Or is the fragile Jessica imagining the whole thing? Surreal psychological horror at its very best.

If you're unfamiliar with the superstition-steeped tradition of Chinese hopping vampire movies, don't sweat it -- just enjoy this "Rigor Mortis" for being a very stylish and gorgeously-shot monster movie. When a washed-up actor moves into a haunted apartment, he has to contend with more than floating apparitions after his neighbour's wife decides to resurrect her dead husband ... as a vampire. The disfigured, demon-eyed ghoul would make an amazing Halloween costume, and may just hop into your nightmares.

Canada's resident tough guy, Michael Ironside, is at his ugliest in this obscure Canuck stalker movie set in -- where else? -- a hospital. He plays the hilariously-named psycho Colt Hawker, who attacks a feminist journalist/activist after seeing her on a talk show. When he finds out she's recovering in hospital, he comes to finish the job, and a game of cat-and-mouse ensues. What makes this entry in slasher subgenre worth caring about is the co-operation between two women when facing their attacker. They don't just run screaming, like so many horror movie females.

What begins with a brutal brick attack on a young pregnant woman turns into a twisty roller-coaster of a plot centered around enough deceit, murder and revenge to drive a half-dozen Hitchcock movies. But old Alfred never imagined anything this nasty. To say much more about the plot would spoil things, as "Proxy" is most enjoyable for its harsh surprises and a cool soundtrack, which serves to intensify everything considerably. Just be sure to steel yourself for some child murder, as this one's no holds barred.

Spanish filmmaker Adrián García Bogliano is one of the most exciting directors working on low-budget horror, and "Here Comes The Devil" is a perfect example of why. Strange, spooky and profoundly disturbing, this demon-themed tale sees a brother and sister go missing after leaving their parents to explore a hillside cave. They eventually return but they're not themselves, especially when they start manifesting some decidedly paranormal behaviour. When mom and dad investigate, the truth is a horror that lingers long after the movie.

This remake of a 2010 Spanish film is more of a ghoulish family drama than a standard horror movie, but director Jim Mickle keeps things tense, largely due to his fantastic casting, which includes Bill Sage ("American Psycho") and Michael Parks ("Red State"). A condemnation of poverty in America, it follows a poor rural family that's turned to cannibalism as a way to survive. When one daughter begins to questions their actions, and evidence of their crimes literally washes up in the creek, things start to unravel. It's a powerful piece of work.

With the recent news that David Lynch is bringing back the ultimate cult TV show next year, there's no better time to discover it. FBI agent Cooper's quest to solve the murder of prom queen Laura Palmer takes him into the unequalled world of Twin Peaks, a town overflowing with dark, murderous secrets, the most frightening of which is the demon entity "Bob." Of course, all that darkness is balanced out with Lynch's unique oddball humour, which shines through in a huge cast of both lovable and loathsome characters. And that amazing theme music...

Clearly inspired partly by "Twin Peaks" and "The X-Files," this moody detective story goes to some very dark places as it follows two Seattle detectives attempting to solve the murder of a high school girl. But that's just the beginning, as they eventually find themselves facing a particularly dangerous serial killer. Set against a backdrop of almost constant rain, this neo-noir is very heavy with atmosphere and angst, as its protagonists are as flawed as they come. Netflix rescued "The Killing" after it was cancelled and finished off the series with a third season.

Agents Mulder and Scully -- the former a believer and the latter the sceptic -- remain the great odd couple of genre television, and the early seasons of this nine-season show deliver everything a genre fans wants: monsters, killers, mutants, alien conspiracy, government skullduggery and loads of mystery. After all, who doesn't want to believe?

Robert Rodriguez gets a chance to significantly expand upon the mythology he hints at in his 1996 film of the same name. He makes the most of it, telling complete back stories about the bank robbing Gecko Brothers, the family undergoing a crisis of faith that they kidnap, and the members of the ancient, vampire-snake cult that they run afoul of in the Mexican desert. It's a pulpy good time crammed with sexy, bloody, action-packed monster killin'. Rodriguez's imagination shines with his unique Mexican bloodsucker story.

Netflix has proven that they're reaching out to horror fans with two original series on the service: "From Dusk Til Dawn" and this one. Based on Brian McGreevy's 2012 novel, "Hemlock Grove" features a small town (Hemlock Grove, Pennyslvania) with a big werewolf problem, not to mention love triangles, conspiracies and many other secrets.