How Jian Ghomeshi Was Fired By The CBC (REPORTS)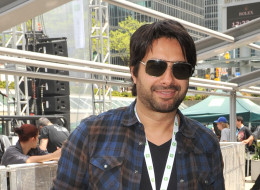 An article from The Globe and Mail details the events leading up to Jian Ghomeshi's dismissal, including that there was photographic evidence of his sexual activities and that the former Q host didn't write his famous show-opening essays.
The Globe reports on meeting between Ghomeshi and CBC brass on Oct. 23 about concerns that a journalist was working on a story about Ghomeshi and his sexual encounters. The Globe says Ghomeshi's lawyers were presented evidence to two members of CBC management, including texts, e-mails and photos of Ghomeshi's sexual encounters.
The Toronto Star reported Friday the videos showed to the CBC included bondage and beating where Ghomeshi allegedly gives a woman instructions.
The goal of the former host's lawyer was to prove these were consensual acts, but the Globe reports "the CBC managers were taken aback, and their views on Mr. Ghomeshi's conduct changed instantly. What they saw, in their opinions, was far more aggressive and physical than anything they had been led to believe during months of discussions."
The former host was afraid, the Star's sources said, that the story about his sexual encounters was about to be published in the media.
The Globe's reports this conduct was considered indefensible by the management. So the next day, last Friday, the corporation placed Ghomeshi on leave. When Jesse Brown, the freelance writer Ghomeshi would later refer to in his well-known Facebook post, tweeted Ghomeshi was on "indefinite" leave, Brown was informed by CBC's head of public affairs Chuck Thompson that was not the case. The corporation gave Ghomeshi Oct. 25 to think about his position.
On Sunday, Ghomeshi arrived at a morning meeting "unrepentant" and so his employment was terminated, with the announcement coming at 1:36 p.m. ET.
Former Q director and producer Matt Tunnacliffe told The Globe that Ghomeshi didn't write the show's introductory essays. Another staffer, this one anonymous, told the paper that when asked how a man accused of such things could have come off as a sensitive feminist on the radio, she said he was often "reading other people's words."
More behind-the-scenes details about Q came out in a National Post report revealing more of the story behind the former Q producer who says Ghomeshi said he wanted to "hate f---" her and then groped her buttocks.
The woman, now 35, said the staff were "always on pins and needles" and Ghomeshi's "environment of tyranny" enabled his behaviour to continue. She also says she went to Q's executive producer with the charge in 2010 and was told "'He's never going to change, you're a malleable person, let's talk about how you can make this a less toxic work environment for you.'" This was reportedly after a union representative offered her three options regarding what transpired: file a formal grievance, have mediation with Ghomeshi or speak to the executive producer.
As more women came forward this week, including Lucy DeCoutere and author Reva Seth, who wrote her account for The Huffington Post Canada, Ghomeshi found himself abandoned by crisis management firm Navigator and his longtime publicity team Rock-It Promotions.
As well, Ghomeshi's longtime agents The Agency Group, his representative since he was discovered busking with his band Moxy Fruvous, appear to have dropped him as a client.
Jian Ghomeshi: A Timeline
Jian Ghomeshi was born in London, England in 1967 to Iranian parents, Frank and Sara. He moved to Toronto in the late '70s and grew up in Thornhill, Ont.

In his memoir "1982," he talks about a bully throwing his Adidas bag at Joan Jett during that year's Police Picnic concert.

He was president of the student federation at York University.

In 1990, Jian Ghomeshi formed the satirical folk-pop group Moxy Früvous with classmates from high school. They drew heavy crowds as buskers in Toronto before becoming recording artists with a large following of "Frü-heads." Their album "Bargainville," which contained the popular song "King of Spain," went platinum.

Moxy Früvous' song "You Will Go to the Moon" was used to wake up the crew of NASA spacecraft STS-85 in 1997.

Ghomeshi released his own EP, "The First 6 Songs ...," in 2001.

Ghomeshi moved into broadcasting in 2002, becoming host of ">play" on CBC Newsworld. He would go on to host music shows on the public broadcaster such as "50 Tracks" and "The National Playlist" before he filled in for Shelagh Rogers on "Sounds Like Canada."

Best-selling author and lawyer Reva Seth alleged that in 2002 Ghomeshi put his hands around her throat and "violently digitally penetrat[ed]" her.

Former "Trailer Park Boys" actress Lucy DeCoutere alleged that in 2003, Ghomeshi choked and slapped her.

In 2007, Ghomeshi became host of "Q," a cultural radio program where he interviewed famous guests and struck a chord with younger listeners.

One of Ghomeshi's most popular interviews on "Q" came in 2009, with actor and musician Billy Bob Thornton, who became hostile with the host when he asked about his movie career.

Ghomeshi was widely praised for a 2009 interview with singer Leonard Cohen at his home in Montreal in which he sang "Je Ne Regrette Rien" in response to a question about whether he regretted never having a life partner.

Ghomeshi was diagnosed with an anxiety disorder in the late 2000s.

"Q" was syndicated in the U.S. thanks to Public Radio International in 2010, helping to grow his popularity down south.

Ghomeshi published the memoir "1982" in 2012. It told of how he worked to "make music the centre of his life" as he grew up in Thornhill. It was named one of the "Best Books of 2012" by Amazon.ca editors.

A CBC producer alleged that in 2012, she went out for drinks with Ghomeshi following a book signing. Her "dream" was to work for "Q." She said she went to Ghomeshi's hotel room, where he threw her against a wall and fondled her. She said she performed oral sex on the then-host "just to get out of there."

A female fan met Ghomeshi at a book signing in 2012. They later corresponded by text, and many of them were violent, she said. They eventually met in person, and he allegedly shoved her against a wall, choked, and hit her on the head.

Another woman alleges she was courted by Ghomeshi at a book signing in 2012 before their relations turned violent. She said sex with the host included belts and aggressive oral sex that left her bruised. Ghomeshi allegedly found this "sexy."

A Twitter account with the handle @BigEarsTeddy began posting allegations of sexual violence against Ghomeshi in April 2014.

On Oct. 24, 2014, Ghomeshi said he was taking some "much needed personal time" away from CBC. News of the leave came after his father had died.

Ghomeshi announced in an Oct. 25, 2014 Facebook message that he had been fired from CBC over his sex life. The Toronto Star later published allegations of sexual violence and harassment by four women, including a former CBC employee who said that he touched her inappropriately at work and said he wanted to "hate-f***" her.

On Oct. 29, 2014, an anonymous woman told CBC's "As It Happens" that she met the former "Q" host over 10 years ago at a media Christmas party, and that he was "smitten" with her. She alleged that Ghomeshi grabbed her hair "very hard" and pulled her head back while in his car. She later saw the broadcaster again, but he pulled her by the hair once more, threw her to the ground and "closed-fist" hit her on the head, she said.

On Nov. 25, 2014, Ghomeshi withdrew his $55-million lawsuit against the CBC after lawyers for both parties reached an agreement that included Ghomeshi paying the CBC's $18,000 legal costs.

On Nov. 26, 2014, Ghomeshi surrendered to Toronto Police. He was charged with four counts of sexual assault and one count of overcoming resistance.

Ghomeshi, seen with his lawyer Marie Henein, was released on $100,000 bail on the conditions that he surrender his passport, live with his mother, and not leave Ontario.