Walmart Wage Protest In Southern California Ends With 23 Arrests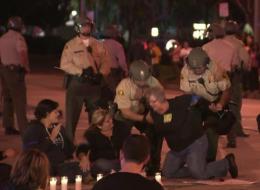 PICO RIVERA, Calif. - A protest at a Los Angeles-area Walmart has ended in some two dozen arrests.
Authorities say 23 men and women were arrested Thursday after they blocked traffic at a Pico Rivera intersection during a protest that began with a sit-down strike inside the local Walmart.
The Los Angeles County Sheriff's Department says those detained were cited for failure to disperse and released.
A group supported by the United Food & Commercial Workers union is demanding a wage of $15 an hour and full-time work for some employees of the nation's largest retailer.
Asked to comment on the report, Walmart spokeswoman Brooke Buchanan said: "Today we focused on serving our customers, but every day we're focused on the opportunity that we offer our associates across the country."
Also on HuffPost:
9 Things Walmart Would Like You To Forget
CEO Mike Duke has said that Walmart pays "competitive wages," and the company's website says the average full-time associate makes $12.67 an hour. However, a widely cited 2011 study that looked at data from Glassdoor.com and job listings put that number at about $8.81 an hour. The federal minimum wage is $7.25.

Walmart outsources warehouse work to subcontractor temp companies that pay very low-wages, according to a 2012 report from the National Employment Law Project. In a press release at the time, Walmart called the report misleading and said these jobs are "some of the best, most sought after jobs in the communities it serves."

By increasing the availability of cheap food, every additional Walmart Supercenter per 100,000 residents increases the average obesity rate of residents by 2.3 percentage points , according to an analysis of obesity rates from the 1980s to present day by an economist from the University of North Carolina at Greensboro. Walmart says it is actively trying to combat obesity by offering more fresh foods. Since 2011, the retailer says it has saved customers $2.3 billion on fresh fruits and vegetables.

In 2000, 54-year-old Betty Dukes filed suit against Walmart for sex discrimination. The case turned into a massive class-action suit and landed at the Supreme Court. The court dismissed the case in 2011, ruling that 1.5 million female Walmart workers is a group too varied to be considered a class. Still, the women of Walmart are not giving up. In 2012, close to 2,000 women in 48 states filed individual lawsuits claiming that they were all discriminated against for pay and promotions. The suits are ongoing.

As of 2010, the Walton family gave away just 2 percent of its net worth to charity. Warren Buffet, by comparison, has given away 78 percent of his net worth and Bill Gates has given away 48 percent, according to Business Pundit.

Walmart does not officially have union-represented workers in its U.S. stores, but the retailer still has been heavily protested against by labor groups like the United Food and Commercial Workers International Union and Our Walmart, a small group of current and former employees. In December, the company even went as far as to sue a grocery workers union for protests at its stores in Florida.

In 2012, disability rights advocates filed a federal lawsuit claiming that Walmart would not make payment machines accessible to customers who use wheelchairs and scooters. "Walmart should be an industry leader, not a defender of discrimination," said plaintiff's attorney Bill Lann Lee.

In 2010, Walmart CEO Michael Duke's $35 million salary translated to $16,826.92 and hour. By contrast, new employees in a store opening in Chicago were reported to be paid $8.75 an hour which would translate to a $13,650 annual salary, according to ABC News.

Walmart sells guns and ammunition in its stores, and yet it has a history of banning controversial products, including this pregnant Barbie, which was pulled from Walmart shelves after customers complained and is still banned from Walmart stores.