U.S.-Cuba Deal Means End Of Golden Era For Canadian Tourists: Experts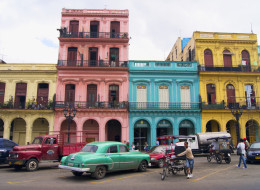 TORONTO - The dawn of a new era between the United States and Cuba is poised to spell the end of a golden age for Canadian tourists, experts said Wednesday.
Snowbirds anxious for an escape to a tropical paradise have long been fleeing to Cuba while their American counterparts have been kept off the island's shores by a diplomatic and travel ban dating back more than five decades.
But now that U.S. President Barack Obama has announced plans to re-establish diplomatic ties with the country, experts are anticipating major changes for Cuba and those who visit the island.
Jury Krytiuk, head of the Cuban travel department at Toronto-area agency A. Nash Travel Inc., says an affordable vacation in a relatively pristine landscape will be harder to come by in the years to come.
Prices will surge as restrictions on American travellers ease, he said, adding Cuba will also have to adjust its tourism infrastructure to accommodate an influx of new visitors.
"There's a limited amount of accommodation, so there's going to have to be a lot of hotels built, especially in the cities, to accommodate people who want to visit," Krytiuk said in a telephone interview.
Docking facilities will also be prime targets for expansion, he said, since the island is not currently equipped to house the mammoth cruise ships most commonly used in Caribbean travel, he said.
The result, he said, is that Canadians visiting the island 15 years from now are likely to have a very different experience than those enjoying a vacation there today.
The culture shock stands to impact a significant number of travellers, since Statistics Canada has identified Cuba as the third most popular destination for Canadians going abroad.
In 2012, StatsCan said more than a million people travelled to the communist-run island and poured approximately $748 million into the local tourism industry.
But politicians and pundits alike predict new conditions won't be felt on the island for some time.
Prime Minister Stephen Harper told the CBC that change likely won't manifest itself in Cuba until "the current generation passes."
Arch Ritter, a Carleton University economics professor who specializes in studying Cuba, agrees.
While Wednesday's announcement eases restrictions on Cuban Americans wishing to return home for family visits and makes business travel much simpler, general tourism to the island is still banned.
The Canadian travel experience to Cuba may not change too drastically until those restrictions are lifted, but Ritter anticipates some negative effects once the tourism floodgates are fully open.
"When full normalization occurs, when American tourists can travel to Cuba, there's going to be a tsunami of curiosity tourism," Ritter said. ". . . That probably will push up the costs of tourism substantially, and Canadian tourists may be squeezed."
Krytiuk says Cuba is no stranger to waves of international tourists.
Major travel companies, such as Spanish hotel provider Melia, have already established a strong presence on the island.
Krytiuk says it's already begun playing host to American tourists determined to explore their formerly forbidden neighbour through roundabout routes, adding he has personally booked several trips for U.S. customers who choose to fly to Cuba via Canadian airports.
But Krytiuk hopes the growing wave of interest doesn't leave too plain a mark on Cuba's cultural heritage, which he describes as a tourist attraction of its own.
Cuba's athletic, artistic and linguistic traditions have combined to make it a unique destination, he said, adding the island also appeals to those in search of a vacation focused on nature-oriented pursuits such as birdwatching or fishing.
The influx of American tourism may change the physical landscape, but Krytiuk is optimistic the cultural one will be largely unscathed.
"Cuba has a culture and a flavour that is unique unto itself. They are proud people, and they're going to want to retain that culture."
Also on HuffPost:
Cuba's Economy Through The Years
1950 - Cars are parked along a narrow street as pedestrians walk in the shade in Havana, Cuba.

2012 - Men change the tire on an old Chevrolet in Havana.

Circa 1950 - Children play outside their shanty homes in Oriente Province, Cuba.

1999 - Hundreds of Cubans are gathered on the waterfront of Havana during a school break. A majority of Havana residents opt for the polluted waters of the capital given the fact that they cannot reach other beaches due to the lack of transportation and the shortage of gasoline in general.

Circa 1960 - Workers at a sugar factory in Cuba.

1994 - Farm workers loading bananas.

Circa 1969 - Fishermen in Manzanillo.

2013 - A fruits and vegetables retailer leaves a wholesale market in Havana.

1980 - A 1950s model Chevrolet is parked on the street in Havana.

2012 - Cars drive down a street in Havana.

1988 - Men sort empty bottles on a street in Havana.

2012 - People fill the street in a busy downtown neighborhood in Santiago de Cuba.

1988 - Bodeguita del Medio, the most famous bar of Havana, frequented by Ernest Hemingway.

1999 - Cubans shop in one of Havana's main pesos food market Quatro Caminos in Havana. The Cuban economy was on the verge of collapsing after the former Soviet Union ended its aid and the US imposed an embargo on Cuba.

1993 - A fisherman and his wife sell their latest catch of fish. Previously, the pair had only fished for pleasure but an economic crisis forced them to begin selling their catch.

2013 - A food vendor spreads out bananas. Cuba is the only country in the world that mints two national currencies, a bizarre system that even President Raul Castro acknowledges harms the island's socialist economy.

1993 - A man sells soap and second-hand clothes in a park in Havana.

2008 - A young Cuban woman distributes a limited amount of bread to her fellow citizens according to quotas of the Cuban rationing system, Santiago de Cuba.

2014 - Horse drawn carriage continues to be a regular form of transportation in Cuba.

1994 - Farmer with an ox team in the Vinales Valley, Cuba.

2013 - A man drives a horse drawn carriage past a port under construction in Mariel Bay.

1994 - Two people on a bicycle in rural Cuba.

2006 - A cigar roller smokes a cigar while she prepares tobacco leaves at Cuban cigar manufacturer Cohiba's factory.

Circa 1995 - In the company of her daughter, a worker at a tobacco leaf cleaning station gets leaves ready for shipping to a tobacco manufacturer in San Juan y Matinez, site of one of the most important tobacco plantations in Cuba.

1997 - A steam train outside Havana.

2011 - Two men drive down the highway in a classic car in Soroa.

1999 - Cubans stand on the balcony of their apartment in Havana, Cuba.

2010 - A woman waits for a bus in front of the Capitol building in Havana.

2001 - A man reads as he sits in a plaza surrounded by pigeons in Havana.

2011 - A man checks the engine of his water cistern truck in Old Havana.

2001 - Street scene in the old part of town of the Cuban capital Havana. (Photo by )

2003 - Several earlier model American-made cars wait to be rented in Havana.

2009 - A Cuban schoolgirl sits at the foot of the entrance stairways in Havana.

2003 - A young Cuban plays baseball in the streets of Havana on.

Date unknown - Cigar production at the company Partagas in the Cuban capital Havana.