Smoking On Patios, Playgrounds And Public Sports Fields Is Now Illegal In Ontario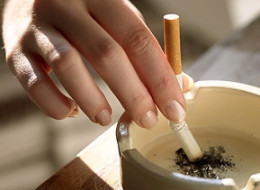 TORONTO - Tough new rules making it illegal to smoke on bar and restaurant patios have taken effect in Ontario.
Smoking on playgrounds and public sports fields is also prohibited.
The new rules also ban the sale of tobacco on post-secondary campuses.
The Ministry of Health has said the changes to the Smoke Free Ontario Act replace a patchwork of municipal regulations governing smoking on restaurant and bar patios, and will not hurt their businesses.
The measures were first announced in November.
The province says tobacco kills 13,000 people in the province each year and causes an estimated $2.2 billion in direct health care costs.
ALSO ON HUFFPOST
15 Undeniable Facts About Smoking
Every cigarette you smoke reduces your expected life span by 11 minutes.

There are roughly 10 million adults who smoke cigarettes in Great Britain.

Two-thirds of smokers start before the age 18.

The proportion of the population who are smokers has decreased since the 1970s. A sixth of the population smoke now, in comparison to nearly half of the adult population smoking in 1974.

More men smoke than women. In Great Britain, 22% of adult men and 19% of adult women are smokers.

More than half (59%) of all adults report that they have never smoked.

Tobacco smoke contains over 4,000 chemical compounds including: carbon monoxide, arsenic, formaldehyde, cyanide, benzene, toluene and acrolein.

Smoking poses a huge risk to your cardiovascular system. It also steals some of your good cholesterol, increases the risk of clotting and temporarily raises your blood pressure.

Immediately after you quit smoking, your lungs and other smoke-damaged organs start to repair themselves.

Smoking is England's biggest killer. Half of all regular cigarette smokers will eventually be killed by their addiction.

100,000 smokers in the UK die every year from smoking related causes.

In 2012-13 the Government earned £12.3 billion in revenue from tobacco tax.

Usage of electronic cigarettes has tripled in the past two years. 2.1 million adults in Great Britain now use them.

A report by Dr Robert West of University College London found that e-cigarette use from popular brands is expected to be at least 20 times safer (and probably considerably more so) than smoking tobacco cigarettes.

7.9% of smokers have kicked the habit in the past year.