'The Book Of Negroes' On CBC: Miniseries Not To Be Missed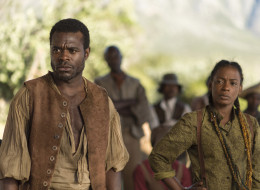 Slavery is a dark chapter in U.S. history, but what many people don't know is that it's part of Canadian history as well. Whether it's unfamiliarity with what happened in our own country or it's just easier to point the finger at the bad folks south of the border, some of us -- heck, most of us -- are simply unaware.
Canadians are still in denial, myself included. I understand there are important stories to tell, but personally I don't really fancy watching a movie that may earn critical acclaim but is brutally accurate and packed with vivid, stomach-churning imagery of pain, cruelty and horrific violence. I'm not sure if I should be ashamed for not wanting to watch parts of barbaric history and trading in human flesh; all I do know is the subject matter makes me angry-hot, to the point where all I see is red and steam is on the verge of coming out of my ears. And from an entertainment point of view, that's not how I want to feel when watching something.
Thankfully, "The Book Of Negroes" is anything but. (It premieres Wednesday, Jan. 7 at 9 p.m. ET/9:30 p.m. NT on CBC.)

Based on Lawrence Hill's award-winning novel of the same name, "The Book Of Negroes" follows the harrowing journey of Aminata Diallo (Aunjanue Ellis), who was kidnapped from her village in West Africa as a girl, forced to walk to the ocean where she and others were sent to the U.S., sold and put to work on a South Carolina plantation.
Being owned by someone didn't change Aminata's spirit. In fact, she only grows stronger and uses her intellect and skills to get her out of dismal situations. She eventually finds her way to New York, escaping to the safety of Canvas Town, an early black settlement in lower Manhattan. It's there where she helps register 3,000 Black Loyalists in the "Book Of Negroes," a historic British military ledger that recorded their passage on ships sailing from Manhattan to Nova Scotia. Her journey comes full circle as she works to find her way back home, to Africa.
Article Continues After Slideshow!
CBC TV Fall/Winter 2014-15
Based on author Lawrence Hill's award-winning novel of the same name, "The Book Of Negroes" is a six-part miniseries that follows the harrowing journey of Aminata Diallo, played by Aunjanue Ellis, and her return home after being forced into slavery as a child.

When filthy-rich video store magnate Johnny Rose (Eugene Levy), his soap-star wife Moira (Catherine O'Hara), and their two kids – über-hipster son David (Dan Levy) and socialite daughter Alexis (Annie Murphy) – suddenly find themselves broke, they are forced to live in Schitt's Creek, a small, depressing town they once bought as a joke.

A taut psychological thriller, "Secrets And Lies" is a nerve-wracking view behind the curtains of suburbia. In the six-part mini-series, everyday family man Ben tries to prove his innocence after being identified as the prime suspect in the murder of a four-year-old boy.

"Canada's Smartest Person" is a one-hour unscripted television series that takes audiences on an inspiring journey to uncover a new definition of smart. Canadians from all walks of life compete in revealing intelligence challenges to earn the title.

Comedian Jonny Harris is on a mission to find humour in the funniest places. "Of All Places" is a quirky, irreverent and affectionate adventure into small-town Canada, and a celebration of the people who proudly choose to call those towns home.

Set in 1869 Alberta-Montana border country, "Strange Empire" is a Western whose heroes are women. With most of the men gone, and those who remain battling for control, the women struggle to survive, to find their independence, and to build a life and raise their families.

"The Honourable Woman" tells the story of one woman's personal quest to right the wrongs conducted in a past life, in the midst of government paranoia and espionage. As a young girl, Nessa Stein (Maggie Gyllenhaal) witnessed the assassination of her father by the armed wing of the Palestinian Liberation Organization. Now in her late 30s, Nessa is at the forefront of the Middle East peace process.

"Camp X" is an emotionally driven character drama set in the thrilling and dangerous world of WWII espionage and covert operations. It follows the stories of five highly skilled young recruits – Canadian, American and British – torn from their ordinary lives to train as agents in an ultra-secret training facility on the shores of Lake Ontario.

"Pirate's Passage" is an animated, made-for-television film based on William Gilkerson's critically acclaimed novel of the same name. Set in 1952 Grey Rocks, Nova Scotia — a centuries-old town that was famous 250 years ago as a favoured port of pirates — the cartoon follows the friendship of 12-year-old Jim and Captain Johnson.

Of course Canada's top-rated entertainment show "Dragons' Den" will be returning. This season, the show welcomes two new Dragons to its panel of multi-millionaire investors: restaurant magnate Vikram Vij, and reigning rock star of Canadian finance Michael Wekerle.

Western family drama "Heartland" enters its eighth season and marks its 125th episode, making it the longest-running Canadian one-hour dramatic series in history.

Canada's pre-eminent political satirist Rick Mercer returns for a 12th season of "The Rick Mercer Report," delivering a weekly dose of ranting and funny takes on the week's top stories.

Season four of "Mr. D" finds comedian Gerry Dee back at Xavier Academy as he continues to plot and scheme his way into his dream job of PE teacher.

"Republic Of Doyle" marks their final season, filled with explosive drama as Jake prepares for his upcoming murder trial.

The long-running British soap opera continues its dramatic storylines centred on the lives of a working-class British community set in the fictional town of Weatherfield.

Hit period crime drama "Murdoch Mysteries" returns for its eighth season and celebrates its milestone 100th episode, while continuing to bring audiences compelling mysteries, unique slices of turn-of-the-century history, ingenious inventions and personal moments for each character.

The award-winning Canadian comedic institution celebrates its landmark 22nd season, savagely satirizing Canadian politics and daily events in every episode.
It's in South Carolina where she meets fellow slave Chekura Tyano (Lyriq Bent), whom she marries in a secret wedding. And it's their love story that we watch flourish and grow throughout the six-part miniseries. But we also see Aminata become torn between Chekura and Sam Fraunces (Cuba Gooding Jr., who signed up for the project once he learned how director and co-writer Clement Virgo was "going to shoot it in such a way that was going to be epic and dynamic and make all the characters stand out"), a thriving businessman who can't help but fall under her spell.
"There are interesting tensions that will naturally occur with any relationship," Bent said of the soapy quality, from which Ellis applauds Hill for not shying away. "No matter what setting, what era, the tension is very, very real. It's basic human tension. But then you find that this tension is all over the movie, and you'll get to understand who Aminata is to so many people. And that she has something that is undoubtedly attractive."
"Republic Of Doyle"s Allan Hawco, who plays Aminata's second owner, Solomon Lindo, concurred. "Almost every single man that comes into her life falls in love with her in some way or another, even if he doesn't admit it to himself." Because, really, who wouldn't be captivated by a woman this strong and confident, beautiful and fascinating?
"The Book of Negroes" definitely has elements of romance and slavery but those are mere backdrops. The story, first and foremost, is about Aminata, from her point of view, and her survival in the toughest of times.
"This is the circumstance of her life, this doesn't define her life," Ellis told me. "This is a love story, this is about a woman who became an author, who became part of the abolitionist movement, a woman who survived kidnapping from Africa and chose to go back to Africa!"
During the miniseries' press day at CBC headquarters in Toronto several weeks ago, the media got a taste of what was to come -- and it's compelling, moving, emotional stuff. But not in that heavy way that will leave you feeling angry at the world, or bad about yourself, or even uncomfortable with what's unfolding on your screen. Both the novel and the screenplay are not an uphill battle for the viewer, nor is it something that audiences are going to have to suffer through and feel like it's their duty to watch.
"You're exposed to elements of what Aminata went through, but it's extremely generous to the viewer in showing the positivity and the experience," cleared up Hawco. "It's an entertaining tale and it shows her ability to triumph over adversity vs. dwelling in all of the awfulness that she was exposed to. Because of that, we're allowed, as an audience, to come to those conclusions in some cases ourselves."
Bent said that if people come in underestimating the story, that's a good thing. "They're going to be so shocked in so many different ways and on so many different levels. They're really not going to understand what it is that just happened."
He added: "The last miniseries of this nature was 'Roots.' So just the curiosity alone is going to draw them to watch it. And when they watch it, they're going to be blown away. Even if we were garbage actors and we shot it on an 8mm, the story through this woman's eyes alone is more than what anybody's going to expect."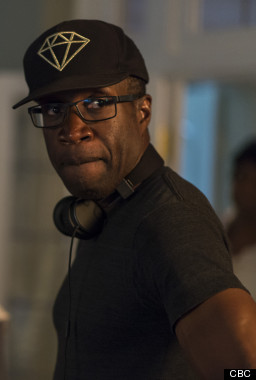 Lou Gossett Jr. said it best. "It's not '12 Years A Slave,'" he reassured. "There's going to be emotion, but for her. Not so much the slavery as much as her. The triumphant life of this woman, Aminata, is because of the people she meets and the things that happen to her. She becomes stronger and stronger and stronger. The slavery is there but it's really a story about this woman who's survived it."
Virgo was wary of getting involved with the project. He admitted he had a "personal aversion to the title," and "didn't know what it meant." But after a friend (jazz singer Molly Johnson) "forced" him to buy it, he eventually read it and fell in love with it.
"I fell in love with the story," he explained when asked about the book's title change to 'Someone Knows My Name' in some parts of the world -- including the U.S. "I thought I knew about this world, I thought I knew about slavery, I thought I knew about this history. But what's so great about the novel and the gift that Larry gave to us is that he infused all this history with this wonderful character and this wonderful narrative.
"'Negro' is so connected to that other N word ... but for me, the word 'negro' means strength and power and dignity and someone who stands up for what they believe, so I cannot imagine it being called anything but 'The Book Of Negroes.'"
When the cast and crew spoke about their experiences and shooting what they were shooting in South Africa -- a place where apartheid was only abolished 20 years prior and things are still complicated -- I couldn't help but be affected. And once Gossett spoke, you could hear a pin drop in the cavernous room. Just like Aminata's story comes full circle, so too does the tale of those who played a part, however big or small, in "The Book Of Negroes."
"On my last day of shooting -- I started in Cape town and ended in Nova Scotia -- I looked at the crew and said, 'You guys don't realize what you've done.' There were black South Africans, white South Africans, British, Americans, Canadians of all colours, and they were working very hard. I said, 'You guys have done something that the world's been trying to do for years. You have concentrated on this one thing to make this thing the best thing you know how, and I wish that what you've done here can transfer to everything around the world so we can stop this conflict.'
"They looked at one another and applauded because they had no idea that this is what they had done," Gossett continued. "I'd like to see that practice outside that set around this globe, because they created something and they had no idea they were doing it. It was a blessing to work with them."
Ellis said to me, "You know how you know that something's good but you don't know what it is until someone says it is? What Mr. Gossett spoke to, we had a community of artists and we didn't know what we were doing until he said it. We didn't know what we were doing. We were just trying to create art. But we were working together to do it. That's not easy. It's not easy for the world to do that."
She continued: "Was it difficult? Was it hard? Did voices get raised? Yes, they did. But I'm on the other side of it. I consider myself a warrior. Aminata Diallo was a silent warrior but a warrior nonetheless. And that is what she has tasked me to do for the rest of my life. If I'm nothing else, I have learned from Aminana Diallo to be a warrior, not just for herself but the people in her community." Damn, right?
This is a Canadian story, with an epic journey fitting for an epic saga. Slavery may be part of it but it's a tale of survival, of resilience ingrained in our history and, on a universal level, it's a story about the desire to return home and define what home means. How can you not be intrigued?
"The Book Of Negroes" premieres Wednesday, Jan. 7 at 9 p.m. ET (9:30 p.m. NT) on CBC. The series will be broadcast on BET in the U.S. in 2015.