Here's The Income You Need To Buy An Average House Across Canada
A household in Vancouver needs nearly three times the income of a household in Halifax to buy an average home, according to a new report on incomes and house prices in major Canadian cities.
Job search site Workopolis crunched the numbers and determined -- to no one's surprise -- that Vancouverites need more income than anyone to buy a house. At the other end of the spectrum are Halifax and Winnipeg, the only major cities where you can buy an average house with less than $60,000 in annual income.
The number breakdowns are below, but two things to keep in mind about them: One is that the amount corresponds to what a bank is willing to lend you — which is not the same as the amount you should borrow. Whether or not you max out your mortgage depends on the lifestyle you want to live. House rich, cash poor, anyone?
Secondly, these numbers were calculated at the current going rate for a five-year, fixed-rate mortgage, 2.99 per cent. That's about as low as mortgage rates get, and if rates were even a little higher, the affordability picture would be considerably worse.
Case in point: You need a household income of $113,000 to buy an average house or condo in Toronto today (at a price of $587,000), but if rates were to rise back to where they were in 2005, about six per cent, the minimum income needed would jump to $143,000. Your monthly mortgage payment would jump from some $2,560 to around $3,460.
So keeping all that in mind, here are the minimum household incomes needed to buy an average house in each of these cities:
Halifax

Average price: $264,447
Monthly mortgage payment: $1,152
Property tax: $266
Income required: $56,929
Income required at 2005 rates (6%): $68,448
Winnipeg

Average price: $270,605
Monthly mortgage payment: $1,179
Property tax: $274
Income required: $58,235
Income required at 2005 rates (6%): $70,110
Montreal

Average price: $344,273
Monthly mortgage payment: $1,500
Property tax: $237
Income required: $68,884
Income required at 2005 rates (6%): $85,012
Regina

Average price: $331,161
Monthly mortgage payment: $1,443
Property tax: $378
Income required: $72,028
Income required at 2005 rates (6%): $87,400
Edmonton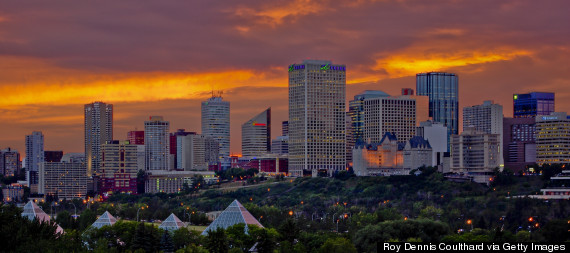 Average price: $365,520
Mortgage payment: $1,592
Property tax: $244
Salary required: $72,617
Income required at 2005 rates (6%): $89,972
Saskatoon

Average price: $349,322
Monthly mortgage payment: $1,522
Property tax: $366
Income required: $74,546
Income required at 2005 rates (6%): $90,966
Ottawa

Average price: $357,887
Monthly mortgage payment: $1,559
Property tax: $336
Income required: $74,820.28
Income required at 2005 rates (6%): $91,734
Calgary

Average price: $465,047
Mortgage mortgage payment: $2,026
Property taxes: $236
Income required: $88,578
Income required at 2005 rates (6%): $111,679
Toronto

Average price: $587,505
Monthly mortgage payment: $2,560
Property tax: $354
Income required: $113,009
Income required at 2005 rates (6%): $143,182
Vancouver

Average price: $819,336
Monthly mortgage payment: $3,570
Property tax: $251
Income required: $147,023
Income required at 2005 rates (6%): $190,581
Also on HuffPost:
Nicest Homes For Sale In Canada In 2014
This 242-acre property doesn't have a big house, relatively speaking, but Sotheby's vice president Mark Evernden told CBC News earlier this year that it's had "over $1 million" of woodwork done. The inside looks like a forester's paradise.

A perfect landing pad for wealthy retirees, this Quebec home about 120 kilometres from Montreal offers a private location with an indoor pool and a waterfront view.

This Canmore, Alta. home, which is no longer listed on the MLS, has outdoor living rooms, a hall with totem poles and a two-storey library.

Ever wanted to ski in and out of your home? This spectacular $11.99 million home may be your chance. Last we checked (in Dec. 2014), it's still available.

The Chilko Experience Wilderness Resort, also known as the Huston Family Estate, was on the market this year for $10.5 million. The listing is no longer active.

A 6,000-foot Calgary penthouse overlooking the Saddledome and Stampede Park. A perfect place to gaze down upon the hordes of cowboys coming to town in summertime.

This gorgeous farm comes with a main house, event hall, coach house with guest suite, and barn totalling 11,589 sq.-ft. Not to mention a stable and large garden with pond, island, and two bridges. If you'd like to start up a business, take advantage of the seven acres of organic blueberry shrubs, which bring in a potential $300,000 per year.

Ever fancied owning a ranch of your own? This "premier equestrian estate" in Abbotsford, B.C. still appears to be on the market. There's a coach house, wooden stables and art stalls. The barn has its own bed, fireplace and kitchenette.

Call it the big mansion that couldn't. The home located at 2290 Saxony Court in Mississauga, Ont. was sold for $6.2 million at auction after previously being listed for $11 million. But even that move failed, and the house had to go to a SECOND auction, along with a separate property on Doulton Drive. It's tough to say where it stands now: an elaborate website associated with the mansion was still active as of this writing.

This penthouse, which is located within walking distance of Calgary's Peace Bridge, has four fire places, hardwood all over, and a patio that is 1,970 square feet on its own.

Blue Valley Farms, an equestrian property close to Spruce Meadows, found its way off the market following an auction this year. It's a 45-acre site with indoor and outdoor riding arenas, five fields and 12 paddocks. Oh, and then there's also a four-bedroom home for the property's manager to live in.

This record-breaking Calgary condo sale sadly means it's no longer available, but what a buy! The two-storey, two-bedroom property boasts a high-speed elevator and 2,000-square-foot terrace.

Now THIS is capital living. This 3.235-square-foot penthouse in Victoria has a private elevator lobby, two outdoor terraces and — gasp! — an elevator for cars! If James Bond ever wanted to visit Victoria, he'd surely live here.

This gorgeous, isolated Nova Scotia property was featured in the 2014 edition of Architectural Digest. It is 6,000 square feet of coastal luxury overlooking the Atlantic Ocean.

An absolutely gorgeous P.E.I. home with Cape Cod siding and field stone from Pennsylvania's Valley Forge Mountain. If you've ever wanted to live like a Kennedy, this is your chance.

The listing calls it a penthouse, but it's really more like a high-level townhouse. This property is a two-level, five-bedroom penthouse with views of Calgary in every direction.

A superb ski chalet as you can only find in Whistler. This property is even connected to a bridge that takes you directly into Whistler Creekside Village.

These two New Brunswick homes located at 331 Rang 2 in St.-Francois can still be yours for the low, low price of $2.9 million.

Island living in Calgary doesn't get much better than this. For $2.5 million, you can enjoy a five-bedroom condo with an eight-foot (!) wooden front door, through which you'll find two-storey vaulted ceilings, a wine cellar, media area, exercise room and island that's great for entertaining guests.

Church Ranches Estates, located approximately 20 minutes from downtown Calgary, no longer appears to be on the market following a Sotheby's auction. It's a 2.27-acre property with a 9,000-square-foot home that has four bedrooms and four bathrooms. One of its greatest features is a 3,000-square-foot salarium with a pool, hot tub and tropical gardens.

http://www.huffingtonpost.ca/2014/04/09/calgary-luxury-real-estate-auction_n_5119503.html?utm_hp_ref=alberta-real-estate

This bungalow located near the oilsands features ceilings that are 20 feet high, two gas fire places and a covered deck with a hot tub.

This four-bedroom home's basement could be its most notable feature: there's a pool table, wet bar and entertainment area.