NDP MPs Want To See More Women On Canadian Money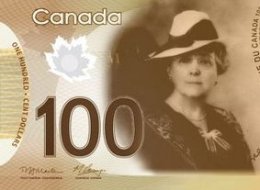 Thousands of people have demanded that more Canadian women be shown on the country's bank notes, and at least two opposition MPs are listening.
NDP MP Niki Ashton, the party's status of women critic, and Victoria member Murray Rankin have written a letter to Bank of Canada Governor Stephen Poloz in support of a campaign calling for better gender equality on Canada's cash.
"Many Canadians have expressed disbelief and embarrassment that our currency does not, in 2014, equally recognize the contributions of women and men to our national story," they state in the letter, dated Jan. 8.
"Our banknotes are an important opportunity to celebrate the diversity of our country and the innumerable contributions to its history made by people of all genders, ages, religions and ethnicities."
The letter follows a petition started by Victoria resident Merna Forster, that also urges the Bank of Canada to add women from Canadian history to its money.
More than 53,000 people had signed their names to the petition as of Saturday morning.
The only woman displayed on Canada's polymer bills is Queen Elizabeth II. Women's rights activists "The Famous Five" could once be found on the $50 bill, but they were later replaced with the image of an icebreaker.
Forster has also started a website, "Women on Canadian Banknotes," where members of the public can generate their own ideas for who should be displayed on polymer notes.
Users have suggested women such as author Lucy Maud Montgomery and artist Emily Carr.
Women Who Could Be On New Canadian Bill
This gallery shows a series of photos of women that people have suggested should appear on Canadian currency. "Anne of Green Gables" is not a historical person, but is nevertheless an important one. She's the titular protagonist of Lucy Maud Montgomery's novel about an orphan girl who is sent to live on a farm on Prince Edward Island.

Former Supreme Court of Canada judge and High Commissioner for Human Rights at the United Nations.

Celebrated author behind works such as "The Handmaid's Tale" and the "MaddAddam Trilogy."

Canada's first female astronaut. Second Canadian astronaut in space.

Canada's first female prime minister.

One of Canada's most famous painters, responsible for works depicting Pacific Northwest settings such as "Big Raven."

Former auditor-general of Canada, responsible for a report on the Sponsorship Scandal which played a role in the eventual toppling of the Liberal government.

Former governor-general of Canada.

The first woman ever elected to Canada's House of Commons.

Chief Justice of the Supreme Court of Canada.

Canadian folk singer respected the world over for songs such as "Both Sides, Now."

Author of "Anne of Green Gables" and other literary works.

Former teenage dance-pop artist who would go on to record as an alternative musician, topping the charts with hits such as "You Oughta Know" and "Ironic."

Nobel and Giller Prize-winning author of short-story collections such as "Open Secrets," "Runaway" and "The View from Castle Rock."

This country music artist is the first ever Canadian woman to attain gold record status in the United States.

The first female to serve as governor-general of Canada.

A prominent figure in the War of 1812, Laura Secord is known for walking an enormous length to warn James FitzGibbon that the Americans planned a surprise attack on a British outpost.

The first woman to practise medicine in Canada, and a suffragette.

Known as a "conductor" of the Underground Railroad, Tubman escaped slavery in the U.S. and helped hundreds of slaves to freedom in Canada and the Northern states.

Canadian country and pop music star, famous for hits such as "Man! I Feel Like a Woman."

Four-time Olympic gold medal-winning hockey player.
Poloz responded to Forster in a November 2013 letter. He complimented her petition and said the bank would embark on a review of how polymer bills are designed.
Bank of Canada spokeswoman Josielle Ménard said in an email that it has "completed a review of the process used to select and design the visual content" for its latest series of polymer notes, which recommended that input be sought from more Canadians.
"We invited Canadians to review the principles and provide their views," she wrote. "These principles and the feedback received from Canadians will guide our recommendations to the minister of finance when it is time to develop and select visual content for the next series of bank notes."
Bank note designs are ultimately approved by the minister of finance under the Bank of Canada Act.
As for the current series of bank notes, which was introduced between 2011 and 2013, Ménard said it is intended to "depict Canada's exploits and accomplishments, endeavors [sic] in which Canadian women and men have contributed."
Ménard said its current polymer designs honour the "collective accomplishments of Canadian women and men," including the Canadian Coast Guard research icebreaker on the $50 bill, and the Canadian National Vimy Memorial on the $20 bill.