'Old Faithful' Photo Project Points Its Lens At Elderly Vancouver Dogs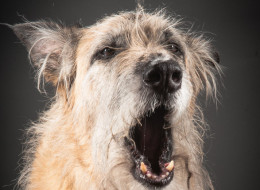 The world has seen enough pictures of puppies to last a lifetime. But now it's time for the old dogs to shine.
For that there's "Old Faithful," a portrait series of some seriously elderly canines — greying fur and all.
"I'm usually looking for real tell-tale signs of aging, so chipped or missing teeth, grey hair, foggy eyes, and stuff like that," Pete Thorne, the photographer behind the project, told The Huffington Post in an interview.
"Some people don't really understand what I'm looking for because they almost apologize for the shape their dog is in. But I really want to see them in that shape, a little bit more raw and unpolished."
Thorne has already taken pictures of dogs in Toronto, where he is based, as well as Halifax and Winnipeg. But now it's Vancouver's turn.
When he announced he was taking the project to the west, Thorne's inbox blew up with enthusiastic responses.
"I've had probably over 300 people email me, possibly closer to 400," Thorne said, explaining that his available slots filled up immediately. "I should have known, because I lived in Vancouver for five years. So I was very aware that it is a dog city."
Thorne will be snapping Vancouver's old dogs over the next few days at the Burrard Arts Foundation gallery and studio, and is also partnering with SAINTS (Senior Animals In Need Today Society) Rescue in Mission to photograph a handful of their senior canines.
"The owners want him to capture the beauty of their senior. We have a bunch of homeless ones and we would also like that experience for them," SAINTS' Board of Directors member Nicole McClelland told HuffPost B.C.
"I think it'll be good exposure just for what we do. We've been around for 10 years, but people could know more about us and what we do, and who we care for, and why it's important."
She said SAINTS mostly receives strays from shelters or dogs that simply can't be cared for by a family any longer.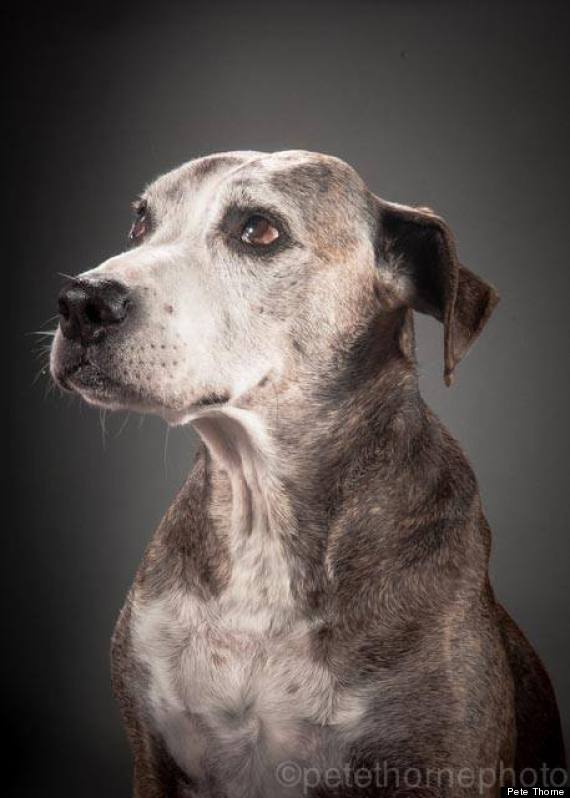 Since starting "Old Faithful," Thorne has photographed over 100 dogs and is set to publish a book with HarperCollins.
The idea for the portraits came out of celebrating his grandmother's 100th birthday in Halifax.
"I was really interested in doing a portrait of her. But she wasn't really up for it; it was kind of a stressful day for her," he said. "I couldn't really shake it out of my mind. I got interested in photographing elderly subjects, just because I realized it's difficult to do."
While exploring the idea, Thorne noticed how much character aging dogs have in their faces. And he found it much easier to convince people to let him take photos of their furry friends.
After all, as the project name suggests, aged dogs may be old — but they sure are faithful.
"I think every home needs to have an older, chill dog," McClelland said. "They're great companions; some are still able to go out on adventures with you, but most of them are good at hanging out with you and being there."
See some of the photos so far in the "Old Faithful" series:
"Old Faithful" is a photo project by Pete Thorne. He captures old dogs, greying fur and all. Jackson is a 14-year-old Black Lab mix. As Pete put it, "there's something about the expression on his face that seems like he is peering into your soul."

Elmo is a 14-year-old pitbull and is the very first old dog Thorne photographed for this project. "He's straight up smiling for his portrait!" Pete said.

Gigi is a 13-year-old Italian Greyhound. Her owner Sean said that "Gigi was the runt and only female of a litter of five. She was going to be bought by a guy who wanted to puppy mill her to make quick cash. So I scooped her up! She's the best dog ever."

From the owner: "Toto is a 16-year-old Cairn Terrier mix who melts my heart every time I look at him. I rescued Toto when he was seven years old. I was a veterinary assistant at the time and it was love at first site. At his young age of 16, his recent examination and blood work checked out well! He has arthritis in his spine, no spleen, [he's] deaf, and [has] cataracts but this does not slow him down, especially at dinner time!"

"I shot Clovis shortly after his 14th birthday and sadly he passed away not too long after this portrait was taken," said Thorne.

"Look, its Spud the Pug!"

"Although this 10-year-old pug mix looks a little concerned about having her photo taken, she was very well behaved and one of the easiest to photograph," Thorne said.

Thorne went right to the house of this dog to take his portrait. "Mance is a 13-year-old Old English bulldog, a breed close to my heart," he said. "He has bone cancer that adds a lot of character to his face. He's in a pretty fragile state so I made my first trip out of the home studio to photograph him, in all his asymmetrical charm."

Meet Louie, the 12-year-old black lab.

Benjamin is originally from Venezuela, and was adopted as a stray picking at some garbage. He came with his family to Canada three years ago.

Meet Amos, a Sheltie cross. He was rescued from a kill shelter in Missouri and turned out to be "a sweet old gentleman."

This little dachshund passed away shortly after this portrait was taken. "Buddy, our tiny prince, reigned over his empire with four inch legs and a soaring spirit. Truly a rock star persona that left his mark on many hearts. Dearly missed," wrote his owners, Johnny and Roxanne.

Dallas is a former a therapy dog, and survived Auto-immune Encephalitis at age 11. She's still playing and having fun in great health at 14.

Lucky is a 15-year-old Schnauzer. "He is mostly deaf now, his vision is only so-so, he needs help to jump on the bed, and he lost most of his teeth... but he's my little buddy and still the master of cuddles," wrote his owner.

Pete said: "Hey y'all meet Maximus, a 15-year-old mixed Norwegian Elkhound and Husky whose pictures I took reminded his owner how much she loved her dog."

"Benjamin was found as a stray and ended up in a shelter about a year and a half ago," his owner said. "Pugalug Pug Rescue [in Toronto] took him in and we were his foster parents. Due to his age and his medical problems, Ben was put in the "Abode Program" — he would be a long-term foster. We thought it was important that he have a forever family so we adopted him. We are foster failures (again). He is estimated to be about 14 years old."

"Finnegan is a Brussels Griffon smooth coat or a Petit Brabançon. He has a red coat. He is 12.5 years old. He weighs six pounds and is small for his breed. When he lived in Montreal, he went by his French name: Finni le Poo," his owner said. "He has a heart murmur, and has had multiple teeth pulled, otherwise he is in great health for his age."

"She was named after Hazel McCallion, the Mayor of Mississauga, Ont.," said Thorne. "This tough old gal had both her eyes removed due to pain and no tear production, and has five microchips from being re-chipped every time she was sold to a new puppy mill. Luckily she was rescued and adopted by Blanche Axton at Pugalug."

Meet Emmy, a 14-year-old wolfhound mix. Sadly, she passed away recently. Thorne said he took many photos of her, because every time she moved, she had a different expression.

This is Colonel Sanders, is a 10-year-old Chinese Crested. A purebred show dog, he has "best in show lineage" dating back several generations to Asia. A side effect of being hairless is shallow rooted teeth. His are all slowly falling out and were causing him discomfort until his owner started giving him homemade food.

Mason is an 11-year-old chocolate lab who was adopted when he was two. "He continues to steal the toilet paper! We love him so much," his owners wrote.

Bodley is about 12 years old. His owner writes: "I found Bodley, a Boxer and Staffordshire Terrier mix, using Petfinder at an animal shelter in Keswick, Ont. He had been abandoned and was almost skeletal when he was brought in. Though given some warning that Bodley didn't like men and would destroy my apartment, I paid no heed and brought Bodley home almost 10 years ago. He loves men. He loves the couch. And he loves baked goods."