'Two-Headed' Toonie Could Make For Confusing Coin Tosses
An upcoming commemorative two-dollar coin will feature Sir John A. Macdonald one one side and, as always, Queen Elizabeth II on the other.
That has some people online wondering what "heads" and "tails" will be on the coin that features two heads.
The Royal Canadian Mint is issuing a special edition of the toonie this year to celebrate the 200th anniversary of the birth of Canada's first prime minister.
The John A. Macdonald toonie got approval from Cabinet last year, and the Mint put it into circulation on Jan. 12 with a run of 5 million coins planned.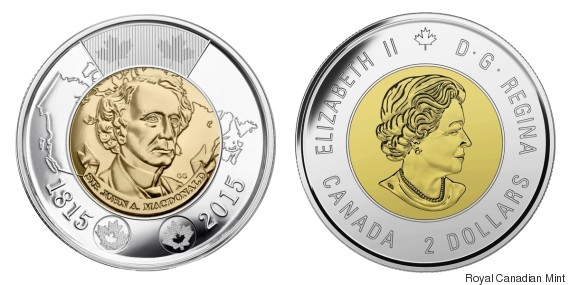 So what is "heads" and what is "tails" then? The Mint has the answer.
"The side which features the effigy of Her Majesty is called the 'obverse' in technical terms and has always been considered the 'heads' side of a coin," a Mint spokesperson wrote in an email.
"The opposite side, officially called the 'reverse,' is always considered the tails side as it features a design different from the bust of the Canadian sovereign."
So there you have it.
Still, we predict plenty of objections from sore losers in coin tosses.
Also on HuffPost:
English Coins That Look Like The Canadian Toonie
A 2012 £2 coin marking the 200th anniversary of Charles Dickens's birth.

A 2009 £2 coin marking the 250th Anniversary of Robert Burns's birth.

Official £2 coin released by the Royal Mint in 2014.

Official £2 coin released by the Royal Mint in 2014.

Official £2 coin released by the Royal Mint in 2014.

A 1999 Rugby £2 coin.

1997 £2 coin.

A 2001 £2 coin.

A 2010 £2 coin celebrating Florence Nightingale.

A 2009 £2 coin celebrating Charles Darwin's 200th birthday.