Calgary Century Home Is A Rare Gem In An Area Of Infills
In Calgary, where development seems to follow a motto of "build up and build out," it's rare to find what remains of the city's Maverick days, especially when looking for real estate.
But a small home for sale in Calgary's Killarney neighbourhood reminds us of a time when the city's now inner-city was still considered the outskirts and tiny cabins were the standard abode for the prairie's pioneers.
The two bedroom, two bathroom, 800 sq.-ft. rustic home is more than 100 years old, dating back to 1912, where it originally stood as a homestead property that was considered more rural Alberta than inner-city.
Not much is know about the original owners who built the cabin, but a blacksmith named Joseph Smith was the first resident on record, and called the little house home for 28 years.
Since then, the property has seen an entire community — and city — spring up around it, not to mention several renovations and an addition added to the home itself.
The house now serves as the perfect space for a couple or small family, is a five-minute drive to downtown, and retains many charming features including two clawfoot iron tubs, multiple skylights, vaulted ceilings, and a cedar shingle and river rock exterior.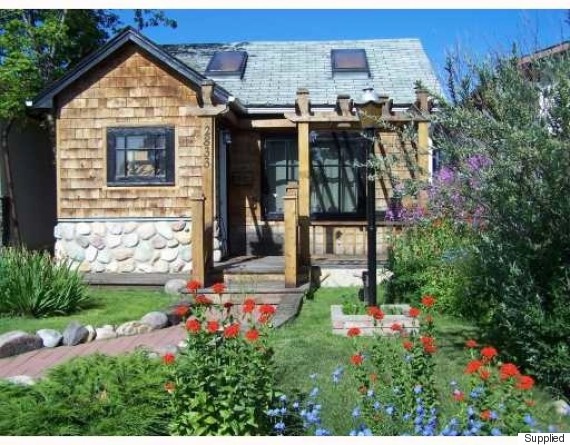 (The exterior of the home, featuring native plants and original CP Rail wood in the garden.)
Current owners Sue and Jason Crawford are heartbroken to sell their rustic home, but say it's time to make way for their growing family.
The couple have added a modern touch to the home over the years, and have lovingly updated many features inside and out, keeping with the home's original style and feel.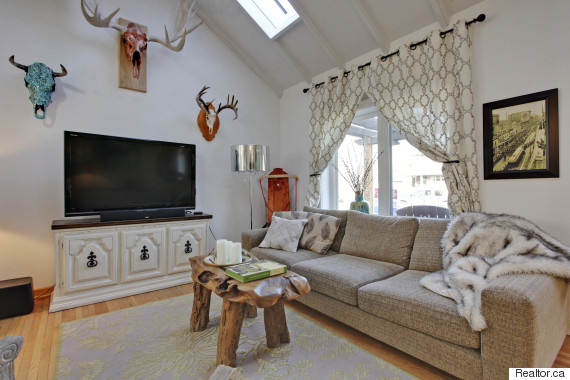 (The home's interior features upgrades in keeping with the original feel of the cabin.)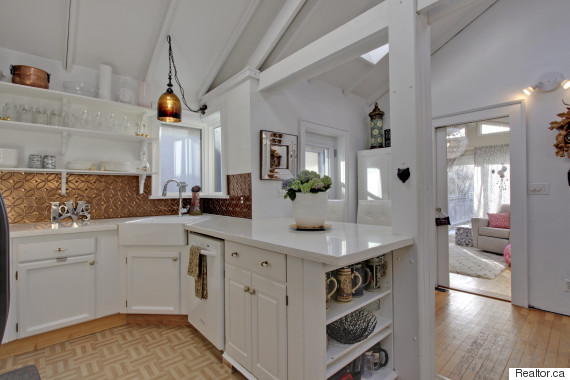 (The kitchen underwent a full upgrade and makeover.)
"This is like my family cabin in the Yukon — the one we had when I was a kid," Sue told The Huffington Post Alberta, explaining what drew her to the property in the first place.
She says living in the small space has made her and her husband consider how to maximize space and cut down on clutter.
"I'm a big believer in that you don't need a huge home. It's more about being creative with your space."
What's more, says Sue, is that a large, west-facing backyard allows the house to almost double in size during Calgary's warm summer months. A firepit and dining nook take them outside, an area they say is perfect for socializing and entertaining with family and friends.
Check out more photos, including before and after shots, of this adorable home:
Calgary Century Home For Sale
The front sitting room and loft.

Front sitting room.

The front room, before.

Front sitting room and staircase to loft.

A wide-angle view from the front of the home to the back.

Fireplace and main floor washroom.

Fireplace, before.

Loft.

Loft, before.

Main floor washroom.

Main floor washroom, before.

The basement is currently being used as master suite, but could easily accommodate a game or family room.

The basement is currently being used as master suite, but could easily accommodate a game or family room.

A large walk-in closet in the basement.

An iron, clawfoot tub in the basement washroom.

Recent upgrades to the kitchen make the space airy and bright.

Kitchen, before.

Kitchen, after.

Kitchen, after.

Kitchen, after.

Kitchen and dining nook.

Dining nook.

Kitchen and staircase, before.

Dining nook, after.

Loft and dining room, before.

Dining nook and staircase.

A back addition makes room for a bedroom.

Features of the front landscaping.

The exterior in summer.

The exterior in winter.

A large backyard.

The backyard and back deck.

An outdoor dining nook, perfect for entertaining.