Canada's GDP Probably Down In January, CIBC Says After Disappointing Retail Data
Canada's economy likely shrank in January, CIBC said Friday following an unexpectedly negative reading on retail sales from Statistics Canada.
Retail sales fell 1.7 per cent in January, StatsCan reported, the second consecutive monthly decline. Analysts had been expecting a slowdown due to lower gas prices, but they weren't expecting the broad-based declines that were actually seen: Seven of 11 retail sectors shrank in January, including autos, furniture and food and beverages.
Canada's GDP for January "now looks set for a modest drop," CIBC economist Andrew Grantham wrote in a client note.
Economists had been expecting that lower gas prices would mean Canadians would spend more on other things, but that doesn't seem to be happening.
"The latest figures suggest that households are becoming more cautious in their spending habits," Grantham wrote, adding he doesn't think Canada will meet the modest 1.5-per-cent growth rate that the Bank of Canada is predicting for the first quarter of the year.
Consumers are showing signs of exhaustion, with household debt levels reaching yet another record high in the last months of 2014, up to 163.3 per cent of disposable income.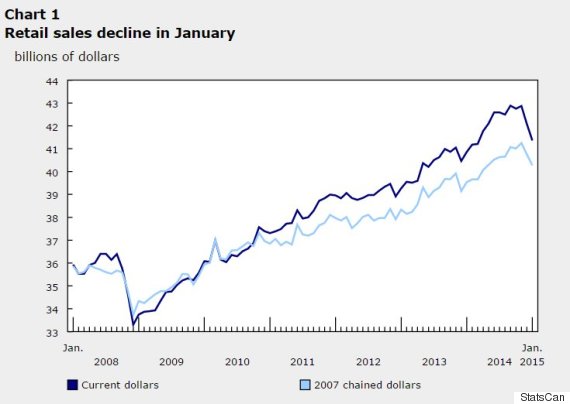 It's not just retail numbers that have economists gloomier this week about Canada's prospects. Manufacturing — which was supposed to see a resurgence thanks to the low loonie and growing U.S. economy — saw sales shrink 1.7 per cent in January, StatsCan reported. That was the third decline in four months.
And wholesale sales saw their biggest drop in six years that month, falling 3.3 per cent. That's the largest single drop since Canada was in the midst of the 2008-2009 financial crisis, though it was preceded by a spike in sales the month before.
Put together, and the prospects for positive economic growth for January don't look good. But not everyone is ready to throw in the towel on Canada's economy just yet.
"Demand for Canadian-made goods should pick up thanks to a robust U.S. economy and a weak Canadian dollar — which likely has further room to fall," TD economist Dina Ignjatovic wrote.
"Moreover, interest rates remain extremely accommodative, which should be supportive for manufacturers who need to increase capacity to meet demand."
But with manufacturing showing a plunge when it should be growing, some are beginning to wonder whether it can actually offset the damage done by oil's fall.
"We seriously doubt the consensus view that economic growth will subsequently accelerate again throughout the rest of this year and into next year," wrote David Madani of Capital Economics.
"This seems like wishful thinking in our view. With the export led recovery still lacking strength, the downturn in the energy sector could push the economy close to stagnation during the course of the year, particularly if it is compounded by a housing slowdown."
Still, unlike CIBC, Capital Economics doesn't think Canada slipped into negative growth in January, and estimates GDP grew one per cent that month.
Also on HuffPost: The retail sector is struggling in the U.S., too. Here are the chains closing the most stores stateside.
10 Retailers Closing The Most Stores
Abercrombie & Fitch has taken a nose dive in recent years, a decline punctuated by the ouster of former CEO Mike Jeffries. The former CEO is infamous for wanting to sell only to "cool" people, among other public relations disasters. According to Jeffries, Abercrombie & Fitch clothing embody the "essence of privilege and casual luxury." Yet, with net sales dropping 14% in the fourth quarter, A&F's target audience seems less interested in the clothing than ever. The company plans to open several stores overseas as well as 11 new outlet stores in the United States in fiscal 2015. In addition, however, the company plans to close roughly 60 U.S. stores over the same period. Most of these stores will be closed as their leases expire.

Ahead of the 2014 holiday shopping season, traditionally the time of the year retailers make most of their profits, Aeropostale announced plans to close 75 stores in its fiscal fourth quarter — November through January — on top of the 23 it closed in its third quarter. The announcement came as Aeropostale reported its third quarter losses doubled to $52 million from the same quarter one year earlier. The fourth quarter closings brought to 120 the number of stores Aeropostale closed in its 2014 fiscal year, far higher than the company's estimate of 40-50 closings. Aeropostale stated it would close another 126 mall outlets in fiscal 2015. The teen retailer has seen stiff competition from Zara, Forever 21, H&M, and other stores.

Barnes & Noble has moved its business away from a store-based model to a multi-channel model, which focuses instead on retail stores, Internet, and digital commerce. Like many other retailers, Barnes & Noble leases rather than own many of its stores. One of the reasons Borders went bankrupt several years ago — a similar story of stiff e-commerce competition — was its inability to sell its leased stores. So far, Barnes & Noble has at least managed to close many of its stores upon the termination of the lease period. In doing so, the bookseller has managed to avoid taking major losses from store closures. Still, Barnes & Noble has been closing stores for years. The retailer operated 1,361 brick-and-mortar bookstores in 50 states as of May last year. E-commerce sales as a percent of all retail sales has increased steadily in recent years alongside evolving consumer habits. Barnes & Noble had sales of $6.38 billion in its fiscal 2014, down substantially from the previous year. At the same time, online retailers such as Amazon.com have reported explosive growth.

In late July, Dollar Tree announced the acquisition of Family Dollar Stores, which, it said at the time, could result in the closing of as many as 500 Family Dollar outlets. The strategic rationale for the acquisition was to combine "two established and respected brands in the most economically resilient sector of retailing," Dollar Tree CEO Bob Sasser said in an earnings call. According to Sasser, "the Dollar Tree target customer is largely a suburban customer, while the Family Dollar customer is largely urban and rural." Once the transaction closes, Sasser said, Dollar Tree would have more than 13,000 stores with almost $19 billion in sales and more than $2 billion in earnings. Shareholders of both companies approved the transaction in February.

In January, JCPenney stated it would close roughly 40 stores in 2015, resulting in approximately 2,250 layoffs. The company has floundered in recent years, due in large part to former CEO Ron Johnson's tenure during which JCPenney was dramatically rebranded. The company is still recovering from the disastrous results of the shift. The current store closures can be attributed to other factors as well. While the rise of e-commerce has not had as severe an impact on J.C. Penney as other retailers, Americans' growing preference for making online purchases has cut into mall traffic. According to Fortune Magazine, nearly 700 J.C. Penney stores are located in malls, more than every store except for Sears.

Macy's announced early in January it would close 14 stores as part of a restructuring plan to increase online sales.The 14 closures involve less than 2% of the chain's 830 stores. When the stores close in early spring more than 1,300 jobs will be lost. At the same time that it announced the closings, Macy's also said it would open three new stores. The Department of Commerce reports a drop in department store sales from an average of $14.3 billion a month in 2013 to $14.0 billion per month in 2014, a decline of 2.1%. In the same period, sales by non-store retailers — mail order and e-commerce — rose from a monthly average of $37.3 billion in 2013 to $39.9 billion in 2014, an increase of 6.9%.

Office Depot completed a merger with its rival OfficeMax on November 5, 2013. As a result, the new company devised a real estate strategy to close at least 400 locations through 2016. By the end of 2013, Office Depot had closed 168 stores. A merger with Staples, which is currently being negotiated, would likely result in even more store closings. In fiscal 2014, Office Depot had sales of $16.1 billion, up substantially from the previous period. However, the company posted an operating loss of $275 million during its fiscal 2014 year. Like other brick-and-mortar stores, Office Depot has also faced stiff competition from online retailers in recent years, pressuring the company to implement cost-cutting measures.

Nearly 100 years after it opened its first store and began distributing its first catalog, RadioShack in February filed for Chapter 11 bankruptcy protection. While declaring bankruptcy, the company also entered into an agreement to sell 1,500 to 2,400 of its approximately 4,000 company-owned stores to General Wireless Inc. The final number of stores to be sold, RadioShack said in an SEC filing, would be determined by General Wireless. RadioShack said also it would establish co-branded RadioShack-Sprint stores to sell RadioShack retail products, warranties, services and accessories and Sprint-branded mobile devices to operate on the Sprint wireless network. About 950 of the stores will be RadioShack leased stores and roughly 800 will be Sprint leased stores, each selling RadioShack-branded products.

When it announced in December a third quarter loss of $548 million, Sears Holdings Corporation also confirmed the previously announced closing of 235 stores, which it described as underperforming. Most of the stores to be closed, Sears said, were KMart stores. The company said it hoped customers would shift to Sears outlets or shop on Sears' website. After the closings, Sears will still have more than 1,830 outlets. Since the store closings announcement, the price of Sears stock has increased about 13%. The closings came after several steps taken by Sears to consolidate, including its decision one year earlier to spin off its Lands' End clothing business.

In March 2014, Staples announced it would close 225 underperforming stores in North America by mid 2015. The cuts were due largely to competition from larger retailers such as Wal-Mart and Amazon.com. The recently proposed merger of Staples and Office Depot would likely result in additional store closings. One retail analyst estimates a merger would result in more than 1,000 store closings, especially since most Office Depot stores are located just down the street from a Staples. Like others, Staples has attempted to develop its online sales, although online sales decreased 5.9% in the company's fiscal 2014. Overall sales of $22.5 billion were down considerably from years past.