Canada's Key Lending Rate Headed To Zero, Ex-BoC Adviser Says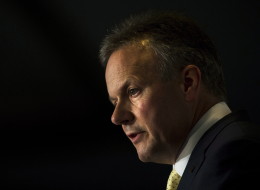 Borrowing costs in Canada are already rock bottom, but those eyeing a mortgage or car loan may want to wait a little while, because Canada's interest rates could still come down.
The country's weakening economy means the Bank of Canada will likely cut its key lending rate to zero, says a former BoC adviser.
Despite the central bank's unexpected rate cut in January, the markets are still underestimating the negative impact of the oil price collapse on Canada, Fidelity Investments portfolio manager David Wolf says.
"In a world with rates effectively at zero in most developed economies, Canada no longer has a reason to be an exception," he wrote in a report last week.
Wolf, who advised the BoC under previous governor Mark Carney, told Bloomberg that January's rate cut likely won't be enough to prevent sagging consumer demand in Canada's economy.
Wolf says Canada's economy has become unbalanced in recent years, with debt-fueled consumer spending and housing investment replacing exports as drivers of growth.
Rebalancing will require a further decline in the loonie to help make Canadian exports more competitive, "and it falls to [the Bank of Canada] to make sure that happens without the economy going off the rails," Wolf wrote.
The closest Canada came to a zero lending rate was in 2009, when then-Bank of Canada Governor Mark Carney slashed rates to 0.25 per cent in response to the global financial crisis.
Wolf isn't the only one predicting the BoC will lower rates, though few economists have been predicting a zero rate.
In a note issued Wednesday, Capital Economics predicted the BoC would drop rates to 0.25 per cent before the end of the year. But the research firm noted that, with the key lending rate already at 0.75 per cent, there is little room for further cuts and the BoC may have to resort to "unconventional policy options."
BoC Governor Stephen Poloz hinted at some of these "unconventional" options in an interview with the Financial Times last week, in which he suggested he could follow other central banks, such as the U.S. Federal Reserve, the European Central Bank and the Bank of Japan, in launching a quantitative easing program.
The Bank of Canada's next interest rate decision in on April 15.
Also on HuffPost:
Consumer Debt Per Person (2014)
Source: Equifax

Source: Equifax

Source: Equifax

Source: Equifax

Source: Equifax

Source: Equifax

Source: Equifax

Source: Equifax

Source: Equifax

Source: Equifax

Source: Equifax

How Canada's Debt Burden Compares

Canada hit a record high in the first quarter of 2011, reaching $1.5 trillion in household debt. If spread evenly across Canada, that means every family with two children has $176,461 in debt. In the U.S., household debt hit $11.5 trillion by the end of March this year. The average household debt in the U.S. for a family of four is $148,000.

Loans owed to Canada Student Loans amount to nearly $14 billion and rising. In the U.S., where tuitions are considerable higher, loans owed exceed $932 billion, including federal and private loans.

With their debt ceiling raised again, the U.S. has more than $14 trillion in government debt in the first quarter of 2011. Canada has more than $563 billion. That figure works out to 84 per cent of Canada's GDP, compared to 58.9 per cent for the U.S.

In the first quarter of 2011, the average Canadian had more than $3,500 in credit card debt, according to TransUnion Canada. In the U.S., the average American consumer owes more than $4,200 in credit card debt.

As of June 2011, the median cost of a home in Canada was $372,000. Vancouver, Victoria and Toronto are some of the most expensive places in the country to buy a house. Prices in the U.S. vary more than they do in Canada. As of June, the median price of a home in the Northeast was $261,000, while the median price in the Midwest was $147,000. The median in the South was $159,100 and in the West, it was $240,400. The average price of a home in the UK is £232,628 as reported by their first quarter in 2011, which converts to around CAD $371,000.

In 2010, there were more than 1.5 million non-business bankruptcy filings in the U.S. In the same year, there were only 92,694 personal bankruptcies in Canada. That means there were 48 bankruptcies per 10,000 people in the U.S., and 28 bankruptcies per 10,000 in Canada.