Manitoba First Nation's Solution To Foster Care Crisis: Remove Parents, Not Kids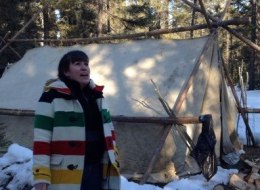 Foster care has become a crisis on Manitoba's aboriginal reserves, where many children removed from their homes are also removed from their communities, winding up in urban centres like Winnipeg. But the northern Misipawistik Cree Nation is trying a radical new solution — let the kids stay and make the parents leave.
"Ours is one approach and not a complete one, but a step towards reducing the number of children taken into custody," Misipawistik councillor Heidi Cook tells the Huffington Post Canada, noting the additional need for housing and poverty reduction programs. "Our policy is not to place blame on the parents because we recognize that our community and our people are still dealing with the intergenerational impacts of colonization, residential schools, and hydro development. We want to give parents the opportunity to seek help and to make families stronger in the end."

Derek Nepinak, grand chief of the Assembly of Manitoba Chiefs, has compared the current system to residential schools, telling CBC that "[Child and Family Services (CFS)] carries on the tradition of taking children away from their network, from their parents and their community network, and imposing a different way of thinking."
According to the Globe and Mail, "nearly 90 per cent of the more than 10,000 children in care are native." However, due to living conditions on many reserves, it's a challenge to license foster homes while meeting provincial standards.
"One thing that makes foster care difficult is the housing requirements, i.e. separate bedrooms, when adequate housing is a crisis on nearly every reserve in the country," Cook says. "Census data will show you how many of our houses have multiple families or generations living together, are overcrowded or in need of major repairs."
The result is vulnerable children being shipped to the city and placed with foster families, group homes or even hotels. This became an even greater concern last week when a 15-year-old aboriginal girl was violently sexually assaulted in downtown Winnipeg. Both the girl and her alleged teenage attacker were staying at the Best Western Charter House under CFS care. It was the same hotel where Sagkeeng teen Tina Fontaine had been placed by CFS before she was found murdered last August.
The Manitoba government pledged to remove all foster children from hotels within two months, while Nepinak announced the Assembly of Manitoba Chiefs is hiring a family and child advocate and demanded "fundamental changes to the system."
"Certainly the sad incident that happened in Winnipeg with the kids being put up in the hotel proves that alternative approaches are needed and it feels timely for us to try this," Cook says.
Last month, the Misipawistik chief and council passed a resolution declaring that parents from the 1,100-person northern reserve will be asked to leave when child services become involved due to reports of abuse or neglect. A care worker will be sent to the homes to look after the children.
"The disruption and trauma felt by children who may be removed from their homes, separated from their siblings or removed from the community altogether is not an acceptable practice, when the child has done nothing wrong," the resolution read in endorsing "a policy of parent removal in family interventions" effective immediately. The parents or guardians will only be allowed to return once all child-welfare conditions have been met.
"The reasoning is to prevent undue disruption in children's lives but also to focus on prevention," Cook explains. "Our CFS workers can place support workers in the home to temporarily alleviate a situation rather than being forced to apprehend. It makes it easier for families to be reunited quicker. Parents can seek help or otherwise do what they have to without worrying about where their kids are or what's happening with their home. That is the intention anyway."
Cindy Blackstock, of First Nations Child and Family Caring Society of Canada, told APTN she agrees this could be a helpful change. "Child removal at the best of times is really disruptive, so the more you can keep things normal for a child in their own family home with their brothers and sisters, access to extended family members, the same school and having even access to your pets, the better it is for the child."
Removing problem parents from their own home is possible because the Indian Act legislates that reserve land is held collectively, giving Misipawistik council "the authority to determine the occupancy of [band-owned] homes." The council will not be responsible for finding accommodations for the removed parents or guardians, but are working on support systems for them which will be key to making this new approach work.
But Misipawistik isn't the first band to try this. The Winnipeg Free Press reported that another northern Manitoba First Nation, the Nisichawaysihk near Nelson House, instituted this policy back in 2002, reducing child apprehensions. Their success prompted the CFS to bring the idea forward to the Misipawistik council, and who knows where it might go next?
According to Statistics Canada, almost half of all Canadian children in foster care are aboriginal, despite representing only four per cent of the population.
"I posted our resolution on Facebook to share with our community and it kind of took off, lots of people made positive comments and suggested that it could be done in other places so I'm sure there will be more who will try it," Cook says.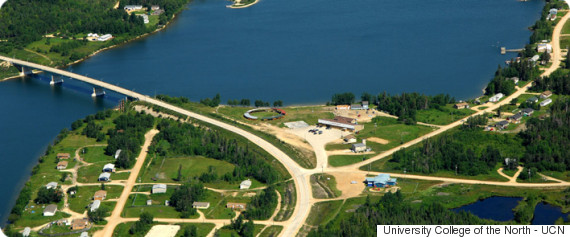 Like HuffPost Canada: What's Working On Facebook
10 Indigenous Voices That Inspire Us
Ta'Kaiya Blaney emerged in 2010 with "Shallow Waters," a heartfelt song that expressed the young artist's concerns about the threats that oil spills pose to oceans. She has since become a prominent voice opposing the Northern Gateway pipeline, which would transport oil from Alberta to B.C.'s coast for shipping to Asian markets.

After the Oka Crisis brought the relationship between Canada and First Nations to national attention, Phil Fontaine became one of the first people to speak out about sexual abuse in the residential school system. He has since become one of the most visible voices advocating on behalf of indigenous people. As national chief of the Assembly of First Nations, he helped negotiate the Indian Residential Schools Settlement, an agreement that established payouts to survivors and a Truth and Reconciliation Commission.

Haida activist Guujaaw played a key role in the establishment of Gwaii Haanas National Park Reserve after protesting logging in the area. He later served as president of the Council of the Haida Nation for 13 years, a role in which he undertook a successful effort to rename B.C.'s Queen Charlotte Islands as "Haida Gwaii," which means "islands of the people."

In 1990, with an eagle feather in his hand, Manitoba MLA Elijah Harper helped scuttle the Meech Lake Accord, saying that First Nations were not consulted in discussions toward constitutional amendments that would have recognized Quebec as a "distinct society." Then-Newfoundland Premier Clyde Wells later refused to hold a vote on the accord, and it fell apart. Harper would later be elected as an NDP MP. He died in 2013.

The host of CBC's "8th Fire" documentary series has emerged as one of the most prominent voices articulating indigenous issues in Canada. He was a regular fixture on television as Idle No More protests swept across the country in 2012 and he has since raised his intellectual profile with a successful defense of Joseph Boyden's "The Orenda" in the Canada Reads literary battle. More recently, he was floated as a possible candidate to succeed Shawn Atleo as national chief of the Assembly of First Nations.

Chief Clarence Louie sees economic development as the way forward for B.C.'s Osoyoos Indian Band. It owns vineyards, a golf course and a desert cultural centre. Though Louie is a controversial figure among some indigenous people, prominent politicians such as Prime Minister Stephen Harper look to him as an "example of entrepreneurial spirit," according to CBC.

Once blacklisted by the U.S. government for producing work that could "encourage widespread citizen protest," Saskatchewan-born artist Buffy Sainte-Marie has built a career around songs of love and dissent. Her "Universal Soldier" became a popular anti-war anthem in the '60s, while her love song "Up Where We Belong" won an Academy Award for best song after it was featured on the soundtrack for "An Officer and a Gentleman." But she has also been a strong spokesperson for indigenous rights, standing against the Kinzua Dam that had displaced part of New York's Seneca Reservation.

Murray Sinclair has spent decades seeking justice for indigenous people. He became his province's first indigenous justice when he was named associate chief judge of the Provincial Court of Manitoba. He was handed an enormous responsibility when he was named chair of the Truth and Reconciliation Commission in 2009, a role in which he oversaw testimony from residential school survivors in an effort to educate Canadians about the system's destructive effects on First Nations, Inuit and Metis people.

Not unlike Buffy Sainte-Marie, Inuk throat singer Tanya Tagaq is out to defeat stereotypes. In 2012, the Toronto International Film Festival commissioned her to do a soundscape for the silent documentary "Nanook of the North," effectively reclaiming a film which she said had a "bunch of bullshit happy Eskimo stereotypes." And that's just one work that makes her an inspiring artist. More recently, she was harassed online by anti-seal hunt activists after posting a "Sealfie" with her baby next to a dead seal. She fought back against her tormentors and ended up shutting down one of their Twitter accounts with the help of police. We can't wait to see what she does next.

This Inuit activist has dedicated her life to ensuring the health and cultural survival of her people. She partook in negotiations toward the Stockholm Convention, which banned persistent organic pollutants that were contaminating the Arctic. She also made climate change a human rights issue when she filed a petition against the U.S. to the Inter-American Commission, alleging that its refusal to reduce emissions was threatening the Inuit.