Surrey Condo Sales: Hundreds Line Up For Chance To Buy $94,000 Micro-Units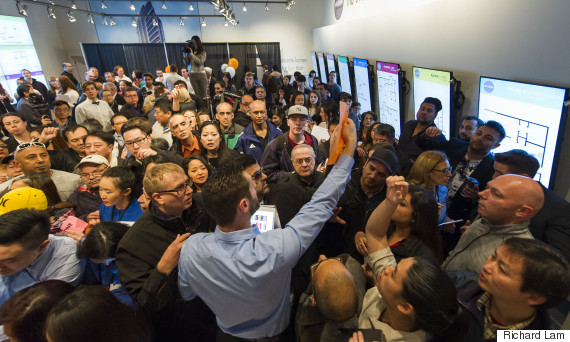 The opportunity to buy a brand-new condo for under $100,000 in Metro Vancouver's sizzling real estate market brought hundreds of people to a Surrey sales centre on Saturday.
Prospective buyers stood in line for hours to buy into the 35-storey Evolve concrete tower. A big draw were the micro suites, starting at 316 sq. ft. and $93,900.
Twin brothers and WHL players, Connor and Curtis Honey, drove up from Edmonton to be the first people in line at 4 a.m. for the opening day of sales. They snapped up one of the 80 micro condos.
"It is pretty small, but I think there's ways to work around it and maximize the space," Curtis Honey told CTV News.
Developer WestStone Properties said 300 condos worth about $70 million were sold in a frenzied 90 minutes Saturday.
The majority of Evolve's 406 units are priced at less than $250,000.
STORY CONTINUES AFTER THE VIDEO:
The condo project's marketers, Platinum Project Marketing, also credited the high-tech sales presentation, including holograms and augmented reality, for drumming up interest. (Watch video above.)
Evolve is scheduled to be finished in 2018. It's one of several new towers in Surrey's developing West Village.
With about 1,000 people moving to Surrey every month, the city is forecast to become B.C.'s biggest by 2041.
Lineup For Evolve Condos In Surrey, B.C.
Hundreds of people lined up for the opening day of sales at Evolve condo tower in Surrey, B.C. on April 12, 2015. The project offered dozens of micro suites starting at 315 sq. ft. and $93,900.

Curtis Honey and his twin brother drove up from Edmonton to be first in line on the opening day of sales. He bought a 315 sq.-ft. micro condo for $93,900.

NEXT: Surrey's Most Expensive Homes, January 2015

These are the most expensive homes for sale in Surrey, B.C. This home has "abundant natural-lighting facilitated by floor-to-ceiling windows," and with a great ocean view, there's no better way to wake up. With five bedrooms, six bathrooms, and generous amounts of space, it's described as a "21st Century Castle," costing $4.5 million.

This $5.49 million mansion has the most bedrooms of any home on this list:12. In 9,611 sq.-ft., there is a rec room, wine cellar, and home theatre. There's even a suite for your nanny, score! And if you have lots of big parties, there's enough parking for 12 cars.

Right on the edge of Kwomais Point Park, this house is another waterfront property with a great view of Boundary Bay. Built in 1991, this house feels like a dreamy little cottage in the woods with five bedrooms, three ensuites, and a conservatory. You can have it for $5.67 million.

This bright and colourful 13,478 sq.-ft. home is near Nicomekl River in South Surrey. It shows seven bedrooms with 10 bathrooms, six of which are ensuites. Forget about taking the stairs: you get your own elevator, too. The price for this one is $5.68 million.

This South Surrey home feels like a resort within a mansion with its long driveway, beautiful outdoor patio, and swimming pool with a waterfall. Not only does it have seven bedrooms, but five of them have ensuites. If you want it, you'll have to pay up $5.98 million for this 2009 home.

This $6.48 million home is designed to entertain and please, with a home theatre, bar, rock designed pool, and even a basketball court. There are five bedrooms and six bathrooms in this 6,684 sq.-ft. luxurious South Surrey house.

For $7.2 million, you can get this four-bedroom/eight-bathroom home, complete with a salt water swimming pool, wine cellar, and beautiful hardwood and granite finishing. Plus, there's tons of space to park your car in its driveway and garages.

Even though this mansion was built in 1993, it was featured on Dream Homes Canada and the TV show "Psych." With 10,191 sq.-ft. of space, it hosts four bedrooms, six bathrooms, an indoor gym, a swimming pool, a home theatre, and seriously killer views of Boundary Bay. All yours for $8.99 million!

This five-bedroom 5,684 sq.-ft. home in Grandview Heights comes with seven bathrooms and five fireplaces, so you'll never get cold. With that you get all the basics: Washer, dryer, fridge, stove, as well as a hot tub spa and swirl pool. It was built in 2007, so it's hardly an old house. Want it? It'll cost you $9.99 million.

This brand new 2014 home tops the list as Surrey's most expensive house on the market. This "luxury mansion" in Panorama Ridge is a two-storey, 18,000 sq.-ft. home complete with eight bedrooms, eight bathrooms, and an ocean view. There's also a fitness/rec room, home theatre, wine cellar, swimming pool, and hot tub. It'll cost you $12.88 million for this bad boy.