Pickering's Dunbarton High Named 'Greenest School On Earth'
The U.S. Building council has crowned a Pickering, Ont. high school with the title "Greenest School on Earth."
Recognized for its "zero environmental impact," Dunbarton High School was selected from 40 entries collected across 20 countries.
It was Dunbarton's composting initiatives and bee condominiums that made its application stand out. The school was also recognized for incorporating sustainable design into its 1960s-era building.
So what makes a school have zero environmental impact?
Over the last five years, Dunbarton has undergone an incredible transformation. Retrofit with new energy-efficient windows, the school retains its heat with extra foam insulation. New fluorescent lighting was then wired in to help reduce electricity consumption.
Dunbarton is "an excellent example of a school that engages its students at every turn, placing them in the driver's seat and empowering them to improve their environment inside and out," said Center for Green Schools director Rachel Gutter in a news release Wednesday.
The school's biodiversity program and coursework is also impressive. There's a 500-square metre pollinator garden on its grounds to teach students about the interconnected parts of ecosystems and outdoor classes ranging from salmon habitat restoration to co-op placements with Parks Canada.
There's also a 40-seat outdoor classroom that teachers are encouraged to book and use.
"Greenest School on Earth" is an annual award given to a K-12 school that "exemplifies how sustainability can be integrally woven into the infrastructure, culture and curriculum."
Dunbarton's global recognition has floored students and staff. For members of the school's environmental club, the award is a testament their hard work and dedication to sustainable practices has value.
"National and the world, that's insane," student Shantosh Pushparajah said to Global News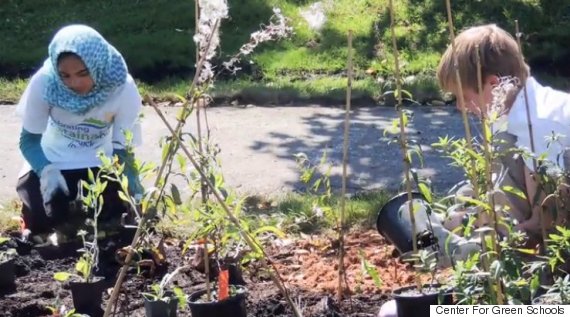 Photo credit: Center for Green Schools
"This is what the world need to adapt to a changing future, you people prepared to take action in a supportive community," added Dunbarton teacher David Gordon.
Along with bragging rights as the "Greenest School on Earth," Dunbarton was also awarded $1000—money that will help build 10 new bee condominiums for the school garden.
Like HuffPost Canada: What's Working On Facebook
ALSO ON HUFFPOST:
Greenest Universities In The World
COUNTRY: Canada SCORE: 4,494.29 GREEN THUMBS UP: At Acadia University, located in Wolfville, N.S., motor vehicles are banned from idling for longer than two minutes on school property.

COUNTRY: Canada SCORE: 5,434.94 GREEN THUMBS UP: On its Vancouver and Burnaby campuses, Simon Fraser has a total of seven green buildings, including a gym and the School of Business.

COUNTRY: Canada SCORE: 6,087.58 GREEN THUMBS UP: The university, located in Quebec City, has seen a 12 per cent decrease in greenhouse gas emissions since installing an electric boiler in 2007.

COUNTRY: Indonesia SCORE: 6,317.35 GREEN THUMBS UP: Get this: Besides being an absolute beautiful place to study, the University of Indonesia includes six lakes on campus.

COUNTRY: Taiwan SCORE: 6,384.91 GREEN THUMBS UP: Each year, the National Taipei University of Technology hosts a youth camp on nature conservation and green energy.

COUNTRY: United States SCORE: 6,430.12 GREEN THUMBS UP: On top of being voted one of America's greenest campuses, Seattle's UW also has three farms and a recycling centre.

COUNTRY: United Kingdom SCORE: 6,445.94 GREEN THUMBS UP: The University of Bradford, located in Yorkshire, U.K., includes green student housing equipped with solar panel water heating systems, recycling facilities and areas to grow vegetables.

COUNTRY: Austria SCORE: 6,546.26 GREEN THUMBS UP: The University of Natural Resources and Applied Life Sciences, or BOKU for short, offers courses in organic farming, forestry and food and fibre technology.

COUNTRY: Israel SCORE: 6,564.33 GREEN THUMBS UP: In 2011, the university announced its launch of the EcoBuilding, the campus's newest green project that includes a water recycling system and natural ventilation.

COUNTRY: Malaysia SCORE: 6,570.03 GREEN THUMBS UP: UPM is one of Asia's only universities that has made several worldwide green lists. The campus includes programs that cater to university-wide recycling and tree planting.

COUNTRY: United Kingdom SCORE: 6,580.59 GREEN THUMBS UP: Located in North Wales, BU has several green-friendly programs that target areas of food security, sustainability and packaging.

COUNTRY: United States SCORE: 6,589.30 GREEN THUMBS UP: UC Davis includes two sustainable living facilities for students and ride-matching service to encourage carpooling.

COUNTRY: United States SCORE: 6,601.95 GREEN THUMBS UP: Berkeley's campus includes a Bicycle Plan that has over 5,000 enrolled riders and five Leadership in Energy and Environmental Design (LEED) buildings.

COUNTRY: Canada SCORE: 6,620.06 GREEN THUMBS UP: The Toronto campus has a Green Campus Co-operative program that focuses on fair trade and organic goods on campus, as well as initiatives to build more community gardens.

COUNTRY: Canada SCORE: 6,625.46 GREEN THUMBS UP: Ottawa's campus has several action groups for going green, including a focus on events like 'Green Week' and sustainable development.

COUNTRY: United Kingdom SCORE: 6,639.16 GREEN THUMBS UP: The University of Sussex's green initiative includes food markets, a campus garden and waste management programs.

COUNTRY: Sweden SCORE: 6,647.18 GREEN THUMBS UP: Linkoping University has several on-campus restaurants that include fair trade and organic foods and is one of Europe's largest bike-friendly campuses, with segregated bikepaths that allow students to bike easily between school and home.

COUNTRY: United States SCORE: 6,647.59 GREEN THUMBS UP: By 2015, the university aims to purchase only fair-trade coffee and buy a percentage of food from within 150 miles of campus.

COUNTRY: United States SCORE: 6,725.26 GREEN THUMBS UP: This university includes a 'Water Battle' challenge for dorms to conserve water and a stairs campaign for students to encourage using less electricity.

COUNTRY: United Kingdom SCORE: 6,736.68 GREEN THUMBS UP: This university has an official Carbon Management Plan that aims to reduce overall energy consumption.

COUNTRY: United States SCORE: 6,766.29 GREEN THUMBS UP: UNC has a pledge dedicated to going green, along with a focus on ride sharing, community gardens and programs to make student housing more eco-friendly.

COUNTRY: United States SCORE: 6,787.36 GREEN THUMBS UP: On top of being an industry leader in green campus buildings, UCLA also only uses eco-friendly cleaning products campus wide.

COUNTRY: Canada SCORE: 6,796.90 GREEN THUMBS UP: A leader in transportation, this Quebec university offers free seasonal passes for public transportation for all 35,000 students, as well as self-service bike and carpool programs.

COUNTRY: United Kingdom SCORE: 6,798.51 GREEN THUMBS UP: To create a carbon neutral campus by 2030, the University of Plymouth was awarded $1.6 million to create the world's first integrated building management system that has the capability of remotely adjusting heating and lighting levels. How cool?

COUNTRY: United States SCORE: 7,264.07 GREEN THUMBS UP: Given one of the highest grades for overall green achievement (A-) by the Green Report Card, this Boston college's dining services include hormone and antibiotic-free food products and the campus has multiple sustainability committees.

COUNTRY: Ireland SCORE: 7,301.84 GREEN THUMBS UP: Having multiple awards in going green, UCC also targets planting more trees on campus (check out this view), reducing the university's carbon footprint and a campus-run recycling program.

COUNTRY: United Kingdom SCORE: 7,375.59 GREEN THUMBS UP: The campus created an environmental strategy in 2010 to be more sustainable, along with six green housing projects, gardening programs and plans for three wind turbines.

COUNTRY: United States SCORE: 7,569.39 GREEN THUMBS UP: Also pledging to be carbon neutral by 2050, UConn (located in Storrs) has green appliances, fair-trade coffee and 30 per cent of all its eggs are cage-free.