Lego Table: 14 DIY Ideas For Your Kids' Playroom
Kids love Lego, but often their ginormous collections can be too much to handle. So why not keep those colourful bricks in order by creating a play table just for them?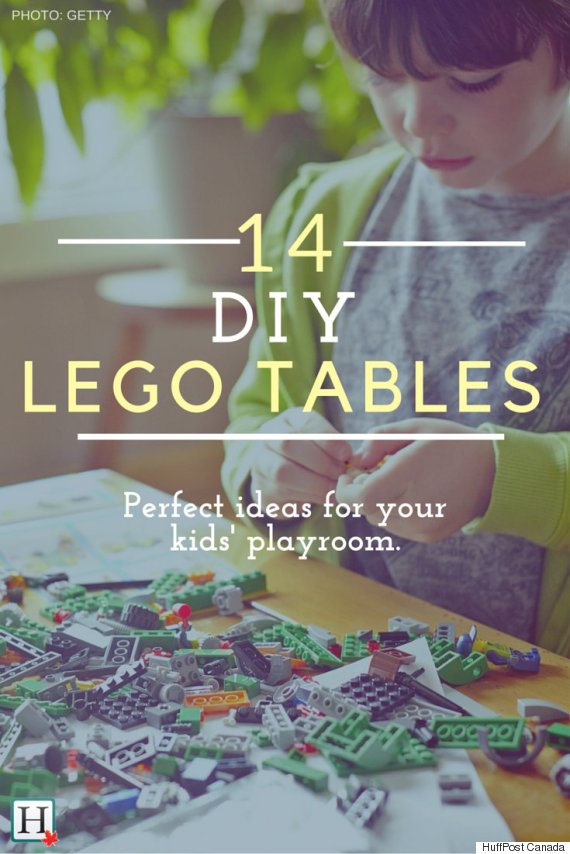 Here we have 14 DIY Lego tables. These ideas are both fun and practical, so that they can store all your kids' Lego pieces without sacrificing room for play.
This is a great table for those who want to conserve space in their house. This DIY project uses a table with removable drawers so that kids can easily store their Lego pieces, or any other toys they own. Source: Whatif Workshop

For kids who are constantly building new Lego creations, this is perfect! Made from a wooden table, you can decide how many buckets you want. Your kids will love this because they can build on-the-go right from the buckets and they won't have to worry about cleaning up pieces they've dumped out. Source: A Little of This, A Little of That

This is genius! These portable Lego trays make it easy for kids to show off their creations without destroying their hard work. Plus, in the summer, kids can take these trays outside to get some fresh air while they build. Source: That's My Letter

Kids will love having a designated desk for all their Lego supplies. Using plastic drawers and a large Lego base from Amazon, you can easily create this table perfect for play and storage. Source: Our Wee Family

If your home doesn't have enough space for a permanent Lego table, then this is a smart alternative! This fold-up table is easy to store when not in use, but still offers your kids tons of space to play with. Source: The Joys of Boys

Little kids will love this tiny play table! Set your little one up with this table and a set of Lego Duplo cars and they'll be busy for hours, guaranteed. Source: Meet the Dubiens

This is the perfect play table for younger kids. It's made from an Ikea coffee table, which means kids can sit on the floor and play since it's lower to the ground. Plus, the added shelf leaves space for extra storage. Source: Centsational Girl

If you have more than one child who loves Lego, then you need a table with enough space to accommodate them! This table is built from two wooden shelves and a wood plank. We love this idea not only because it provides amble storage, but also because the height can be adjusted as your kids grow. Source: That Mommy Blog

What makes this Lego table so ultimate is the fact that storage buckets were add to either side, as well as magnetic tins for added storage. That means your kids won't have to any further than this table for all their Lego needs. Source: Kojo Designs

Transform a bookshelf into a pull out drawer table by adding tracks. Then add Lego boards to the bottom of each drawer so that your kids have multiple platforms to play on. So cool! Source: All Things With Purpose

Under the bed train tables are quite popular, so why not try it with Lego? This is a good idea because it will keep kids busy on weekend mornings when you're still sleeping, and it doesn't take up much space! And if you don't want your kids hiding their toys under their bed, then you can always store this tray under the couch as well. Source: Thrifty Décor Chick

If you have an old table lying around the house, why not make good use of it? Upcycle that old piece of furniture and turn it into a Lego table with simple storage for your kids. Source: Fussy Monkey Business

Here's another great idea for little ones who like to sit on the floor and play. This tiny table would also be good to play with in bed. Source: Joys of Boys

Create this play table out of wood. You'll love it because the sliding tops lead to hidden storage inside. Source: Pinterest

Best Ideas For Organizing Lego

Shoe storage bags are one of the best items to use for organizing. By hanging it on your kids' playroom door, you can organize Lego pieces by size, colour, and so on. Source: Kids' Activities Blog

This idea is genius since it's a play mat that doubles as Lego storage! Using sturdy fabric, create a play mat for the kids. Then, add a rope to the circumference of the circle so that when the kids are done playing you can just wrap up all the pieces and place the bag in the corner of the room. Source: Kids' Activities Blog

Kids will love having a designated desk for all their Lego supplies. Using plastic drawers and a large Lego base from Amazon, you can easily create this table perfect for play and storage. Source: Our Wee Family

Your kids will never lose their Lego instructions with these easy-to-make binders. Plus, you'll never have to deal with loose papers again! Source: My Four Misters And Their Sister

Wall storage is the best because it saves you so much space! Using MANDAL headboards from Ikea and plastic containers, you can easily create wall storage for Lego in your kids' playroom. Source: Ikea Hackers

If you don't have piles of Lego at home, but still want to keep those bricks organized, consider creating a portable Lego kit. Not only does this keep those Legos perfectly compact, but it's great for kids who are constantly on-the-go. Source: Mama Papa Bubba

We love this creative idea! Using a picture frame without the glass, you can create this mini-figure holder with some glue and 2x4 Lego bricks. Not only is it perfect for storing little Lego men, but it also makes great décor! Source: Home Talk

The simplest way to keep those little bricks off the floor is by placing them in buckets. This is also a good idea if you have more than one child. To avoid any arguments over which Lego piece belongs to who, each child gets their own bucket with a certain number of bricks. Source: I Heart Organizing

Alternatively, you can also hang the buckets in your kids' playroom. Source: B-Inspired Mama

Store different Lego sets in their own plastic shoe container and organize them on a bookshelf. Source: The Blue Blog Archives

If your kids are true Lego fanatics, build them a table they can build directly on top of ! This way, they have a ton of space to build new creations and you can store the pieces in plastic containers underneath. Source: Kids' Activities Blog

Place plastic bins along the wall to act as cubbies for your child's Lego pieces. This simple idea is perfect for kids with large collections. Source: Simply Organized Me

You probably wouldn't think of this, but a toolbox is the perfect organizational tool for Lego. With different drawers and compartments, your kids can easily organize their pieces however they like. Source: Raisin 4

You can create simple sliding drawers for your kids' Lego pieces by create a frame and using Rubbermaid bins. However, if you're not the craftiest person, you can also buy a sliding drawer system from Ikea or Walmart. Source: 2 Little Superheroes

This is a cool idea for storing Lego pieces after your kids grow out of playing with them. Cut out a box shadow of a mini-fig and fill it with bricks. Source: Monsieure Recup
ALSO ON HUFFPOST: