Wearable Technology: Canada Emerging As A Global Leader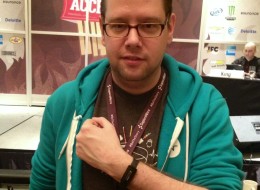 Canada's wearable technology companies are fashioning themselves a new niche as global leaders as the sector broadens out from the self-trackers and gadgets like the old Google Glass and the new Apple Watch.
This emerging industry in Canada has companies to keep an eye on, such as Toronto's SonicWear, which offers the Somo, a sound-motion device that can be sewn into costumes.
That device was on display last week at Cirque-It the kickoff for the Circus North festival, an event that brought together wearable-tech makers, fashion designers and circus performers. 
Trapeze artist Mary Margaret had a Somo device attached to her costume, triggering sounds and music based on her movements on the trapeze.
Designer James Hagarty of Ego Assassin said his challenge was designing a seamless and indistinguishable costume for her that would be both "easy to get into and out of, and still be able to house the sensor," which ended up in the middle of the chest.
Dancer Rhonda Lucy's elaborate costume included an exo-glove which tracks her hand movements.  With her gestures she then 'conducted'  the music using software from Toronto's WaveDNA. 
Tech writer Tom Emrich, who probably knows as much about the emerging world of wearable technology as anyone, was the master of ceremonies at the event, and described the technology as an attempt "to further art by blurring those lines between the digital and the physical."
It is also a world that is encoding and tracking everything from heartbeats and brainwaves — to monitor health and keep your digital world secure — to the virtual reality headsets that have the big movie studios all revved up.
A leader in wearable tech
Emrich characterizes Canada as a leader in wearable tech with everything from clothing to pet-wearables.
He organizes well-attended, monthly meetups in Toronto called, "We Are Wearables."
The key Canadian wearable-tech scenes are in Montreal and the Toronto-Kitchener/Waterloo belt, but there's also pockets elsewhere, including in Calgary and Vancouver.
Comparing the two big locations, Emrich describes Montreal as a mecca for smart clothing, with the the biggest wearable technology companies clothing-based, integrating  sensors into the garments.
Toronto/Kitchener-Waterloo is more gadget-oriented, he says, mentioning products like a heartbeat authentication bracelet, a gesture-control armband, and a brain sensing headband.
"Canada is one of the countries where there's a remarkable diversity in what's being developed," says Kate Hartman, an artist and technologist who teaches at OCAD University in Toronto and is the author of the book Make: Wearable Electronics. 
She says it has been amazing to watch the wearables scene boom over the last three or four years. 
When it comes to wearables, she says, "being able to bring together people from different disciplines and have them work together effectively is what leads to the success of these products."
Hadi Salah, an industry analyst at the MaRS Discovery District in Toronto, says that with Canadian wearable tech, "the value created by our eco-system is a lot higher than what I've seen elsewhere." 
By contrast, in the U.S., Salah says he see a lot of competing, or what he calls me-too products.
Companies to watch
These are some of the Canadian companies that Emrich, Hartman and Salah say are the ones to watch:
OmSignal, Montreal
- Product: Biometric clothing
- Founded 2011 by Stéphane Marceau and Frederic Chanay.
Salah says that one of the biggest hurdles with wearables is that people try them but often aren't using them three months later "because it's an extra thing they have to add on, an extra device, something new that they have to keep charging."
By integrating the sensors into fitness clothes, OmSignal removed some steps from the fitness prep routine. It is also selling a clothing you must wear, or violate the dress code at most gyms.
OmSignal garments can track heart rhythm, heart rate, oxygen levels, steps taken, and more. Salah explains that the value-added for these products is in the analytics, matching the data captured with external data sets — like weather, for example — to give "clear guidance about how to exercise better, how to improve your wellness.
"That's the future of wearables," he adds, "using the data being captured and analyzing it and providing the user actionable guidance on how to improve."
In addition to OmSignal, Emrich lists two other Montreal companies working on clothing-based wearable tech:  
- Hexoskin, which, like OmSignal, focuses on biometrics, 
- Heddoko, which makes garments for 3D motion-capture so athletes and dancers, for example, can learn more about their craft and improve.
Bionym, Toronto
- Product: Nymi, a band that measures heart rhythm
- Founded 2011 by Karl Martin
The Nymi is a wristband that authenticates someone's identity using their unique heart rhythm, or electrocardiogram. It can connect to devices like  your smartphone, computer, doors, automobile ignition, eliminating the need for passwords or keys.
Both Hartman, the artist, and Salah, the industry analyst, think that's cool.
InteraXon, Toronto
- Product: Muse, a brain-sensing headband
- Founded 2007 by Ariel Garten, Chris Aimone and Trevor Coleman
The lightweight Muse headband detects brainwave activity, or EEG, and converts it into visual and audio feedback to be displayed on a computer or smartphone. 
The muse helps users understand how their brains are functioning, and Hartman points to its application as a meditation device.
Beyond meditation and wellbeing, Emrich sees huge opportunities for InteraXon in other areas, including gaming.
Salah, who focuses on the health industry, sees tremendous applications in that sector, as well, including for clinical trials for drugs. Muse provides information in real time, which can improve safety in clinical trials. He also says it could add other measurements to "how drugs work in relation to wellbeing."
Virtual reality studios
- Félix & Paul Studios, founded by Félix Lajeunesse and Paul Raphael
- Occupied VR, founded by Blair Renaud and J. Lee Williams
Virtual reality is the wearable tech sector that has Emrich most excited these days. He praises two VR studios —  Félix & Paul Studios in Montreal and Occupied VR in Toronto — as important content creators for the virtual reality headsets being created by tech giants like Sony, Samsung and Microsoft, and smaller companies like Toronto startup Sulon Technologies, which will soon launch the Cortex headset.
Want to get into wearable tech yourself? Kate Hartman has some advice: "Making wearable electronics is a really great way to understand what they do and what potential impacts they have on our lives. 
"It puts us in a better position to think critically about what technologies we want to engage with and what the issues and politics are around them."
Also on HuffPost:
Essentially a pair of clear wraparound glasses with an earpiece and built-in microphone, Google Glass enables the wearer to receive and send messages and data right before their eyes, using voice recognition. This introductory video demonstrates the device in action. Find out what happened when Google Glass landed in the HuffPost UK Tech department.

The next best thing to an invisibility cloak, Adam Harvey's Stealth Wear range means you can be sure Big Brother is not watching you. The counter-surveillance garments, created with designer Johanna Bloomfield, include pockets that cut out phone signals, clothing that blocks thermal imaging and a shirt that protects the heart from X-rays.

A viable contender in the new wave of motivational fitness trackers, the Fitbit Flex, £79.99, is a small sensor, which fits into a slim, waterproof rubber wristband (in interchangeable colours). By day it tracks steps, distance and calories burned, while at night it monitors your sleep and wakes you silently in the morning. Read our full Fitbit Flex review here.

Pebble smartwatch beat the big players to market, thanks to crowdsource funding site, Kickstarter. Describing itself as an 'E-paper watch for iPhone and Android' the device connects to your smartphone to give you an update whenever someone calls, texts or emails – saving you valuable rummaging-around-your-bag time (without the Google Glass shame factor). Watch this space for Apple's entry into the smartwatch market and see the design patents that could show what the new Samsung Smartwatch will look like.

EMBRACE+ is another Kickstarter-funded product from a small company hoping to make it big in the wearable tech market. Like the Pebble watch, EMBRACE+ is, according to its creators, Paul & Rudy, "a smart piece of wearable technology that alerts you to changes in your environment. Through a combination of visual and tactile cues, the EMBRACE+ gives you the information you want to know - while your smartphone stays in your pocket or purse." Notifications can be set up for incoming calls, battery power, text messages and email and all the usual social-media suspects.

Fashion designer Ying Gao has created dresses embedded with eye tracking technology that reacts to a spectator's gaze by activating tiny motors that move parts of the dress, creating an illuminated shape-shifting effect. That's one way to expose unwanted attention from leering strangers. Then again, if you're not wanting attention these probably aren't the dresses of choice. Watch a video of the dresses in action.

Ever got annoyed by the patronising voice of your GPS? The world's first map-free, voice-free GPS system that uses sensors and vibrations to enable drivers to 'feel' their way to their destination could one day be a reality. Lynette Jones, a senior research scientist in MIT's Department of Mechanical Engineering has been studying the effect of vibrations on the skin, using a belt containing small motors, similar to those used for mobile phone vibrations. As well as indicating which direction to take, the intensity of the vibrations could denote when the driver needs to speed up or slow down.

A new generation of children could be wearing technology from the moment they're born. New 'smart' nappies can monitor a baby's health by analysing its urine to detect urinary tract infections and kidney dysfunctions. Read more about the science behind the idea here.

With festival phone-frustration in mind, Vodafone got together with the Electronics and Computer Science Department at the University of Southampton to develop a form of wearable technology that enables the wearer to charge their phone while it's on their person (or in their sleeping bag). The result was a thermoelectric material that's so small it can be stitched into a pair of shorts. The products are being trialled at festivals throughout the summer. We await the results with baited breath.