Post-Baby Body: Julie Bhosale Shares Powerful Message For New Moms
A New Zealand mom is making waves on the Internet for her powerful message about post-baby bodies.
After giving birth to her second child, mommy blogger and nutritionist Julie Bhosale shared photos documenting her post-partum body for 14 weeks. Her goal? To prove that the media sets unrealistic standards for new moms.
"You live in a society that pushes images at you every day of women who have given birth and just 'bounced back' – great for them (truly, that is great, Kate Middleton you are amazing!) But this is such a small minority," the mom-of-two wrote. "For most of us, our bodies change, and change a lot. It is scary, it is hard, it can be downright disgusting and upsetting, but it is real and normal."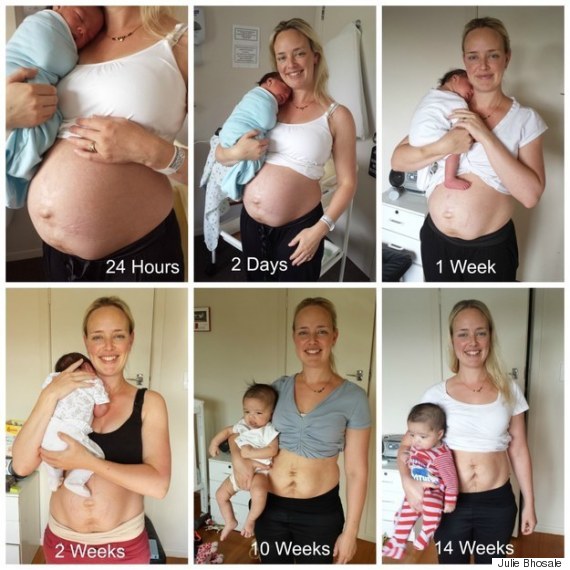 Thanks to the media's unrealistic portrayal of what post-baby bodies look like, Bhosale told Buzzfeed that her confidence suffered after giving birth to her first child. "I thought getting my body back to how it was before would just happen and it didn't," she said. "I thought if I feel like this, with my knowledge of nutrition and how the body works, then imagine what other women must feel like?"
When Bhosale then had her second child, she decided that this was her "chance to make a difference and maybe help even one mom feel less alone" with her story.
"It took me a lot longer to feel good following the birth of my first son [than] this time around," she wrote. "There is no one to compare yourself [to]. No one is walking in your shoes, deals with what you deal with. You will be judged. I am judged everyday and there will be people judging me right now. Doing what is right for you and your family takes courage, takes strength and as a mother, you have both. Nourish and love from the inside out and do not forget: You are beautiful, you are amazing, you are a mother."
Since sharing her post-partum journey on her blog, the new mom has been overwhelmed by the amount of positive feedback she's received. "Thank you for such an honest account you make me feel normal!!" one reader commented on her post. "So many women trying to outdo each other in a race back to the pre-pregnancy figure instead of being honest & trying to help each other out!! Thanks."
Another said: "A really beautiful piece and it made feel so much better about myself."
Bhosale is now encouraging her readers to share their own post-baby photos using the hashtag #TakeBackPostPartum, as a way to raise awareness of the changes women's bodies experience during pregnancy.
5 Postpartum Body Changes Pregnancy Guides Leave Out
Hormones continue to impact our bodies in the months following giving birth. One surprising consequence for many women is the effect increased body odour. Additionally, you might also find yourself waking in the night drenched in sweat as your body attempts to rebalance. To manage any unpleasant body odour, consider trying a new deodorant or a simple sprinkle of baking soda a couple of times throughout the day can help manage this unexpected gift of motherhood.

One reality often left out of prenatal visits is the potential changes to your pelvic floor and bladder muscles. More than one third of mothers report urinary incontinence following the birth of their children, including mothers who give birth via c-section. Many women report losing urine during a hearty laugh, a big cough or while on a jog. Explore your local community for pilates instruction that might help you rebuild muscles that support your bladder and pelvis.

All postpartum bodies are beautiful, and the last thing mothers should be worrying about is shrinking back to their original size. But, for many moms who have experienced a c-section, the ridge, or apron, of skin that hangs over their scar is unexpected, and about as pleasant as chapped nipples. Time, drinking plenty of water, and learning to love your new body are all helpful tools in dealing with this body change.

Even after you have waited the recommended six weeks, you might find that sex with your partner doesn't feel the same as pre-birth. It isn't just about the delivery, though lacerations and episiotomy incisions need additional consideration and time to heal. Many mothers who experience surgical births also report sex being difficult, uncomfortable and even painful in the first year after giving birth. A likely reason is the reduced levels of estrogen, which is especially relevant for nursing mamas. The lack of this hormone results in vaginal dryness, and difficulty with penetration. Try taking it slow, using a water-soluble lubricant or finding other ways to be intimate with your partner.

Many pregnancy guides mention the rather terrifying hair loss that often occurs a few months after your baby is born. Most mothers don't experience any actual thinning or balding, because the hairs you lose are actually just additional pregnancy strands. But, what some are not prepared for is the almost uncontrollable body hair growth that, for many, is another result of the postpartum hormonal deluge. We are talking nose hair, chin hair, increased upper lip hair -- all of which are fine, if you are used to them or comfortable with them. But when they seem to pop-up overnight, or sprout in the most unexpected and unusual places, it can seem like you can't tweeze fast enough.