Peter Kent, Conservative Candidate, Tweets And Deletes Bogus Photo
A Conservative candidate has deleted a tweet that claimed a refugee was a former fighter with the Islamic State of Iraq and the Levant.
Peter Kent, the party's candidate for Thornhill and a former federal environment minister, attached the photo below with the post: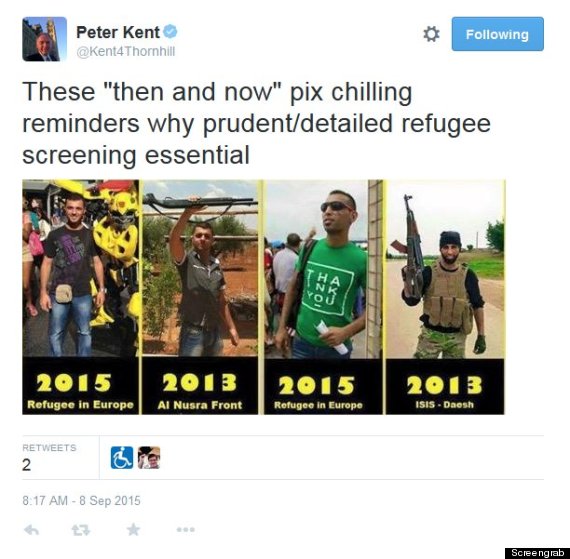 "These 'then and now' pix chilling reminders why prudent/detailed refugee screening essential," Kent wrote in the tweet.
The Tory hopeful nixed the post after Tabatha Southey, a columnist with The Globe and Mail, linked Kent to a BBC article that debunked the image on the right.
A reminder prudent Googling is essential. CPC candidate @kent4thornhill shares debunked photo: http://t.co/XJFSBEQSQW pic.twitter.com/pIS5YNVEQU

— Tabatha Southey (@TabathaSouthey) September 8, 2015
Stand corrected on retweet passed on by trusted source. Still maintain need 4 prudent screening.

— Peter Kent (@Kent4Thornhill) September 8, 2015
"Stand corrected on retweet passed on by trusted source. Still maintain need 4 prudent screening," wrote Kent.
@TabathaSouthey I stand corrected on re-tweet passed on by reliable source, also misled. But, doesn't diminish need for careful screening

— Peter Kent (@Kent4Thornhill) September 8, 2015
The BBC article points out that the man in the image on the right is Laith Al Saleh. The 30-year-old man was profiled by The Associated Press in mid-August, telling it that he had joined the Free Syrian Army — and fought against ISIL.
"In Syria, Al Qaeda want me, Daesh (the Islamic State extremist group), the government — I fought them all," he told the wire service. "I don't care. Some people are afraid. I'm not."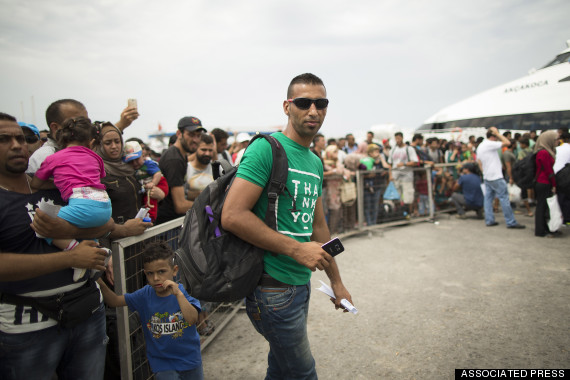 In a photo taken on Aug. 15, 2015, Syrian former rebel commander Laith Al Saleh, 30, waits with other refugees to board an Athens-bound ferry on the Greek island of Kos. (AP Photo/Alexander Zemlianichenko)
The Syrian refugee crisis' impact on the federal election reached its apex after the image of the lifeless body of Alan Kurdi, a Syrian child who washed ashore in Turkey, took over the campaign trail.
Conservative Leader Stephen Harper said Tuesday that security takes precedence in the process of resettling refugees in the country.
"We cannot open the floodgates and airlift tens of thousands of refugees out of a terrorist war zone without proper process," Harper said in a Facebook question and answer session. "That is too great a risk for Canada."
With files from The Canadian Press
Also On HuffPost:
Candidates Dropped From Canada Election 2015
The Liberal candidate in Victoria resigned after comments she made about mosques and Israel were discovered by a satirical news website. In 2013, Thomas wrote on Facebook that mosques were once education centres but were now used "as brainwashing stations."

The Conservative party's flagbearer in Mississauga-Malton was let go on Oct. 6 after a Canadian Press story discussed his defence of gay conversion therapies. Grewal had penned an editorial for the Punjabi Post, titled "Is it wrong for a homosexual to become a normal person?"

Sandra Arias told The Canadian Press that she pulled out of the race over what she says is the financial pressure of a historically long campaign. Arias was running in the riding of Battlefords-Lloydminster, which is currently held by Agriculture Minister Gerry Ritz, who took 67 per cent of the votes in the last federal election.

Stefan Jonasson, a Unitarian minister, dropped out as the NDP candidate in the riding of Charleswood-St. James-Assiniboia-Headingly after it emerged that he compared the actions of an Orthodox Jewish group to the Taliban on social media.

Maria Manna stepped down as the candidate in the B.C. riding of Cowichan-Malahat-Langford after she questioned the official account of the Sept. 11, 2001 attacks on her Facebook page, reported CBC News.

On Sept. 16, the Liberals announced they had ended Austin's candidacy for views that were "irreconcilable" with the party, according to The Canadian Press. A Twitter account bearing the same name posted a link to a video of last year's Parliament Hill shooting, writing, "Harper has turned our Nation's Capital into a War Zone as his thirst for War."

The ex-Conservative candidate made a splash in headlines on Sept. 6 after footage of Bance peeing into a mug then emptying it into a sink resurfaced. The clip aired in a 2012 episode of CBC's Marketplace. Bance told HuffPost Canada, "I had a health situation and needed to make an emergency decision, ironically to save myself from embarrassment back then."

Joy Davies resigned as the Liberal candidate in the B.C. riding of South Surrey–White Rock after telling The Huffington Post Canada it is safe for pregnant women to smoke pot and that it might make their kids smarter. "Ms. Davies' views in no way reflect the values or policies of the Liberal Party of Canada," the party said.

The Conservative candidate in Toronto-Danforth was booted from the party on Sept. 7 after a series of YouTube pranks surfaced showing Dutaud faking a mental illness and pretending to orgasm during what appeared to be a customer service call.

The Liberal candidate in the Calgary-Nose Hill riding in Alberta stepped down after offensive tweets she posted as a teenager surfaced. Ala Buzreba had earlier apologized for her tweets and blamed youthful ignorance for her social media faux pas.

Blair Dale was dropped by the Conservatives after past remarks he made on social media about sex and abortion came to light. Dale was acclaimed to run in the Newfoundland riding of Bonavista-Burin-Trinity just days earlier.

The Liberal candidate in Pierre-Boucher-Les-Patriotes-Verchères a resigned after she was barred from running municipally due to an outstanding loan.

The NDP candidate's controversial comments about Israel and Canada were featured on a Conservative attack website. Morgan Wheeldon handed in his resignation as the candidate for Kings-Hants in Nova Scotia after the party asked him to resign or be fired.

The Tories confirmed on Sept. 22 that their candidate in the New Brunswick riding of Acadie-Bathurst dropped out of the race for personal reasons. Robichaud was also the party's candidate in the 2011 federal election but lost to Yvon Godin of the NDP.

The Conservative candidate in Repentigny, Quebec was dropped from the slate after it was discovered that he pleaded guilty to marijuana possession in 2011, according to La Presse.

The Conservative candidate in Hochelaga, Quebec was dropped after the Journal de Montréal revealed that he was had been promoting the NDP on his Facebook page in the last year.

The Montreal NDP candidate selected to go head-to-head against Liberal Leader Justin Trudeau in the Papineau riding resigned after it was revealed that she used to be a member of the provincial separatist party Option nationale. She also spoke passionately about her desire for Quebec to achieve independence.