recorded the song "I want my Canada back
" all in one take.
It has garnered 250,000-plus views on Facebook and YouTube, he said, part of a social media strategy the children's entertainer has used to politically motivate his online followers. When Twitter started crunching the numbers on Canadian users during the election — specifically those who used an election or Canadian politics-related hashtag — the company found that Cavoukian was among the most active in the country.
He was sending out hundreds of tweets
in a matter of weeks, far outpacing the average Twitter user in Canada who was talking about the federal election. Through the first three weeks of the campaign, Cavoukian had posted more than 500 relevant tweets, putting himself among the top 197 active Twitter users in the country. That list included hardcore political junkies and partisans, Twitter data showed, with some in the list including Green party Leader Elizabeth May (who also happens to be Cavoukian's MP), the Liberal party, and its candidate in Ottawa Centre, Catherine McKenna.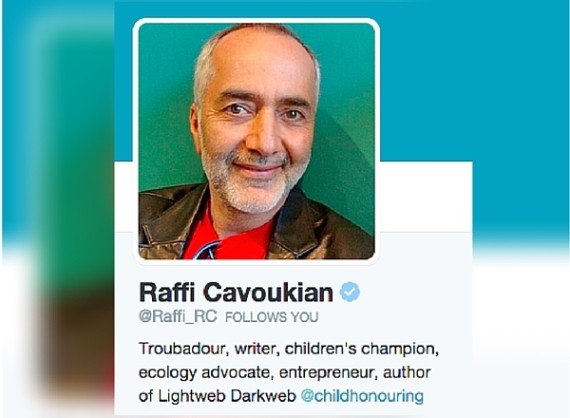 When Canadians went to the polls in the 2011 federal election, Cavoulkian's Twitter feed was filled with a get-out-the-vote message, directed now as it was then at what he called his "Beluga Grads" — those Canadians who listened to his Baby Beluga hit as children and who were now grown up and had become parents.

This time around, however, his message has changed. The get-out-the-vote message is twinned with a decidedly anti-Conservative and anti-Stephen Harper message. He said he doesn't consider his messages to be political — he called it civic engagement — and added that he doesn't belong to any political party. Instead, he said he is urging his "Beluga Grads" to get out and vote, bring a first-time voter with them to the polls, and "choose who they like in terms of change." "I certainly respect the diversity of opinion out there. I don't assume that they (his fans) are of like mind on issues, but it's a free country and we all get to have our say," Cavoukian said. He has also questioned whether journalists covering Harper events are asking the tough questions of the incumbent prime minister on the Mike Duffy affair. He has given and taken shots over his tweets, but he said he's not online to pick fights. "No, that's not my interest at all," he said. "I'm in it to make the points that I feel are important to make. So if a question isn't being asked of the current government that I think is important, I bring that forward." — Follow @jpress on Twitter.

Also on HuffPost

In Photos: Canada Election 2015

Suggest a correction

OTTAWA — One morning early in the election campaign, Raffi Cavoukian walked into his backyard and ad-libbed a song poking fun at the Conservative record in office. He