Alex Johnstone, NDP Candidate, Says She Didn't Know Auschwitz Was A Death Camp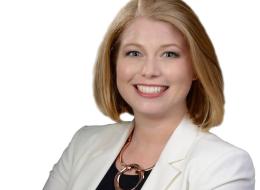 An NDP candidate with a background in public education told a reporter she didn't know what the Auschwitz concentration camp was until this week.
Alex Johnstone, running in the hotly-contested Ontario riding of Hamilton West—Ancaster—Dundas, made the admission hours after satire website The True North Times unearthed an unfortunate penis joke she made seven years ago on Facebook.
In 2008, Johnstone commented on a friend's photo of the electric fence that surrounded the Nazi death camp in Poland where at least 1.1 million people were killed between 1940 and 1945. Six million Jewish people died during the Second World War.
"Ahhh, the infamous Pollish (sic), phallic, hydro posts … of course you took pictures of this! It expresses ... how the curve is normal, natural, and healthy right!"
By Tuesday morning, the remark was deleted and Johnstone took to Facebook to apologize for her "clearly inappropriate" words.
After an all-candidates' debate Tuesday, Hamilton Spectator reporter Andrew Dreschel asked Johnstone if she thought the controversy might hurt her chances.
"Well, I didn't know what Auschwitz was, or I didn't up until today," she told the reporter.
Johnstone also added that she had "heard about concentration camps."
She said the digging up of her old comment was the kind of "mud-slinging" that turns voters off.
Johnstone, in her early 30s, is vice-chair of the Hamilton-Wentworth District School Board, regional vice-chair to the Ontario Public School Board Association, and has served as a school trustee since 2010.
On Twitter, in 2011, Johnstone responded "Great to hear!" to a tweet about Peel students learning about the Holocaust.
"@PeelSchools: Peel board students learn, reflect on Holocaust http://t.co/zY41QWEo" Great to hear!

— Alex Johnstone (@Alex__Johnstone) November 7, 2011
She also tweeted in 2013 to recognize teacher Deborah Brown's award for "instruction in Holocaust Edu."
Deborah Brown receives award @HWDSB for her instruction in Holocaust Edu. "I now know what needs to change in the world" student #HamOnt

— Alex Johnstone (@Alex__Johnstone) June 18, 2013
The Huffington Post Canada found Johnstone participated in board meetings where prizes were awarded to teachers for "excellence in Holocaust Education."
Prior to earning a master of social work degree from McMaster University — where her thesis dealt with race, class, and gender dynamics — Johnstone spent two years studying social justice and peace studies at Western University's Kings College.
According to the King's website, that program "encourages critical reflection on oppression and injustice, locally and globally."
Many took to Twitter Wednesday to comment on Johnstone's remarks that turned a years-old social media gaffe into a larger controversy. Wednesday marked the holiest day of the year in Judaism — Yom Kippur, or the Day of Atonement.
Unreal. Forget screening, NDP candidates (particularly school trustees) need a history test before running. http://t.co/AxyJOHIGwf

— Don Martin (@DonMartinCTV) September 23, 2015
Boy, I'm super glad she was involved in teaching children. And that she wants to be in Parliament next! Awesome! #NDP http://t.co/m83HYKxBiF

— Warren Kinsella (@kinsellawarren) September 23, 2015
A sad statement on our education system, the quality of candidates in this election, or both http://t.co/HFYSB47wUl

— Tasha Kheiriddin (@TashaKheiriddin) September 23, 2015
Johnstone and the NDP did not return requests for comment.
With files from Althia Raj and The Canadian Press

Also on HuffPost:
Social Media Mishaps In The 2015 Canadian Election
Alex Johnstone, who is running in the Ontario riding of Hamilton West—Ancaster—Dundas, made a crude reference in a 2008 Facebook comment related to Auschwitz. A public school trustee, she defended herself by saying she didn't know anything about the Nazi death camp.

Joy Davies resigned as the Liberal candidate in the B.C. riding of South Surrey–White Rock after telling The Huffington Post Canada it is safe for pregnant women to smoke pot and that it might make their kids smarter. "Ms. Davies' views in no way reflect the values or policies of the Liberal Party of Canada," the party said.

The Liberal candidate in Victoria resigned after comments she made about mosques and Israel were discovered by a satirical news website. In 2013, Thomas wrote on Facebook that mosques were once education centres but were now used "as brainwashing stations."

Maria Manna stepped down as the candidate in the B.C. riding of Cowichan-Malahat-Langford after she questioned the official account of the Sept. 11, 2001 attacks on her Facebook page, reported CBC News.

The Montreal NDP candidate selected to go head-to-head against Liberal Leader Justin Trudeau in the Papineau riding resigned after it was revealed that she used to be a member of the provincial separatist party Option nationale. She also spoke passionately about her desire for Quebec to achieve independence.

Stefan Jonasson, a Unitarian minister, dropped out as the NDP candidate in the riding of Charleswood-St. James-Assiniboia-Headingly after it emerged that he compared the actions of an Orthodox Jewish group to the Taliban on social media.

VirJiny Provost, a young Bloc Quebecois candidate in Megantic-L'Erable, embarrassed her party after a survey she answered came to light. Asked what she would need in the event of a nuclear attack, Provost wrote she'd bring "her cellphone, a penis and chips.''

Sue MacDonell, a board member for the Conservatives' Bay of Quinte Electoral District Association, was fired after she posted on Facebook that a Cree woman recently crowned Mrs. Universe was a monster and a "smug entitled Liberal pet."

Conservative candidate Wiliam Moughrabi in the Montreal riding of Ahuntsic-Cartierville had to erase online comments that were deemed violent and misogynist in nature. He did not step down.

The ex-Conservative candidate made a splash in headlines on Sept. 6 after footage of Bance peeing into a mug then emptying it into a sink resurfaced. The clip aired in a 2012 episode of CBC's Marketplace. Bance told HuffPost Canada, "I had a health situation and needed to make an emergency decision, ironically to save myself from embarrassment back then."

The Conservative candidate in Toronto-Danforth was booted from the party on Sept. 7 after a series of YouTube pranks surfaced showing Dutaud faking a mental illness and pretending to orgasm during what appeared to be a customer service call.

Christopher Brown, a Liberal candidate in Peace River-Westlock in Alberta, apologized for tweets in 2009 that used profane language and included derogatory references to women. Brown said he had become an alcoholic at the time after his partner died in a car crash involving a drunk driver. Party Leader Justin Trudeau said he accepted Brown's apology.

The Liberal candidate in the Calgary-Nose Hill riding in Alberta stepped down after offensive tweets she posted as a teenager surfaced. Ala Buzreba had earlier apologized for her tweets and blamed youthful ignorance for her social media faux pas.

Shawn Dearn, the communications director for NDP Leader Tom Mulcair, apologized after two-year-old tweets surfaced in which he used an expletive in reference to Pope Benedict. Mulcair decided to keep Dearn on his team.

The Liberal candidate in Pierre-Boucher-Les-Patriotes-Verchères a resigned after she was barred from running municipally due to an outstanding loan.

The NDP candidate's controversial comments about Israel and Canada were featured on a Conservative attack website. Morgan Wheeldon handed in his resignation as the candidate for Kings-Hants in Nova Scotia after the party asked him to resign or be fired.

The Conservative candidate in Repentigny, Quebec was dropped from the slate after it was discovered that he pleaded guilty to marijuana possession in 2011, according to La Presse.

The Conservative candidate in Hochelaga, Quebec was dropped after the Journal de Montréal revealed that he was had been promoting the NDP on his Facebook page in the last year.

Conservative candidate Gilles Guibord was forced to resign from the race in Montreal's Rosemont_La-Petite-Patrie riding over sexist comments he allegedly made in online comments section of the Journal de Montreal newspaper.

Soheil Eid, a Conservative candidate in Joliette, Que., apologized twice for a Facebook post that drew a parallel between the words of Mulcair and comments attributed to Joseph Goebbels, Hitler's infamous propaganda minister.