Public Outcry After Animal Rights Group Confiscates Homeless Man's Puppy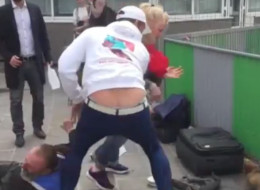 An animal rights group in France is under fire after three of their activists were caught on camera stealing a homeless man's puppy. The heartbreaking video shows the man wailing as members of Cause Animale Nord take away his dog.
The video, captured in central Paris, shows a male and female activist wrestling the unidentified man to the ground before snatching the animal hiding behind his luggage. The yelping puppy is then handed off to a third activist who runs off.
The owner can be heard sobbing as he leaves his possessions to catch the thief.
Nghi Le Duc witnessed the scuffle and posted the video to Facebook on Sept. 20. He described what he saw as activists acting "violently, mercilessly" as they took a "homeless man's friend," according to the International Business Times.
Representatives from Cause Animale Nord say they're aware of the video but also add the clip is without context of what happened leading up to the violent confrontation. The group told French news site La Voix du Nord that they have no further comments and are in touch with their lawyer.
However, a photo posted to the group's Facebook page says the activists intervened because the man was exploiting the dog while panhandling for money.
A translation of the Facebook post suggests the group has named the dog "Vegan" and that it will put the puppy up for adoption.
Since the incident, several people have taken to social media to condemn the group for crossing the line. A petition to return the puppy back to its owner has garnered over 100,000 signatures.
So many activist groups think they are making the world a better place when they are really causing more harm then good. #CauseAnimaleNord

— Jacob ruffcat Spears (@ruffcats) September 24, 2015
#causeanimalenord I want to report animal cruelty. A group of thugs assaulted a man and stole a puppy away from its rightful, loving owner!

— G (@Calliope16G) September 24, 2015
Homeless person assaulted and gets his puppy stolen by "Animal Rights Activist" jackasses. https://t.co/TIy4D3jiqc via @Change

— Angela (@LaughingManatee) September 24, 2015
ALSO ON HUFFPOST
Artists vs. Animals: 15 Artists Who Have Enraged Animal Rights Activists
Belgian artist Wim Delvoye began raising and tattooing pigs in 2004 for a project titled "Art Farm." The petting zoo/ art exhibit, located in China, featured a number of porkers who were inked with brand logos and Russian prison tattoos while under anesthetic. The pigs were well cared for after their tattoos experience, living on a luxurious farm open to visitors and receiving daily skin moisturizing treatments to keep them comfortable. However, the situation appalled most who heard about the odd swine experiment. The artist intended to not only challenge concepts of value in contemporary art but also the public's general reaction to animal rights. His stuffed pig installation (made from some of his deceased and stuffed pets) was banned by a number of international art fairs. Image: Picture taken on February 12, 2010 at the Museum of Modern and Contemporary Art of Nice (Mamac), French Riviera, at the exhibition by Belgian artist Wim Delvoye 'Les cochons tatoués' (The tattooed pigs). The exhibition featuring seven stuffed and tattooed pigs caused the indignation of animal welfare defenders who planned to protest during the exhibit's opening. VALERY HACHE/AFP/Getty Images

In 2003, Chilean-born, Danish-based artist Marco Evaristti created an installation titled "Helena," which featured live goldfish swimming in functional blenders that visitors were invited to "turn on" if they so wished. At least one visitor did, according to the BBC, killing two goldfish. Animal rights activists were furious about the debacle, taking the museum that featured the work to court. A Danish judge found that the fish were not treated cruelly, however, citing the fact that they were killed instantly and humanely. We certainly wouldn't used the adverb "humanely" to describe the project, but here is the artist's own explanation of the fish-blender situation to the BBC: The idea was to "place people before a dilemma: to choose between life and death." "It was a protest against what is going on in the world, against this cynicism, this brutality that impregnates the world in which we live," he added. In 2011, Evaristti created another fish-themed installation titled "Forgive ME, Helena," which featured goldfish in a tank lined with the Torah, Bible and Koran. The fish were not harmed in this project, but we can't say as much for the sacred books.

In 2006, internationally renown street artist Banksy covered a large Indian elephant named Tai in pink and gold paint for his L.A. exhibit, "Barely Legal." The gilded animal was meant to signify the general population's refusal to recognize poverty and was painted with permission from the Los Angeles Services Department. However, the organization quickly regretted their decision and unsuccessfully vied to revoke the permit. Banksy has been graffiti-crazy with cows, sheep and pigs as well.

Indian artist Navin Thomas angered more than few bird enthusiasts when, in a 2012 sound installation, the artist placed pigeons in a room with a white-noise-inducing copper antennae. Like most birds, the pigeons were inclined to perching on the wire, not knowing that their weight on the device would lead to irritating fluctuations in the sound's frequency. According to the Hindustan Times, the Thomas did not obtain permits for his exhibit, stating simply: "I'm treating the birds better than they were treated where they had come from. I would even use a monkey if I could."

In 2008, Costa Rican artist Guillermo "Habacuc" Vargas chained a stray dog to a gallery wall and claimed to be withholding food and water, seemingly allowing the animal to waste away before visitors eyes, all in the name of art. It turned out that the artist was not actually starving the creature, and instead was showcasing the animal for just three hours a day to test the public's reaction to suffering. "It was untied all the time except for the three hours the exhibition lasted," explained the gallery's director to The Guardian. "And it was fed regularly with dog food Habacuc himself brought in." Despite the ruse, the project prompted a million-signature petition to stop Vargas from finishing the project.

In early 2012, artist Amber Hansen planned to display coops of chickens at locations across Lawrence, Kansas, where they would be cared for by volunteers. Sound okay so far? Well, that wholesome presentation was to be followed by the public slaughtering of those chickens by a local butcher and a big ol' chicken meal for everyone. "By building a relationship with the birds, the project will transform the contemporary view of chickens as merely `livestock' to the beautiful and unique creatures they are, while promoting alternative and healthy processes of caring for them," Hansen described on her website. The project never actually happened because the city decided that the act amounted to animal cruelty and could lead to a fine of $1,000 or six months in jail.

In a 2010 art exhibit titled "Corpor Esurit, or we all deserve a break today," artist Elizabeth Demaray placed a large number of red harvester ants in a 6-by-10 foot plexiglass farm packed with pebbles and sealed with clear packing tape and panty hose. No, she did not starve the ants, per say. Instead, for one month she restricted their diet to McDonald's Happy Meals. Although McDonald's won't be replacing ant food anything soon, Animal New York's Marina Galperina clarified: "The ants are fine. There was no outstanding death rate."

On International Worker's Day in 2007, the daring art collective, Voina, staged a protest most Russians, let alone the rest of the world, really despised. Members of the group walked into a Moscow McDonald's and threw cats at unsuspecting employees. Pyotr Verzilov, an early member of Voina, was arrested and later released without charges. Image: Participants of 'Voina' (The War) radical art-group, Oleg Vorotnikov (R) and Leonid Nikolaev, await the beining of their trial in the main city court in St. Petersburg on March, 22, 2011. KIRILL KUDRYAVTSEV/AFP/Getty Images

In 2009, Algerian-born Adel Abdessemed created a 1:27 minute video titled "Usine" which featured a variety of different animals and insects captured together in a pen to fend for their lives. In the mix are roosters, snakes, pit bulls, tarantulas, iguanas, white mice, scorpions and a toad. Whether the animals are ripping either other apart or simply ignoring everything, the clip is strange, unsettling and seemed to many to be nothing short of animal abuse. In 2008, Abdessemed produced a similarly frightening video which showed animals murdered in front of a brick wall, including a pig, goat, deer, ox, horse and sheep. Meant to be shown at an exhibit titled "Don't Trust Me" at the San Francisco Art Institute, the show was canceled after the organization received threats of violence by animal rights activists.

Tom Otterness, a famous sculptor known for his kitschy bronze creatures appearing in New York subway stations and parks, has not always been such a wholesome artist. In 1977, Otterness created a film in which he shot and killed a dog from an animal shelter. Titled "Shot Dog Film," the despicable project has haunted the artist for decades, jeopardizing a hefty art commission Otterness was awarded in San Francisco in 2011 after Bay area animal rights groups criticized the artist's darker past. Otterness has showed serious remorse since the shooting though, stating in 2008: "It was an indefensible act that I am deeply sorry for. Many of us have experienced profound emotional turmoil and despair. Few have made the mistake I made. I hope people can find it in their hearts to forgive me."

From her dead animal artwork to the time she broke her cat's neck and turned it into a handbag, Dutch artist Tinkebell has been the target of many an animal rights activists' fury. She has received hundreds of thousands of pieces of hate mail (which she has compiled into a book titled "Dearest Tinkebell") mostly from pet owners who are unsympathetic to her decision to kill her own cat when she thought it was depressed instead of taking it to be humanely euthanized.

As part of a 2012 project called "Tomorrow We Will Feast Again on What WE Catch," artist Laura Ginn hosted an exhibition event in which she served dinner guests a multi-course meal of rats. Funded through a Kickstarter page, the work was meant to explore the concept of self-sufficiency in an urban environment. She documented the endeavor in photographs and performance, while also showcasing images of her dismantling a deer head and a dress made of 300 rat pelts. But don't worry, the rats were not actually harvested from the depths of the subway tunnels. According to the New York Times, the rats were shipped from a processor that supplies pet owners with humanely killed rodents. In comparison to the rest of the animal offenders, this exhibit only ruffled the feathers of the die hard vegetarians, who likely would have been angry at a chicken dinner anyway.

In 2012, a still unidentified German actor threatened to strangle two puppies with cable ties as part of a Berlin show named "Death as Metamorphosis." The sad dog death was set to be followed by a meditation and funeral procession, intended as a protest to oppose the slaughtering of sled dogs in Alaska and hunting dogs in Spain. The bold actor was stopped before he could start, forbidden by local authorities from performing the execution in advance of the show.

In an art installation titled "In and Out of Love," shown at the Tate Modern in early 2012, artist Damien Hirst filled two white and windowless rooms with live butterflies. The stunt was part of a larger retrospective that involved other winged insect-inspired creations. The exhibit entered headlines (and enraged the humane population of the world) when it was revealed that the absurd Tate show resulted in the total death toll of over 9,000 butterflies. Stepped on, violently swatted, or bored to death by contemporary art, the 23 week-retrospective reportedly led to approximately 400 winged deaths per week. Needless to say, PETA and other animal rights groups were furious. Image: British artist Damien Hirst stands beside the 2006 piece "I Am Become Death, Shatterer of Worlds", butterflies and household gloss on canvas, during a media preview of the first substantial survey show of his work in the UK at the Tate Modern gallery in London, Monday, April 2, 2012. AP Photo/Matt Dunham

In 2012, Belgian artist Jan Fabre took the thrill of hilarious cat videos too far when he staged a full-on cat-tossing performance in Antwerp, launching several furry pets into the air only to watch them fall loudly onto what appears to be a poorly-padded flight of stairs. According to Belgian newspaper La Libre Belgique, the received 20,000 e-mails about the performance and was attacked seven times by club-wielding men while jogging in the park. The artist later apologized for his actions, telling a Flemish-language television station: "I am deeply sorry that the cats landed badly. I want to apologize to cat lovers. It was not my intention to injure or hurt the cats. The cats are fine." But then he claimed that the coverage of his performance was "sensationalized" and "exaggerated." So there's that.