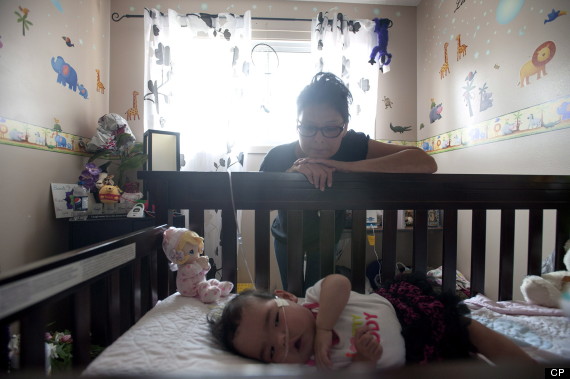 Josie Ledoux spends some time with her granddaughter, Aurora, in her deceased daughter's old bedroom in Prince Albert, Sask. in July 2014.
PRINCE ALBERT, Sask. — A young man has been sentenced to four years in prison for a drunk-driving crash that resulted in the deaths of two women and left a newborn with a brain injury.
Jeremiah Jobb had earlier pleaded guilty to two counts of impaired driving causing death. In June 2013, a then-21-year-old Jobb struck the vehicle that Taylor Litwin, 21, was driving. Litwin died on the scene while her 17-year-old passenger Brandi Lepine, who was pregnant at the time, died shortly after giving birth to daughter Aurora Sky Brandi Ledoux by emergency C-section.
Lepine was only 26 weeks pregnant at the time of the crash so her baby was only 2.2 pounds at birth and suffered minor brain damage which still gives her frequent seizures. Jobb was going over three times the speed limit, was more than two-and-a-half times over the legal blood-alcohol limit, and had refused an offer of a ride from a designated driver earlier in the evening.
It was an emotional scene in Prince Alberta Court of Queen's Bench on Friday as Justice Gerald Albright handed down his sentence, which includes banning Jobb from operating a vehicle for two years upon his release, and paying $400 in victim impact surcharges.
Josephine Ledoux, Lepine's mother and grandmother of baby Aurora, offered a victim impact statement prior to the sentencing. Ledoux spoke of the
hardships she has endured since the death of her daughter
, saying she has not been able to mourn since all of her energy has been focused on raising the child, who is now two years old. Ledoux pushed through tears to tell Jobb she forgives him and has prayed for him every day, but made it clear it is still a daily struggle for their family. "Parents should never have to bury children … a piece of my heart was buried with her and I'll never get that back," Ledoux said. "I want Jeremiah Jobb to think about Aurora every day." Outside of court, Ledoux said forgiving Jobb would be something her daughter wanted her to do. "That was really hard … I had to learn to accept it in my heart and not let my mind speak on its own, but to feel what's in my heart," Ledoux said. Also providing victim impact statements, through victim services, were Lepine's step-father and Litwin's father, mother and sister. Jobb could not muster many words when given an opportunity to speak. Looking into the gallery toward the family members, he told them he prayed every night for them. He then muttered, "I'm sorry," several times before returning to his seat. Ledoux said the sentence of four years is appropriate, and is relieved to be moving on from this stage of the healing process. "The next step is to focus on Aurora for all of us and to move forward and remember Brandy," she said. "Aurora's loss is greater than ours because she'll never get to know her mom. She'll never know how it feels to have her mom's love, her mom hold her, kiss her." (CKBI)
Also on HuffPost:
Suggest a correction