Climate Change Advisory Panel Swamped With Hundreds Of Submissions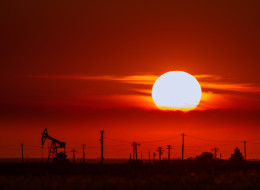 CALGARY — Alberta's climate change advisory panel asked — and energy companies, trade associations, unions, think tanks and every-day Albertans answered.
The panel received close to 500 submissions following their request for public comment on what the government should consider when drafting its climate change policy. Everyone from climate-change skeptics to diehard greens represented.
Suggestions from those in favour of stronger action on climate change included switching all traffic lights to roundabouts to reduce idling, banning motorized lawn mowers and leaf blowers and giving nuclear power a chance.
The most common requests, however, centred around more government funding for research, a faster phaseout of coal-fired power plants, more renewables and a price on carbon emissions.
"Please, Please, Please find a way to establish a 'SIGNIFICANT' price on fossil carbon emissions in Alberta!,'' suggested someone named Robert, whose full name was blocked out, as they were on many of the submissions.
Environmental groups made a variety of suggestions on what that carbon price should be, with the Pembina Institute recommending a $40 per tonne price next year, rising $10 a tonne every year for the first 10 years, while the Suzuki Foundation suggested a more modest $30 price, increasing by $10 a year for five years before a review.
Those advocating for a carbon price have allies in some oilsands companies, with Cenovus Energy, Shell, and Suncor among those supporting a widespread tax on carbon.
"A carbon price is the single most effective way to change the investment and operating decisions that drive real emissions reductions,'' Suncor said in its submission.
Other oilsands players like Nexen and Husky Energy instead expressed support for a continuation of the current specified gas emitter regulations, with Husky saying Alberta shouldn't impose any more penalties until its competitors adopt an equivalent price on carbon.
As to phasing out coal-fired power plants, many environmental groups have called for their total elimination by 2025 or 2030, but power producers have put forth their own, more long-term solutions.
Power generators TransAlta, Atco Ltd., and Maxim Power Corp. have recommend that coal emissions be cut by 20 per cent immediately and then their reduction obligations should be considered met. The gap in energy generation would be filled by natural gas, and eventually replaced with renewables with a goal of 15 per cent of electricity from renewables by 2020 and rising from there.
Power-distributor Enmax recommends restricting coal power plant production to 25 per cent below capacity starting next year, and then allowing the full phaseout to run its current course of a complete elimination by 2066. Capital Power is calling for a 50 per cent emissions reduction from coal plants by 2030.
And while energy companies didn't go so far as to question the premise of the need to reduce emissions, many members of the public did.
"Time will come you and your panel of shills shall be exposed. Treachery as this carries massive consequences,'' wrote Ian.
"There is nothing wrong with a wait-and-see approach to climate change,'' wrote Pieter.
Chuck said human-caused climate change is a theory with little hard evidence, and the government shouldn't threaten investment because of it.
"Stable policy is essential for sustained capital investment. Don't screw it up,'' said Chuck.
Possibly the most common comment, however, amounted to expressions of gratitude for being invited to give input by the province's first NDP government.
John, who wrote in to suggest that people should be able to sell energy from their personal solar panels back to the grid, said he had never given feedback to the government before.
"Thank you for the opportunity to provide input. I am 62 and this is the first time I have ever done so.''
Also on HuffPost:
Climate Change: 10 Beautiful Places Under Threat
The impacts of climate warming in Alaska are already occurring, experts have warned. Over the past 50 years, temperatures across Alaska increased by an average of 3.4°F. Winter warming was even greater, rising by an average of 6.3°F jeopardising its famous glaciers and frozen tundra.

The most fragile of Italian cities has been sinking for centuries. Long famous for being the city that is partially under water, sea level rise associated with global warming would have an enormous impact on Venice and the surrounding region. The Italian government has begun constructing steel gates at the entrances to the Venetian lagoon, designed to block tidal surges from flooding the city. However, these barriers may not be enough to cope with global warming.

The West Antarctic Peninsula is one of the fastest warming areas on Earth, with only some areas of the Arctic Circle experiencing faster rising temperatures. Over the past 50 years, temperatures in parts of the continent have jumped between 5 and 6 degrees F— a rate five times faster than the global average. A 2008 report commissioned by WWF warned that if global temperatures rise 3.6 degrees Fahrenheit (2 degrees Celsius) above pre-industrial averages, sea ice in the Southern Ocean could shrink by 10 to 15 percent.

The rapid decline of the world's coral reefs appears to be accelerating, threatening to destroy huge swathes of marine life unless dramatic action is swiftly taken, leading ocean scientists have warned. About half of the world's coral reefs have already been destroyed over the past 30 years, as climate change warms the sea and rising carbon emissions make it more acidic.

The world's highest mountain range contains the planet's largest non-polar ice mass, with over 46,000 glaciers. The mammoth glaciers cross eight countries and are the source of drinking water, irrigation and hydroelectric power for roughly 1.5 billion people. And just like in Antarctica, the ice is melting.

An expected 2°C rise in the world's average temperatures in the next decades will impact island economies such as the Maldives with extreme weather patterns and rising sea levels.

Over the last century, global warming has caused all Alpine glaciers to recede. Scientists predict that most of the glaciers in the Alps could be gone by 2050. Global warming will also bring about changes in rain and snowfall patterns and an increase in the frequency of extreme meteorological events, such as floods and avalanches, experts have warned.

The Arctic is ground zero for climate change, warming at a rate of almost twice the global average. The sea ice that is a critical component of Arctic marine ecosystems is projected to disappear in the summer within a generation.

Called the "epicenter of the current global extinction," by Conservation International, this smattering of more than 4,000 South Pacific islands is at risk from both local human activity and global climate change.