Maryam Monsef Came To Canada As A Refugee. Now, She's A Cabinet Minister.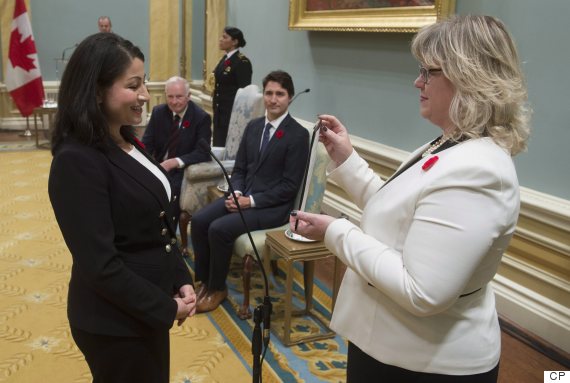 Maryam Monsef is sworn in as the minister of democratic institutions on Wednesday.
Canada's newest democratic institutions minister is a 30-year-old woman who fled Afghanistan with her widowed mother and two sisters when she was a child.
Maryam Monsef is the new MP for the bellwether Ontario riding of Peterborough–Kawartha. On Wednesday, Prime Minister Justin Trudeau elevated her to his 31-member cabinet — making her the youngest minister and the fourth-youngest ever.
Monsef was born in Afghanistan and raised in the western city of Herat, near the Iranian border. She lost her father when she was a toddler and both her sisters were under the age of two. Her mother was in her 20s. No one knows for certain what happened to her father, Monsef told The Huffington Post Canada Tuesday in a phone interview from Peterborough.
"The most we know is he was caught in a crossfire between the border of Iran and Afghanistan," she said.
Years earlier, before she was born, she said, her uncle had been abducted from his dorm room at Kabul University. A third-year pharmaceutical student, he was politically vocal and had been heard making anti-communist remarks on a bus, she said.
"That night, his dormitory was invaded, and he and his housemates were taken and never to be seen or heard from again," she said. "I think that was an important wake-up call for the family."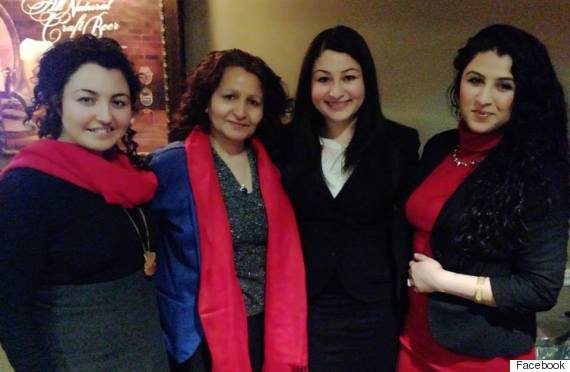 Peterborough-Kawartha MP Maryam Monsef flanked by her sister Mehrangiz and mother Soriya Basir on the left and sister Mina on the right.
Monsef's childhood was spent moving between Afghanistan and Iran.
"That is why the opportunity that I have now matters so much more. Because you can come from such a history … [and] have the opportunity to be part of the decision-making process that affects people's lives so deeply. What a great honour that is, and what an incredible privilege."
The Soviet invasion had ended up on Afghans' doorsteps, and, like many others, Monsef's family crissed-crossed the border hoping the conflict would end, she said. Her mother made a living cooking, cleaning, sewing and knitting, with some support from Monsef's uncles.
"It's not a dignified way of living," the new MP told HuffPost. Her mother also taught English in their home and sometimes in a school, she added. "But that wasn't enough to sustain her, because the Taliban didn't support women or their education."
'... brought up with so much love'
Her mother tried to "make life work" while in Iran, but her family wasn't welcome there. Other kids teased her and her sisters. As illegal refugees, she said, they also lived under the constant threat of deportation.
"I will tell you that we didn't know that we were poor. We didn't know that we didn't have a future. We were brought up with so much love and so much support…. We thought we had it all, and we didn't feel a void of a father figure, because my grandfather filled that role for us."
In 1996, her mother chose to leave her support system and her culture behind to come to Canada. The journey, Monsef recalled, involved donkeys, camels, and airplanes. It took her through Iran, Pakistan, and Jordan, she said, and all the while, she and her sisters had chickenpox.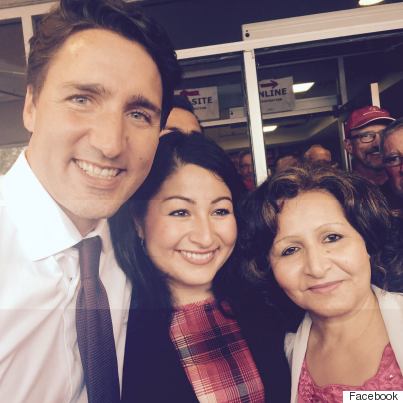 Liberal Leader Justin Trudeau poses for a photo with Peterborough-Kawartha MP Maryam Monsef and her mother Soriya Basir during the federal election campaign.
The family claimed refugee status when they arrived in Canada, ending up in Peterborough, where Monsef's uncle lived. She was 11.
"The grass is green, there are 40-something of bodies of water surrounding Peterborough, and people were nice and smiling, and there were robins out. I'd never seen a robin before."
She described it as a "hardship" adapting to the new country. She was homesick and didn't understand English. Everything was culturally foreign — even the housing. She laughs when describing going through puberty and trying to fit in her new home.
Several community groups and social services helped her family integrate and provided a safety net, including the food bank, the Salvation Army, the New Canadians Centre, Casa Maria Refugee Homes and the YWCA. She still volunteers at Casa Maria and the Y, she said.
"The volunteers and the neighbours … came into our lives and made us feel like we weren't alone … that we had a community … that it was going to be OK, [and] that we belonged there," she said. "Twenty years later ... that kindness stays with me, and I hope that as a member of Parliament, I can repay some of that through my service."
The single politician likes to joke that she's "married" to Peterborough.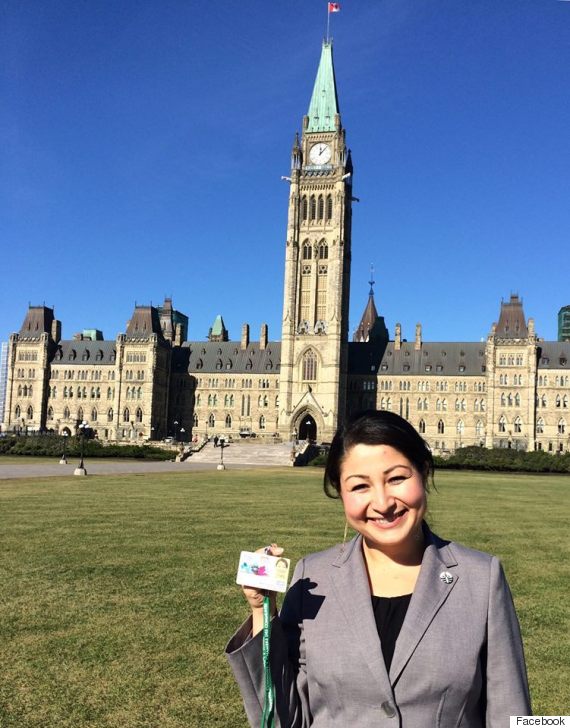 Maryam Monsef poses on Parliament Hill on Oct. 27.
In 2014, at 29, Monsef ran unsuccessfully to be mayor of Peterborough. On Oct. 19, after knocking on 70,000 doors, she rode the Liberal wave and was elected as a first-time MP.
But her big job begins Wednesday, after she is sworn in as a Privy Council member, and attends her first cabinet meeting.
Monsef didn't ask for the democratic institutions portfolio and seemed surprised to be given it. In an interview, she spoke more passionately about women's issues, pay equity and violence against women than she did about changing the way senators are appointed or reforming the electoral system.
"Living in a democratic system is a gift," she told HuffPost. "Democratic reform is a big and ambitious agenda that goes across many policy areas," she said, promising to speak more about it later.
For now, Monsef is content to represent Peterborough federally. And her mother is very proud of her.
"All that hard work, all that sacrifice; it's meant something."
CLARIFICATION - Sept. 22, 2016: MP Maryam Monsef issued a statement that she recently learned from her mother that she was in fact born in Iran, and not Afghanistan.
Monsef's mother said she felt it didn't matter to tell her daughters because under Iranian law, they were born to Afghan parents and not considered Iranian citizens.
The Liberal government
Also on HuffPost:
Prime Minister Justin Trudeau has kept his promise of a smaller, gender-balanced cabinet. At 31 ministers (including him), Trudeau's first cabinet features many new faces and some veterans.

Minister of Finance Morneau is the former executive chair of Morneau Shepell, one of Canada's largest human resources firms.

Minister of Foreign Affairs An MP since 1996, Dion served as Canada's intergovernmental affairs minister under Jean Chrétien and environment minister under Paul Martin. He served as Liberal leader and leader of the Official Opposition from 2006 to 2008.

Minister of Justice and Attorney General of Canada Wilson-Raybould is a former Crown prosecutor and regional chief of the B.C. Assembly of First Nations.

Minister of International Trade An MP since 2013, Freeland was courted by Trudeau's team when she was a senior editor at Thomson Reuters in New York City.A Rhodes scholar, she is a well-known author and journalist. She was part of Trudeau's team of economic advisers.

Minister of Health Philpott is a family physician, associate professor at the University of Toronto, and former chief of the department of family medicine at Markham Stouffville Hospital.

Minister of National Defence Sajjan is a retired lieutenant colonel who served in Afghanistan and was the first Sikh to command a Canadian Army regiment. He also served as a Vancouver police officer for 11 years.

Minister of the Environment and Climate Change McKenna was a former legal adviser for the United Nations peacekeeping mission in East Timor and founded Canadian Lawyers Abroad (now known as Level), a charity focused on global justice issues.

Minister of Employment, Workforce Development, and Labour Mihychuk was an NDP MLA in Manitoba from 1995 to 2004, serving as minister of industry, trade, and mines, and later minister of intergovernmental affairs.

Minister of Infrastructure and Communities An Edmonton city councillor since 2007, Sohi immigrated to Canada from India 35 years ago. He spent time as a political prisoner in India in the late 1980s.

Minister of Canadian Heritage Joly, 36, made a name for herself by finishing second to ex-Liberal cabinet minister Denis Coderre in the Montreal mayoral race in 2013. She's a lawyer and communications expert.

Minister of Democratic Institutions Monsef, a community organizer, was born in Afghanistan. She fled the Taliban and came to Canada as a refugee with her widowed mother and sisters in 1996.

Minister of Veterans Affairs and Associate Minister of National Defence Hehr was an Alberta MLA from 2008 to 2015, was one of just two Liberals elected in Calgary. In 1991, he was the victim of a drive-by shooting that left him confined to a wheelchair.

Minister of Status of Women Hajdu was executive director of Shelter House, Thunder Bay's largest homeless shelter.

Minister of Sport and Persons with Disabilities Qualtrough is a lawyer and former Paralympian. Legally blind, she won three Paralympic and four World Championship medals for Canada in swimming and was president of the Canadian Paralympic Committee.

Minister of Families, Children, and Social Development Duclos is a renowned economist who taught at at Laval University.

Minister of Natural Resources Carr, a former Manitoba MLA and deputy leader of the Manitoba Liberal Party, served as president of the Business Council of Manitoba from 1998 to 2014.

Minister of Public Services and Procurement An MP since 2008 and the party whip, Foote previously held several cabinet portfolios in Brian Tobin's provincial government.

Minister of Transport The former astronaut, navy engineer, president of the Canadian Space Agency and Liberal leadership contender was first elected in 2008. He has served as an industry and foreign affairs critic.

Minister of Public Safety and Emergency Preparedness The finance minister under Paul Martin's government, Goodale was the only Liberal elected in Saskatchewan.

Minister of Innovation, Science, and Economic Development An MP from 2004 to 2011, Bains regained his seat this year. In addition to being a certified management accountant, holding an MBA, and teaching at Ryerson University, Bains was an important Trudeau organizer and also served on the Liberals' national election readiness committee.

President of the Treasury Board An MP since 1997, Brison was the public works minister and receiver general of Canada in Paul Martin's government. He had been the Liberal spokesman on economic issues and the vice-chair of the Commons' committee on finance.

Minister of Indigenous and Northern Affairs A family physician who has been an MP since 1997, Bennett was Canada's first minister of state for public health and oversaw the 2003 response to the SARS epidemic. In recent years, Bennett has served as the party's vocal critic on aboriginal affairs.

Minister of Agriculture and Agri-Food An MP since 1988, MacAulay has served as solicitor general of Canada, minister of labour, secretary of state for veterans and secretary of state for the Atlantic Canada Opportunities Agency. In the last Parliament, MacAulay was the critic for fisheries and oceans.

Minister of Fisheries, Oceans, and the Canadian Coast Guard LeBlanc served as the Government House leader until August 2016, when he was replaced by Bardish Chagger. LeBlanc was sworn in as a privy councillor in 2004 when, under Paul Martin, he served as parliamentary secretary to the leader of the government in the House and deputy government whip. He is a childhood friend of Trudeau's.

Minister of Immigration, Refugees, and Citizenship First elected in 2000, McCallum, a former chief economist at the Royal Bank of Canada, served as minister of national defence and minister of veterans affairs under Jean Chrétien. He was named minister of national revenue under Paul Martin and was also tasked with leading an expenditure review of government spending.

Leader of the Government in the House of Commons and Minister of Small Business and Tourism Chagger, 35, worked for the Kitchener-Waterloo Multicultural Centre. She also worked on Trudeau's leadership campaign.

Minister of National Revenue A small business owner who has been an elected warden for the Regional County Municipality of Rocher Percé since 2010, Lebouthillier won a seat in Gaspé that the Liberals haven't held in more than a decade.

Minister of International Development and La Francophonie Bibeau worked for the Canadian International Development Agency (CIDA) in Ottawa, Montréal, Morocco and Benin, Africa, before settling and launching her own business in her riding.

Minister of Science Elected in 2008, Duncan taught meteorology, climatology, climate change, and medical geography at the university level.