Plantar Fasciitis: 12 Things You Need To Know About Bottom Foot Pain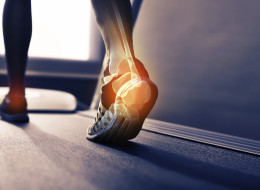 If you've every found yourself hobbled by pain in your heel that seemed to come out of nowhere, you've likely experienced plantar fasciitis.
Plantar fasciitis is an inflammation of the tendon band that runs between the toes and heel along the bottom of each of your feet. It doesn't sound serious, and it's definitely not life threatening, but it hurts a lot more than you'd expect. And if you don't recognize the symptoms and don't take it easy, it can take a while to clear up or reoccur more regularly.
The good news, though, is there are ways to prevent plantar fasciitis — most easily by getting proper, supportive shoes. Read on to learn the 12 things you need to know about plantar fasciitis, from just what causes it to how to treat it and keep it from coming back again.
Plantar fasciitis is the result of "traumatic, often repetitive pulling on the anchor of the plantar fascia at the bottom of the heel," says Dr. Patrick Labelle, a chiropractic sports physician with Biomechanics. That pulling leads to inflammation. The plantar fascia connects the heel to the toes, and the ligament supports the arch of your foot.

There are several possible causes for plantar fasciitis, says Dr. Erik Korzen, a chiropractic physician with Dynamic Physical Health. Weak muscles in the foot or the front part of the lower leg are one possible cause, Korzen says, and overactive or tight calf muscles are another. Other potential causes are poor footwear, limited ankle mobility, and certain conditions of the knee or hip.

The classic symptoms of plantar fasciitis include a heel pain that is sharp or stabbing, particularly with your first few steps in the morning, Korzen says. "The pain usually fades to an ache after a few minutes of walking," Labelle adds.

Other symptoms of plantar fasciitis are a tight sensation in the calf or foot — noticeably flat or high arches. There's also difficulty with certain exercises, particularly running or jumping, Korzen says.

"Rest is important to helping your body heal," says Dr. Jared Heathman, a family physician based in Texas. "Staying off your foot for days may greatly improve symptoms." Try switching from activities like running to something like swimming, which doesn't put a strain on the foot muscles.

Try self treatment for a week or two to relieve plantar fasciitis, Labelle says. He recommends stretching calves to reduce tightness, for example, by doing calf negatives on a stair. You can also wear night splints and use a ball to massage the bottom of your foot, he suggests.

Plantar fascia stretches and Achilles tendon stretches can help relieve the pain in your feet, says Derek Roach, owner of the orthopaedic store FlowFeet. "The plantar fascia stretch is performed by sitting down and placing your affected leg over the knee of the other leg," Roach says. "Use the hand on the affected side to pull the toes back towards the shin." For the Achilles tendon stretch, put your unaffected foot directly in front of the affected one. "Lean forward with hands against a wall while the front knee bent and back leg straight with heel firmly on the ground," he says. Hold each stretch for 10 seconds, and do 10 reps three times a day.

"If rest does not help, you may need to see your health care practitioner," Heathman says. "Possible recommendations may includes anti-inflammatories, orthotic sole support devices, physical therapy, or even cortisone injections."

There are a variety of other options for treating stubborn plantar fasciitis, Korzen says. Those include ultrasound, kinesiotape, joint manipulations, and focused corrective exercises.

While surgical treatment may be required in very rare cases, it is almost never needed, Labelle says. "If you haven't tried conservative treatment with two or three different providers over a one-year period," he says, "then run out of the office of any surgeon who suggests it!"

"The best prevention strategies are to wear supportive, cushioned shoes and to maintain a healthy weight," Heathman says. If you tend to be flat-footed, orthotics can also help, Labelle says.

Visit an orthopaedic store, or a specialized running store if you're a runner, to get shoes that will help you prevent plantar fasciitis. And make sure you replace shoes that are worn out — particularly running shoes, which should be replaced every 450 to 800 km, according to Runner's World.