Polar Stroller On Skis Solves Calgary Couple's Winter Problems
A Calgary couple has come up with a genius method for keeping strollers from getting stuck in snow and slush during the winter.
Kelly Patterson and her husband Glenn love the outdoors. The pair lives near Fish Creek Provincial Park, and they weren't about to stop enjoying wintertime walks there once their first child was born in 2013.
After failing to find a solution on the Internet, the couple came up with the idea for the "Polar Stroller," a kid transporter on skis.
Glenn, a design engineer by trade, put the couple's plan into action, Kelly told the Calgary Sun.
The Polar Stroller is a set of skis that parents can attach to a stroller's wheels.
They can fit a variety of wheel sizes, they work on bike trailers, and they can handle everything to from light slush to deeper snow.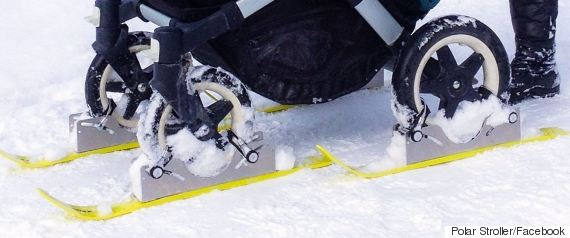 A set of Polar Stroller skis in action. (Photo: Polar Stroller/Facebook)

The skis also have safety features such as added traction on their bottoms and a leash to ensure the stroller won't slide away, CBC News reported.
"I don't think we could be in a better part of the world to launch this," Kelly told CTV News. "All the paths are snow covered, but it doesn't matter because I just pop my skis on and off, I go for a nice walk with my little guy and some fresh air."
The ski sets are being sold for anywhere from $150 to $170 on the Polar Stroller website.
Like Us On Facebook

Follow Us On Twitter

Also on HuffPost:
Baby's First Christmas: Present Ideas
Aside from being ridiculously cute, this is the perfect item to keep your baby cosy after a bath and before bed. Comes in 10 different colours. £25. www.notonthehighstreet.com.

Record all those precious milestones that you never want to forget by photographing your baby with these adorable milestone cards, showing the first time they sit up, have their hair cut and say their first word. £13. www.jojomamanbebe.co.uk.

You might not like the noise that comes from these two, brightly-coloured toys when they're shaken, but your baby most definitely will. £7.99. www.argos.co.uk.

This slate hanging from rope looks stylish and can be engraved with your own personal message to commemorate your baby's first Christmas. £16.99. www.ijustloveit.co.uk.

This fleece pram blanket will keep your baby warm and cosy on winter walks or as they're cuddled up in your arms. And of course, it's got Humpty Dumpty on it - who doesn't love a good nursery rhyme? £10. www.bizzigrowin.com.

You can never have enough bodysuits for your baby and this sweet set of three have a penguin pattern and the words 'hug me' on the front of one. £15. www.mothercare.com.

You want to keep their feet warm and yet their socks are constantly falling off - it's an inevitable part of parenthood. We love this brightly-coloured sock box with seven pairs and all different designs. £12.80. www.boden.co.uk.

You might only use them at Christmas, but babies bibs are just one of those things that you can't have enough of. Keep them as a momento of their first Christmas, too. £5 for a pack of two. www.next.co.uk.

This toy's bright colours will catch your baby's attention, and the teether element of this toy will help soothe tears brought on by a sore mouth. There are a variety of textures for your baby to chew and bite, as well as the option for it to play some calming music. £18.45. www.fisher-price.com.

Hats My Baby have a great selection of hat designs for everyday use, with soft cotton material and available in two sizes. Personally, we liked the bright-coloured aqua striped hat. You can't go wrong really. £7.95. www.hatsmybaby.co.uk.

sweet personalised bauble with engraved lettering and a bright colour of your choice. £9.50. www.notonthehighstreet.com.

They might not know what's going on, but of course you need a baby Christmas outfit for Christmas day. This Santa outfit is a three-piece set with a top, trousers and a Santa's hat. Adorable. Available from three months up. £8. www.matalan.co.uk.

This baby rocker can be used as a calming rocker but it also vibrates to soothe your little one to sleep. It folds down flat, comes with a handy travel bag and two bouncing soft toys. £49.99. www.toysrus.co.uk.

Gently rock your baby to sleep with this moses basket stand with a curved base. £30. www.thewhitecompany.co.uk.

These mitts made from organic cotton will be a saviour to have through the cold winter months. A pack of two - £3.50. www.johnlewis.com.

The different colours, patterns, reflections and sounds in this tunnel will fascinate your baby as they learn to crawl through. £30. www.debenhams.com.