Drinking Energy Drinks Every Day Can Lead To High Blood Pressure: Study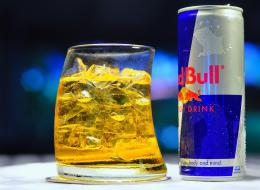 A new study by the Mayo Clinic shows that drinking one 16-ounce energy drink can significantly increase blood pressure as well as stress hormone responses.
The results raise concerns that consumption of energy drinks could, in turn, increase the risk of cardiovascular problems.
Previous studies showed that energy drinks lead to increased blood pressure in young people, but the new research sees the link between energy drinks and an increase in the stress hormone norepinephrine. This chemical could increase the risk of cardiac events.
The Mayo Clinic used 25 healthy participants for their study, who were asked to drink one 16-ounce energy drink and a placebo drink on two separate days. In addition to increases in blood pressure, norepinephrine levels went up by nearly 74 percent after the energy drink was consumed.
ALSO ON HUFFPOST:
How Dangerous are Energy Drinks?
Energy drinks have known and unknown pharmacologic effects that may put some children at risk for serious adverse effects, according to HuffPost blogger Dr. Richard C. Senelick. It's not just the caffeine, it's the free access to caffeine that kids, teens and young adults have with these drinks that put young people in danger. Recent research revealed that energy drinks pose a particular risk to kids who have diabetes, mood disorders, and cardiac abnormalities.

Can you imagine eating 6 glazed donuts in one sitting? Sounds crazy, right? But that's roughly how much sugar you're ingesting if you down a full can of Amp energy drink, according to HuffPost blogger Grace Nasri. Find out how much sugar is in other popular drinks -- you wouldn't be able to eat the equivalent in croissants, it's that much.

If your caffeine addiction has gotten the better of you, there are ways you can cut back safely. HuffPost blogger Dr. Frank Lipman offered a week-long guideline on how to reduce your caffeine intake as part of HuffPost Healthy Living's 21 Day Detox.

What happens when you mix Red Bull with Redline with 3 scoops of N.O.Xplode? HuffPost comedy blogger Joe Peacock dared to find out -- with insane results. Don't try his experiment if you value your heart or your life.

Moved to action by a recent trip to famine-torn Africa, 50 cent has launched an energy drink whose profits will feed 1 billion kids in the region. But given the findings that energy drinks are harmful to teens and young adults, who make up a significant part of 50's following, he might find himself doing harm to one group of kids to do good for another.

For those who just can't get up in the morning without a cuppa joe, there's research that may change your mind -- a study conducted at the University of East London showed that a placebo group of participants who were given decaf coffee but thought they'd drunk caffeinated coffee performed just as well on tests as the group that did receive caffeine. Mind over matter?