Northern Gateway 'Will Never Happen' In Light Of Trudeau Ban On Oil Tankers
Moratorium on oil tankers on B.C. North Coast
Experts say ban blocks Northern Gateway pipeline from continuing
Trudeau also ordered reopening of the Kitsilano coast guard base
VANCOUVER - Conservationists are heralding the federal government's decision to ban crude oil tanker traffic along British Columbia's north coast as the death knell for the proposed Enbridge (TSX:ENB) oil pipeline.
Prime Minister Justin Trudeau delivered instructions Friday to the ministers of transport, fisheries, natural resources and environment to formalize a moratorium that experts say blocks the controversial Northern Gateway project from continuing.
A ban would prevent hundreds of tankers each year from carrying diluted bitumen extracted from Alberta's oil sands and piped up to northern B.C. from being shipped for export overseas.
"It will mean that Northern Gateway will never happen," said Gerald Graham, a Victoria consultant specializing in oil spills for more than 40 years.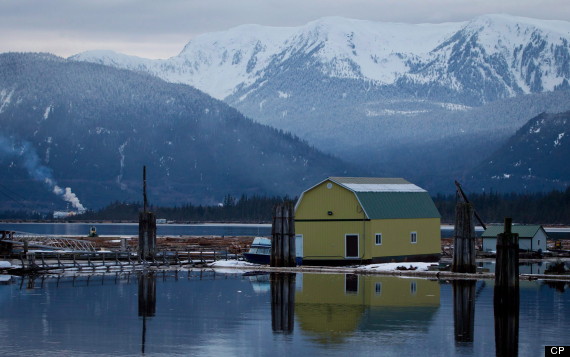 The proposed Northern Gateway project would end at a terminal in Kitimat, B.C. (Photo: CP)
He said it remains to be seen what activities other than projects involving crude oil tankers will be permitted and which communities could be affected.
"It's one thing to say what can't take place, but another to say what will be allowed."
The moratorium makes official a non-binding motion the House of Commons passed in 2010. It would put the Dixon Entrance, Hecate Strait and Queen Charlotte Sound off limits to tanker traffic in the government's bid to protect ecologically sensitive areas.
The policy's roots date back more than four decades to Trudeau's father, former prime minister Pierre Trudeau, who worked with a British Columbia MP to pass an original ban involving the coastal waters north of Vancouver Island.
"It makes it clear it's pointless to try to develop a port for oil tankers for the northwest coast of Canada."
"I celebrated 44 years ago and I may be celebrating again. It's basically an echo," said David Anderson, who chaired the government's environmental committee in 1972 and later became Liberal environment minister.
He noted that only former prime minister Stephen Harper opposed the ban since it was initially introduced.
"It's keeping with the status quo, mainly, but making it a more formal and clearer status quo than the industry has been willing to accept over the last few years," Anderson said. "It makes it clear it's pointless to try to develop a port for oil tankers for the northwest coast of Canada."
An array of 30 environmental, First Nations and northern B.C. groups also applauded Trudeau's edict by sending him an open letter of support.
Company remains committed
However, a spokesman for Northern Gateway said the company will remain committed to the "essential" infrastructure.
Ivan Giesbrecht said in a statement that staff look forward to an opportunity to meet with Trudeau to update him on the project. He noted a tanker ban has a potential economic impact on First Nations and Metis communities in the region.
"We have made significant progress building support on the B.C. coast and along the pipeline corridor," he said.
"We share the vision of the Trudeau government that energy projects must incorporate world-leading environmental standards and First Nations and Metis ownership."
Greg Stringham, a vice-president with the Canadian Association of Petroleum Producers, said market access for "responsibly produced" crude remains a priority for the industry.
He added members are prepared to institute "any improvements deemed necessary" to ensure products are safely transported.
The $7-billion Northern Gateway project received government approval in June 2014 upon review by the National Energy Board, contingent on 209 conditions. The Federal Court of Appeal is currently considering whether to overturn the approval after a court challenge by First Nations and environmental groups.
The company estimated it would boost Canada's gross domestic product by $300 billion over 30 years.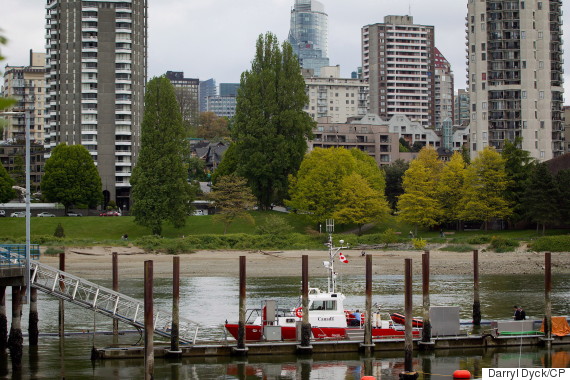 A boat sits at the Kitsilano Coast Guard Base shortly after it was closed in 2013. (Photo: Darryl Dyck/CP)
Trudeau also signalled Friday the re-opening of the Kitsilano coast guard base in Vancouver's English Bay.
Mayor Gregor Robertson issued a statement calling it one of the most important public safety resources for the city's busy harbour.
The former Conservative government's closure of the station in 2013 was loudly panned at the time and again when a grain ship spilled 2,800 litres of bunker fuel in the harbour last April.
Also On HuffPost:
Whale-Watching Boat Sinks Near Tofino, B.C.
The submerged Leviathan II is seen in a photo released by authorities on Oct. 29, 2015. Five British tourists died when a whale-watching boat capsized near Tofino, B.C. on Oct. 25, 2015.

Transportation Safety Board investigators examine the scene.

What remains of the 25-person life raft.

Albert Titian, who was among those from the Ahousaht First Nation who rushed to the scene to help, took photos of the sinking vessel.

An image released via Twitter from user @wilfred_frank showing the scene on a dock as rescuers gather following the sinking of the whale-watching boat Leviathan II.

Albert Titian, who was among those from the Ahousaht First Nation who rushed to the scene to help, took photos of the sinking vessel.

A Canadian Coast Guard crew arrives at a dock in Tofino, B.C., shortly after midnight following a search and rescue operation.

Local resident, Sheila Simpson, talks to reporters about how she helped out with rescued whale watching passengers as they were brought to the First Street dock after their tour boat capsized.

Several came to pay their condolences to the passengers who died.

A life raft from the sunken boat floats near Tofino.

Ahousaht First Nation boats patrol an area on Oct. 26, 2015 near where the boat sank.

Ahousaht First Nations member Francis Campbell was one of the first responders on the scene.

Ahousaht First Nation member Preston Campbell helps search.

Jenn Newman from Duncan, B.C. was one of the survivors. She visited the G.I. Charles boat that rescued her on Monday.

B.C. Premier Christy Clark shakes hands with British Consul General Rupert Potter following a press conference in Tofino, B.C. on Oct. 27, 2015.

B.C. Premier Christy Clark thanks members of the Ahousaht First Nation and other first responders involved in the rescue.

Ahousaht First Nation members, from left to right, Chief Greg Louie, Luke Swan and search and rescue coordinator and first responder Alec Dick listen as B.C. Premier Christy Clark thanks rescuers during a press conference in Tofino, B.C. on Oct. 27, 2015.

The bow of the Leviathan II sits near Vargas Island, waiting to be towed to Tofino.

Marc Andre Poisson, Transportation Safety Board member and Director of Marine Investigations, speaks to the media.