When the Thunderbirds take to the field for the national semi-finals today a number of them will be wearing head sensors that take measurements to help researchers unravel the impact of concussions on athletes.
"What we're trying to do is get a little more info on what's occurring in head trauma and football," said Harrison Brown, a PhD candidate at UBC in Kinesiology.
The study is also uncovering patterns or trends, such as,  "the differences between positions, practices and games, for example," Brown said.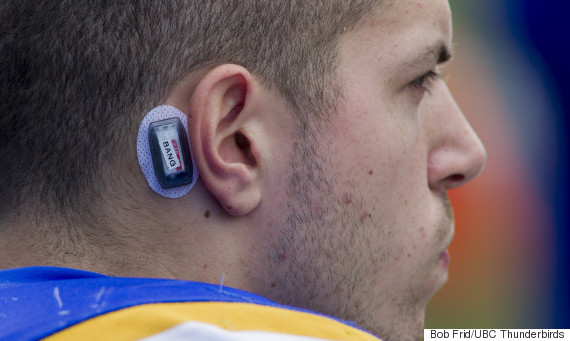 UBC Thunderbirds running back Brandon "Banger" Deschamps wears a head impact sensor. (Photo: Bob Frid/UBC Thunderbirds)
More than a dozen players, including the starting quarterback and starting running back, volunteered for the study, funded by the Canadian Chiropractic Research Foundation.
Brown said sensors called "xPatches" — an impact sensing patch — are put behind the players' ears and worn during practices and games.
Researchers study the number, and the intensity, of hits players take, as well as the effects.
So, while the UBC Thunderbirds take on St. Francis Xavier's X-men in the hopes of advancing to the Vanier Cup, they will advance science no matter what the final score of the game.
The results of the 2-year study are expected next spring.
Also on HuffPost
When you're the only one who wants to high five

Giphy

And you still don't get the whole fist bump thing

Giphy

Then things get really awkward

YouTube

When you forget how to do your sport

YouTube

Giphy

When you suddenly lose all athletic ability

Cheezburger/Giphy

Golf Digest

When bubble gum becomes the most frustrating thing ever

Cheezburger/Giphy

But not as frustrating as putting on a hat

Giphy/BickGifs

When someone touches you and the world ends

Cheezburger/Giphy

Or your life flashes before your eyes

Photobucket

And, of course, butts are a problem

Giphy

Giphy

A really, really big problem

TotalProSports

Seriously though, doesn't anyone high five anymore?

Cheezburger/Giphy
Suggest a correction

UBC football players are helping advance the science around concussions — using their own heads.