Biggest Babies 2015: These Were The Heaviest Babies Born This Year
An average baby is born weighing 7.5 pounds, but this year we saw some pretty remarkable births that far exceeded that. From India's biggest baby ever to the heaviest newborn delivered in Florida, there were a handful of infants that made headlines this year.
Here we round up the biggest babies born in 2015.
1) Rajaram Kalawati Hospital, India
Birth weight: 14.77 pounds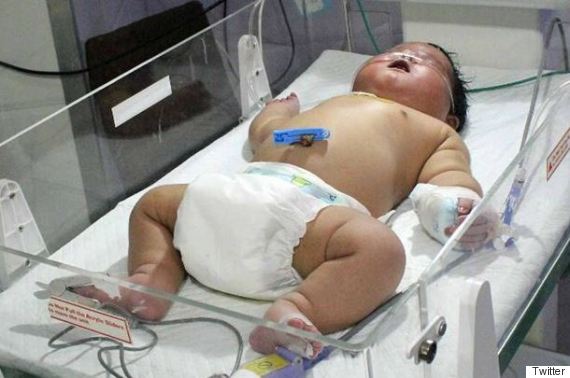 In November, India's biggest baby ever was born! Mom Firdous Khatun was only in labour for 15 minutes before she gave birth to a baby boy weighing a whopping 14.77 pounds. This is the 36-year-old mom's ninth child and all her other kids were born an average eight pounds.
Previously, an infant weighing 13.16 pounds born via C-section held the title of the country's heaviest baby. The infant was born just one month before Khatun's son.
2) St. Joseph's Women's Hospital, Florida
Birth weight: 14.1 pounds
Maxxzandra Ford didn't know she was pregnant until she was 35 weeks along. In January, she gave birth to her third child naturally. Baby boy Avery weighed a surprising 14.1 pounds and is now the heaviest baby born at St. Joseph's Women's Hospital in Tampa, Florida.
Recalling her son's birth, Ford told WFLA: "I was cussing up a storm. When I felt his head come out, I knew he was bigger than 10 pounds."
3) West Penn Hospital, Pennsylvania
Birth weight: 13 pounds, 10 ounces
Oh, baby! Mom delivers 13-pound, 10-ounce baby at Pittsburgh hospital http://t.co/a3utc07YvG pic.twitter.com/aaOnMs1kZB

— 1001portails US (@1001ptUS) May 8, 2015
Isaac Michael Hall was delivered via C-section at West Penn Hospital back in May. Weighing 13 pounds, 10 ounces and measuring 25 inches long, Isaac is now the largest baby the hospital has delivered in the past 30 years. When he was born, he already fit into six-month-old baby clothes!
4) University Hospital of Wales, Cardiff
Birth weight: 12 pounds, 9 ounces
Cardiff mother's shock as baby son is born weighing 12lb 9oz -- https://t.co/CGhtbXubXS -- Aaron Amaf was 'like a … pic.twitter.com/XvmJNCqoql

— Health Alerts (@healthoutbreaks) October 28, 2015
Saima and Munawar Amaf were shocked when their third son Aaron was born weighing 12 pounds, 9 ounces, which is more than the birth weight of his two brothers combined! The infant was delivered via C-section at the University Hospital of Wales in Cardiff in October.
While Aaron does not hold the record for biggest baby born in Britain, he is still one of the heaviest. According to U.K. Office for National Statistics, the biggest baby born naturally in Britain was George King. The infant was delivered in February 2013 at the Gloucester Royal Infirmary, weighing 15 pounds, 7 ounces.

Full story here.
While these babies are certainly big, their birth weights are still no match for the infant who holds the Guinness World Record. According to Guinness, the heaviest baby ever was born in Aversa, Italy, in September 1955. He weighed a staggering 22.8 pounds.
ALSO ON HUFFPOST:
Hottest Baby Name Predictions For 2016
As we move into 2016, we can expect to see more baby names that have "moved beyond old definitions of gender." While unisex baby names have certainly made their mark in 2015, Nameberry predicts that boys' names and girls' names will be used even more interchangeably in the new year. The baby-naming site notes that this trend is influenced by the emergence of Caitlyn Jenner and celebrities who already follow it. Facebook founder Mark Zuckerberg and his wife, for instance, recently welcomed a baby girl and named her Max. Other celebrities have named their baby girls Armie, Wilder and Jagger, while baby boys have been named Blues, Sailor and Rhodes.

Short and sweet names are always trendy because they are easy to spell and pronounce and are usually quite classic, such as Jack or Claire. However, in 2016, parents will move towards more unconventional one-syllable baby names for their newborn. These names include Liv, Bo, Ace, Eve and Dax. Considered "uncluttered" baby names, these monikers both simplified and refreshing.

Even before the international refugee migration made headlines in 2015, the cultural migration of baby names has been making its way to the U.S. Parents are now embracing monikers from all over the world, including Maeve (Irish), Cohen (Jewish) and Cruz (Spanish). This type of cultural migration is happening in other countries as well. In France, British names such as Jade and Arthur are gaining popularity, while in Italy, the German-sounding name Ludovica and the English name Christian are trending as well. If you're looking for an Irish, Spanish, French or Hawaiian baby name, we've got some suggestions for you!

It might seem odd, but word names are really starting to take off -- especially when used as a middle moniker! This trend was inspired by celebrities, such as Jeff Goldblum who named his son Charlie Ocean or Ashlee Simpson who named her daughter Jagger Snow. Other word name monikers we'll likely see more of in the new year are Love, Moon, Sky, Day and Blue.

Nature names have long been popular among parents. Now that common flower names, such as Lily and Daisy, have become overused, moms and dads are rediscovering vintage floral choices. These monikers include Marigold, Poppy, Primrose and Bluebell. These sweet (and sometimes quirky) nature names have a much fresher sound that parents find appealing.

This is a trend we started to see crop up in 2015, but Nameberry predicts it will truly explode in 2016. These "old man names" are monikers that have significantly plummeted in popularity. However, it's their rarity now that makes them so appealing and maybe even hip! Now rising are monikers such as Clyde, Alfred, Otto, Harold and Warren. In the future, Nameberry expects other old man names such as Leopold, Montgomery and Stanley to rise as well.

Directional names going "south" was a big trend in 2015, but now there's nowhere to go but up! Now parents are turning to the skies and heavens for inspiration. According to BabyCenter, celestial names have already begun to see an increase in popularity in 2015. Monikers Venus, Jupiter and Sunny (for boys) rose 68, 50 and 43 per cent respectively this year. In 2016, those names and many other space-inspired monikers will start rising to the top. Nameberry predicts we'll see an increase in popularity among names such as Nova, Orion, Celeste, Jupiter and maybe even Cassiopeia.

Every year, there's usually a name ending that trends (last year it was --ett for boys, such as Beckett). In 2016, however, Nameberry predicts the digraph "th" will explode. There are already a number of monikers that follow this trend in the Top 1000 that are already rising. Thatcher, Edith, Ruth, Theo, Seth and Matthias are just a few.

World events impact us in powerful ways. This year, we saw the terrorist attacks in Paris captured our attentions, and with it, has shone a light on French names. For girls, monikers like Ines, Maelys and Leonie will likely take off. As for boys, monikers such as Timeo, Jules and Mathis will be trendy.

In the past, "Game of Thrones" and Netflix baby names have been a big trend among parents. But all that is about to change in 2016. With the release of "Star Wars: Episode VII" on December 18, Nameberry predicts monikers inspired by the film and it's cast will take off. While Luke and Leia are old classics, there are more unique choices out there such as Anakin, which actually entered the Top 1000 in 2015. Other picks include Poe, Finn, Hux, Kylo and Ren.

"To Kill A Mockingbird" has always been a beloved classic. In 2015, Harper Lee released its sequel, creating renewed interest in the name Atticus. However, because of the book's "racist tone," Nameberry predicts the trend of "Mockingbird" names -- meaning monikers such as Atticus, Scout, Jem and Radley -- will decline in the new year.