Justin Trudeau: Electoral Reform Not Aimed At Keeping Liberals In Power
OTTAWA - Prime Minister Justin Trudeau says he has no interest in replacing Canada's first-past-the-post electoral system with one designed to favour the Liberal party.
Rather, he says he wants a system that makes the country's democracy stronger.
"I guess it comes down to why am I doing this job?" Trudeau told The Canadian Press.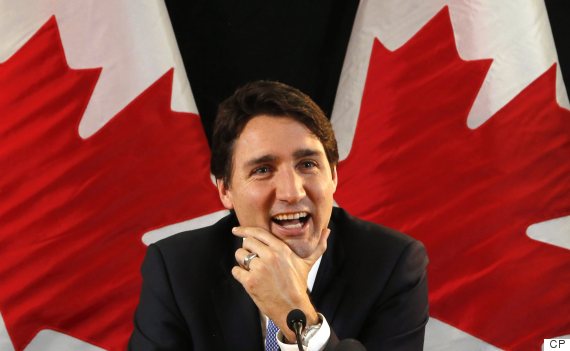 Trudeau promised during the campaign that the Oct. 19 election would be the last run under the first-past-the-post system. (Patrick Doyle/The Canadian Press)
If his only concern was benefiting his own party, Trudeau said the easiest thing to do would be to maintain the status quo, which allowed the Liberals to capture 54 per cent of the seats in the House of Commons on Oct. 19 with just 39.5 per cent of the popular vote.
"It would be easier to do nothing and sit back and just say, 'Okay, you know what, this worked for us, I think we can make this current system work for a few more mandates' ... But that's not the kind of leadership that Canadians expected."
Trudeau promised during the campaign that the Oct. 19 election would be the last run under first-past-the-post (FPTP), where the candidate with the most votes in a riding wins the seat. The system has been criticized for producing false majorities — including Trudeau's — and under-representing smaller parties, thereby contributing to low turnout because many people feel their votes don't count.
"I guess it comes down to why am I doing this job?"
The newly minted prime minister gave the most detailed explanation yet of his thinking on electoral reform during a 75-minute sit-down with the Ottawa bureau of The Canadian Press. In the wide-ranging session, he also:
— Flatly asserted there is no need to reopen the Constitution to finally secure Quebec's signature on the document;
— Defended his approach to staying connected with Canadians who don't pay close attention to politics, including posing for selfies and giving interviews to non-political publications like fashion bible Vogue magazine;
— Defended his commitment to withdraw Canadian fighter jets from the U.S.-led bombing campaign against Islamic militants in Syria and Iraq and reiterated his vow to find other ways to contribute to the allied fight against terrorists, including training local forces, but expressed wariness about having Canadian military trainers get close to the frontlines.
Since the election, the Conservatives have accused Trudeau of wanting to replace FPTP with a ranked ballot system — without consulting Canadians through a referendum — because it would benefit the centrist Liberals who would be most likely to be picked as the second choice by supporters of other, more ideological parties.
Under ranked or preferential balloting, voters indicate their first, second, third and subsequent choices. If no candidate wins a clear majority, the last-place contender is dropped and his or her supporters' second choices are counted. That continues until one candidate emerges with more than 50 per cent of the vote.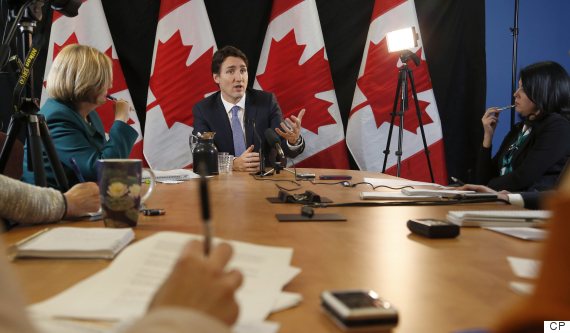 Trudeau speaks with reporters during an interview with The Canadian Press in Ottawa on Dec. 16, 2015. (Patrick Doyle/The Canadian Press)
During the Liberal leadership race, Trudeau expressed a personal preference for ranked balloting. But he told The Canadian Press he wants to be "careful about pushing my own views on this" now that they carry greater weight.
In any event, he said the shape electoral reform ultimately takes won't be entirely up to him. Canadians will be "broadly consulted" by a special all-party committee that is supposed to recommend a replacement for FPTP within 18 months. He did not rule out an eventual referendum on the matter, although that route has killed electoral reform initiatives in three provinces.
That said, Trudeau said he feels "very strongly" that a reformed electoral system should not weaken a member of Parliament's connection with and accountability to constituents in a specific riding.
"The fact that every single politician needs to earn the trust of a specific group of constituents who cover the broad range of Canadian public opinion strengthens our democracy," he said.
"I'm wary of disconnecting any MPs from specific groups of citizens or geographic location. I think that's one of the strengths of our parliamentary system and as soon as you get into lists by parties or groups you have people who owe their election to the House of Commons to a partisan organization rather than to a group of Canadians."
"Deciding what kind of country we are and what kind of system would suit us is actually a pretty exciting thing."
That would seem to rule out mixed member proportional representation, a reform favoured by the NDP and in use in Germany and New Zealand, among other countries. Under that system, MPs would be elected in each riding but they'd be augmented by MPs chosen from party lists in proportion to each party's share of the popular vote.
Critics of ranked balloting argue that it does not, in itself, ensure that a party's representation in the Commons more accurately reflects its share of the vote. Indeed, some analyses of the 2015 election results have suggested that the Liberals — the most popular second choice for both Conservative and NDP supporters — would have secured an even more lopsided majority under ranked balloting.
However, Trudeau said any election held under FPTP is a "very poor predictor" of how voters would behave under a different system.
Indeed, it's conceivable that people who voted strategically for the Liberals on Oct. 19 to defeat Stephen Harper's Conservatives may have been more inclined to stick with the NDP or Greens if they knew they could mark the Liberals as their second choice.
Trudeau said the real question that needs to be answered is: "What kind of political discourse do we want to have in Canada?" In that vein, Canadians need to have a "mature discussion" about various electoral systems and their potential for such things as producing stable governments or more collegial politics with less partisan conflict or for augmenting the representation of minority or single-issue groups.
"Deciding what kind of country we are and what kind of system would suit us is actually a pretty exciting thing. It's a very daunting task because it's the kind of thing that, yes, will have an impact for decades."
Also On HuffPost:
Trudeau Greets Syrian Refugees
Prime Minister Justin Trudeau greets 16-month-old Madeleine Jamkossian and her father Kevork Jamkossian, refugees fleeing the Syrian civil war, during their arrival at Pearson International airport, in Toronto on Dec. 11, 2015.

Prime Minister Justin Trudeau gives newly arrived Syrian refugee Sylvie Garabedian a winter jacket as her mother Anjilik Jaghlassian looks on.

Prime Minister Justin Trudeau greets Syrian refugees Lucie Garabedian, her father Vanig Garabedian, mother Anjilik Jaghlassian, and sister Anna-Maria Garabedian.

Prime Minister Justin Trudeau greets new Syrian refugees Georgina Zires, centre, 16--old Madeleine Jamkossian, and her father Kevork Jamkossian.

Prime Minister Justin Trudeau examines welcome bags before greeting refugees from Syria at Pearson International Airport in Toronto.

Prime Minister Justin Trudeau poses for a selfies with workers before he greets refugees from Syria.

Ontario Premier Kathleen Wynne offers a teddy bear to 16-month-old Madeleine Jamkossian and her father Kevork Jamkossian.

UP NEXT: Canada's response to the Syrian refugee crisis

In 2011, internal conflict erupted in Syria that would later escalate into a full-blown civil war that rages on to this day, now complicated by the arrival of Islamic militants from neighbouring Iraq. Since the start, the United Nations High Commissioner for Refugees has called on countries to help resettle some of the most vulnerable Syrians who can never return home, a call that grew louder as the crisis has escalated. Here's a look at how Canada responded over time. (Information by The Canadian Press) Syrians hold a large poster depicting Syria's President Bashar Assad during a rally in Damascus, Syria in 2011.

- Canada closes its embassy in Damascus, a move that would come to have major repercussions for refugee resettlement out of the Middle East as that visa post was handling the majority of the files for refugees from other countries who had sought temporary safety in Syria. Those files were then transferred to nearby countries, leaving visa officers scrambling to handle them and the start of a surge in Syrian refugee applications. - By the end of 2012, the UNHCR had registered close to half a million Syrian refugees in neighbouring countries. - Syrian Canadians call on Canada to do more to support the refugees, including speeding up family reunification programs and opening the doors to more refugees, but the government said without an official request from the UN for resettlement, it would not act. Syrian refugee girls wash their clothes at a camp in Idlib, Syria, in October of 2015.

The number of people registered as refugees from Syria or being assisted by the UN hits one million. A Syrian refugee boy at a camp in Turkey in October 2015.

The UN makes its first formal request to member countries to assist in refugee resettlement, asking for 30,000 spaces by the end of 2014. Syrian Kurdish refugees walk in the United Nations Refugee Agency refugee camp in Suruc, Sanliurfa province, in January 2015.

The Harper Conservatives promise to admit 1,300 Syrian refugees by the end of 2014, with the majority sponsored by private groups. The 200 spots available to government-assisted refugees are not new refugee spaces — the Conservatives choose to allocate the 200 they set aside each year for the Syrian program. Stephen Harper speaks in the House of Commons.

Prime Minister Stephen Harper visits a refugee camp in Jordan, one of the main host countries for Syrians. He announces $150 million in humanitarian aid; over the course of the conflict Canada has been one of the lead financial donors for relief efforts in the Middle East and North Africa. By this point, some $630 million has been committed. Stephen Harper and wife Laureen Harper visit Za'atri Refugee Camp in Jordan in January 2014.

The UN High Commissioner makes a new request: an additional 100,000 places for Syrian refugees by 2016. Canada says it is reviewing its options. Antonio Guterres, UN High Commissioner for Refugees, speaks during a press conference in Geneva, Switzerland in October 2015.

Conservative Immigration Minister Chris Alexander admits that fewer than 200 Syrian refugees have arrived in Canada since the July 2013 promise, saying the UNHCR was slow passing on referrals. Chris Alexander speaks in the House of Commons.

By the end of the month, just over 1,000 Syrian refugees have arrived in Canada, meaning the government missed its deadline. A Syrian Kurdish refugee walks in a UNHCR refugee camp in Suruc in January 2015.

The Conservative government commits to allowing 10,000 more Syrian refugees in by 2018, most through the private sponsorship program. The focus is to be on religious minorities. Syrian refugee girls sit at the United Nations Children's Fund (UNICEF) 'Child Friendly Spaces' in the Zaatari refugee camp, near the Jordanian border with Syria in 2014.

The government finally meets its July 2013 promise to resettle 1,300 people, achieving it by increasing the number of government-assisted refugees. Stephen Harper gives the thumbs up during a photo opportunity.

The Conservatives order an audit of the government-assisted refugees coming out of Syria, citing security concerns. The review identifies no problems but delays the processing of those files for several weeks. Chris Alexander speaks at a press conference in Toronto in September, 2015.

The Conservatives pledge that if re-elected, they will allow a further 10,000 Syrians in over the next four years, continuing a focus on those being persecuted because of religion. Stephen Harper takes questions from the media on the campaign trail.

- Three-year-old Alan Kurdi dies during his family's escape from Syria. The photograph of his body on a Turkish beach and word his family had considered Canada as an eventual destination sees Canada's refugee response become a dominant issue in the election campaign. - The Conservatives increase available resources for the processing of refugee applications, promise to speed up resettlement of the 10,000 originally promised places and announce they'll match donations for Syrian relief. - The Liberals say they'll bring over 25,000 government-assisted refugees as soon as possible and encourage the private sector to take in more. They later promise to bring them in by the end of the year. A handout photo courtesy of Tima Kurdi shows a photo of her three-year-old nephew Alan Kurdi.

The Liberals win a majority government and say they remain committed to refugee resettlement. Justin Trudeau waves to the crowd as they arrive to Liberal election headquarters in Montreal.

The Liberal government announces its plan to resettle 25,000 Syrians. Immigration Minister John McCallum holds a news conference with Health Minister Jane Philpott and Defence Minister Harijit Singh Sajjan.